NHL Features
2014-15 NHL Team Previews

The puck has dropped on a new NHL season. Get the lowdown on your favourite club with TSN.ca's team capsules.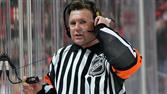 C'Mon Ref!
Got questions on rule clarification, comments on rule enforcements or memorable NHL stories? Kerry Fraser answers your emails all season on TSN.ca.
Trending
Hubub: Who goes first: Mac or Jack?

TSN Director of Scouting Craig Button says Connor McDavid and Jack Eichel are 'generational talents' for the 2015 NHL Draft. Who will go No. 1? Discuss it all season long on Hubub.com!

Hubub: Hockey fans gone wild

Over the weekend, a Toronto Maple Leafs' fan threw his jersey on the ice during a blowout loss to the Pittsburgh Penguins. Was the fan overreacting or was he justified in his actions? Let's take a look at other memorable "fan moments" at hockey games.