NHL announces World Cup of Hockey to return in 2016

The World Cup of Hockey is back with a new format as the NHL seeks to create the best tournament in the world to launch a series of new international events. In the fall of 2016, the World Cup will feature a Young Stars team made up of Canadian and American players aged 23 and under along with Team Europe, a group of all-stars from countries not represented. Those teams will compete with Canada, the United States, Russia, Sweden, Finland and the Czech Republic at the Sept. 17-Oct. 1 tournament in Toronto.

Strange twist to selection process for World Cup of Hockey

The TSN Hockey panel shares their thoughts on a strange twist to the selection process for the World Cup of Hockey which requires the players to be picked by March 1st, comment on the format that's been announced, and discuss another rumoured international tournament for 2018.

Kessel: "It's like we have a jinx or something"

Phil Kessel was asked about the Maple Leafs struggles heading into the all-star break and didn't really have an explanation for their continued meltdowns each season. He also says the break is much needed for himself and his Toronto teammates.

Stamkos says plan is to reach long-term deal with Lightning

The future of Steven Stamkos has become a hot topic as he approaches unrestricted free agency in 2016. And during the media session for the 2015 NHL All-Star Game on Friday, Tampa Bay Lightning forward gave one of his strongest indications to date that he's leaning towards staying with the team that drafted him in 2008.

Penguins captain Crosby has injection to treat lower-body injury

Pittsburgh Penguins captain Sidney Crosby has received an injection to deal with an unspecified lower-body injury. The team said Friday that Crosby was injured during a loss to Montreal on Jan. 10. He tried to play through it but opted for further treatment.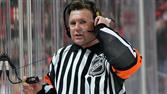 C'Mon Ref!
Got questions on rule clarification, comments on rule enforcements or memorable NHL stories? Kerry Fraser answers your emails all season on TSN.ca.
Trending
TSN Hockey: The Quiz on Hubub

Welcome to TSN Hockey on Hubub - home of The Quiz. Get the latest hockey updates and analysis from TSN, TSN.ca and TSN Radio and engage the Hubub community with TSN's debates and poll questions, courtesy of The Quizmaster.

Hubub: Who goes first: Mac or Jack?

TSN Director of Scouting Craig Button says Connor McDavid and Jack Eichel are 'generational talents' for the 2015 NHL Draft. Who will go No. 1? Discuss it all season long on Hubub.com!