NHL Features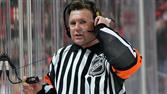 C'Mon Ref!
Got questions on rule clarification, comments on rule enforcements or memorable NHL stories? Kerry Fraser answers your emails all season on TSN.ca.
Trending
Hubub: What's wrong with the Oilers?

The Edmonton Oilers are struggling again. The team is in the basement of the NHL standings with the very realistic possibility of once again getting the first overall pick in the draft. What's wrong with the Oilers?

TSN Hockey: The Quiz on Hubub

Welcome to TSN Hockey on Hubub - home of The Quiz. Get the latest hockey updates and analysis from TSN, TSN.ca and TSN Radio and engage the Hubub community with TSN's debates and poll questions, courtesy of The Quizmaster.

Hubub: Who goes first: Mac or Jack?

TSN Director of Scouting Craig Button says Connor McDavid and Jack Eichel are 'generational talents' for the 2015 NHL Draft. Who will go No. 1? Discuss it all season long on Hubub.com!