Matthews out again as Leafs visit Flyers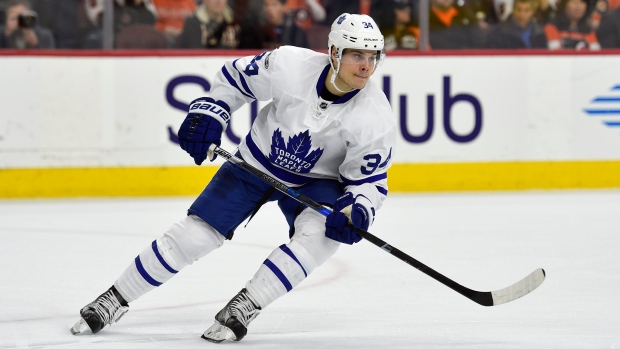 PHILADELPHIA -- The Toronto Maple Leafs are one of the hottest team in the NHL and are proving they can win without star centre Auston Matthews.
The Philadelphia Flyers were one of the coldest teams in the NHL by losing 10 in a row, but have since rebounded by sweeping a three-game trip through Western Canada.
On Tuesday night, the two teams will try to extend three-game win streaks when they face off in Philadelphia for the first time this season.
Matthews will be out again after colliding with teammate Morgan Rielly late in the third period of a win over the Pittsburgh Penguins on Saturday. He sat out Sunday's 1-0 win over the Edmonton Oilers. The one-goal win was the third straight by the Maple Leafs. They are 12-3-1 in their last 16 games and 5-0-0 without Matthews, who missed four games with an upper-body injury in early November.
Matthews leads Toronto with 13 goals and 13 assists in 26 games. Leafs head coach Mike Babock said Tuesday his status remains day-to-day.
"He's day-to-day so I think he's playing every day," Babcock said. "Day-to-day is normally 10 days, but we'll go day-to-day 'til he's ready."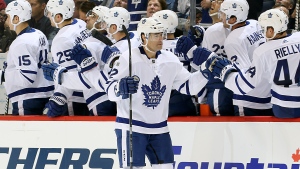 While the Maple Leafs are coming off a tremendous 41-save shutout by goaltender Curtis McElhinney, the Flyers are riding the strong play of veteran netminder Brian Elliott, who won all three games on their trek to Calgary, Edmonton and Vancouver.
Elliott stopped 103 of 108 shots in the three games, posting a 1.66 goals-against average to earn the NHL's Third Star of the Week honuors.
With Matthews out of the lineup, Babcock moved winger William Nylander to centre, where he played between wingers Zach Hyman and Connor Brown. The trio had not played together since the forwards were all with the Toronto Marlies of the American Hockey League.
"It is fun when we get to play together, it (had been) a while," Nylander told TSN following the team's win over the Oilers. "I think it started pretty good. In the third period we were hemmed into our D-zone a lot, so it was a tough third period, but we kept it out of the net and (McElhinney) played amazing so that helps for sure."
Look for the Maple Leafs' second-leading scorer, Nazim Kadri, to see a lot of ice time against the Flyers' top line of Claude Giroux, Wayne Simmonds and Sean Couturier.
Giroux posted a goal and an assist in each of his last two games, but it is right winger Michael Raffl who has been the Philadelphia's most productive forward lately. Raffl picked up three goals and an assist on the three-game trip and has scored all five of his goals in his last eight games.
Right winger Jakub Voracek set up seven goals during the three-game win streak to increase his assist total to a team-high 30. However, it has been the switch from a two-man forecheck to a 1-2-2 attack that has helped turn things around.
The last time the Flyers played at home, they lost their 10th straight game and there were calls for major changes, including chants from the crowd to fire coach Dave Hakstol.
"When you're at eight, nine, 10 in a row, most teams would start to point fingers and start to just find excuses," Giroux told the Philadelphia Daily News. "That wasn't the case. We were all in the same boat, and no one went over to the dark side. We stuck together, and that shows a lot of what this team is made of."
The Flyers (11-11-7) still have a lot of work ahead of them if they plan to climb up the Metropolitan Division standings. The Maple Leafs, meanwhile, sit behind only the league-leading Tampa Bay Lightning with a 20-10-1 record, mostly because of their 10-2-1 record in one-goal games.
The Maple Leafs have won five of their last six and now play eight of their next nine games on the road, beginning with a trip that takes them to Philadelphia, Minnesota and Detroit.