All eyes on Murray ahead of NFL Draft on TSN
Until this past February, it seemed like Kyler Murray was destined to play Major League Baseball and not in the NFL. Now, the former first-round pick of the Oakland A's is strongly being linked to go No. 1 overall to the Arizona Cardinals. Watch the first round of the 2019 NFL Draft LIVE tonight on TSN3 and TSN4 at 7pm et/4pm pt.
Tristan Garnett, TSN.ca Staff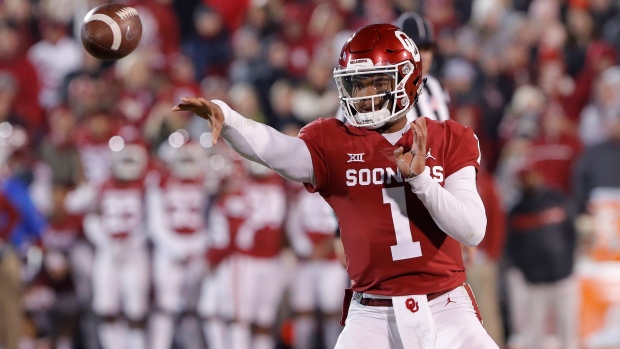 When the 2019 NFL Draft is all said and done, 254 players will hear their name called, officially welcoming them to the NFL ranks. From a player's perspective, though, being selected in the first round (first 32 picks) is what it's all about.
Select players the NFL projects to be first-round picks have been invited to attend the draft in person and, subsequently, have the chance to replicate the unique draft moment that sees them walk across the stage wearing the hat that represents their new team before finishing it off by giving league commissioner Roger Goodell a hug. And, of course, there's a money incentive as well. Unlike the majority of NFL contracts, most players that are ultimately drafted in the first round are awarded fully guaranteed contracts.
Twenty-two players – including the strong favourite to go No. 1 overall, quarterback Kyler Murray – are currently slated to attend this year's draft in Nashville, which kicks off with the first round on TSN3 and TSN4 on Thursday beginning at 7 p.m. ET.
Here are TSN.ca's 10 players (five on offence, five on defence) to look out for during the first round:
Offence:
QB Kyler Murray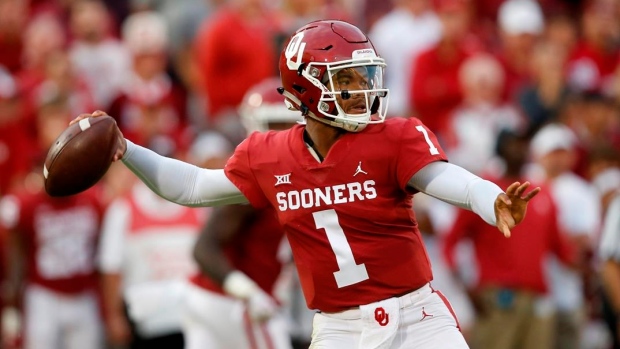 School: Oklahoma
Age / Year: 21 / Redshirt Junior
Height / Weight: 5'10" / 207 lbs.
2018 Stats: 4,361 passing yards, 42 TDs and 7 interceptions; 140 carries, 1,001 yards and 12 TDs
Until this past February, it seemed like Murray was destined to play Major League Baseball and not in the NFL. Now, the former first-round pick of the Oakland A's is strongly being linked to go No. 1 overall to the Arizona Cardinals, in part because new head coach Kliff Kingsbury, who served as Texas Tech's coach until joining the Cardinals, told the media while he was still at Texas Tech that he would take Murray No. 1 overall in the NFL draft if he ever had the opportunity.
Though Murray lacks the traditional big stature that many have long said quarterbacks require in order to excel at the position – he is just 5-foot-10 and weighs 207 pounds – Murray certainly has a lot of talent and athleticism. He won the Heisman Trophy last season with Oklahoma in what was his only season as a full-time collegiate starter. And in terms of his skills on the diamond, well, the A's reportedly offered Murray an additional $14 million on top of the $4.66 million signing bonus they gave him for being selected ninth overall in the 2018 MLB Draft as an attempt to have him pick baseball over football.
If the Cardinals do ultimately pick Murray, they'll have decide what to do with fellow quarterback Josh Rosen, who the team drafted 10th overall last year.
QB Dwayne Haskins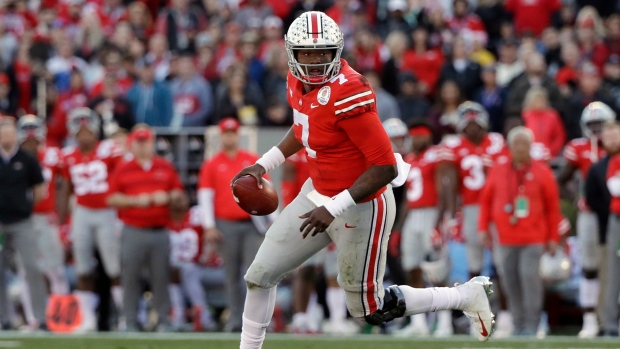 School: Ohio State
Age / Year: 21 / Redshirt Junior
Height / Weight: 6'3" / 231 lbs.
2018 Stats: 4,843 passing yards, 50 TDs and 8 interceptions; 79 carries, 108 yards and 4 TDs
After having to wait until his third season in college to get his turn to anchor Ohio State's offence, Haskins is perhaps the best quarterback prospect to ever come out of Ohio State. According to Cleveland.com, only two pivots in the school's history have even been selected in the first round of the draft – Don Scott in 1941 and Art Schlichter in 1982.
Unlike Murray, whose athleticism is a major component of his style of play, Haskins' game is more akin to that of a traditional drop-back passer. He finished third in the voting for last year's Heisman behind Murray.
WR D.K. Metcalf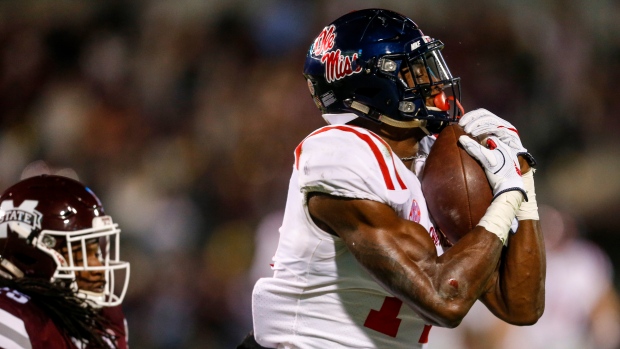 School: Mississippi (Ole Miss)
Age / Year: 21 / Redshirt Sophomore
Height / Weight: 6'3" / 228 lbs.
2018 Stats: 26 receptions, 569 yards and 5 touchdowns
Despite putting up very pedestrian numbers and being injury plagued during his three-year career at Mississippi, Metcalf has perhaps received more pre-draft buzz than any other wide receiver in this year's class. In all likelihood, this is because the internet was left stunned after a picture showcasing Metcalf's incredible physique went viral.
Adding to his hype is the blazing-fast 40-yard dash time he ran (4.33 seconds), which is even more impressive considering the receiver weighs 228 pounds. He's also the son of former Chicago Bears guard Terrence Metcalf.
QB Drew Lock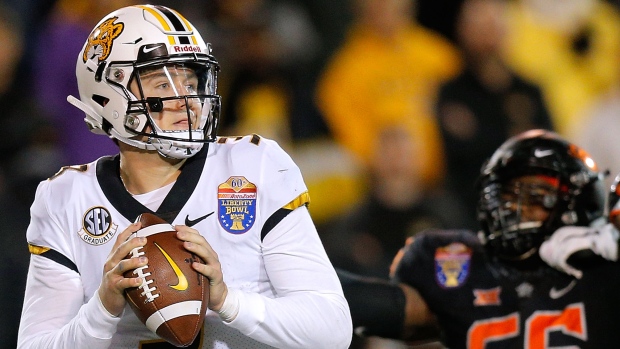 School: Missouri
Age / Year: 22 / Senior
Height / Weight: 6'4" / 228 lbs.
2018 Stats: 3,498 passing yards, 28 TDs and 8 interceptions; 55 carries, 175 yards and 6 TDs
Murray and Haskins have dominated most of the conversation surrounding this year's quarterbacks, but Lock is an interesting prospect in his own right. Unlike those pivots, Lock became Missouri's starter as a freshman and he remained in the school's No. 1 slot throughout the entirety of his four-year career.
Lock has been universally projected to be drafted in the first round, with some draft experts even speculating that he has the potential to break up the presumptive one-two order that's been predicted for Murray and Haskins.
RB Josh Jacobs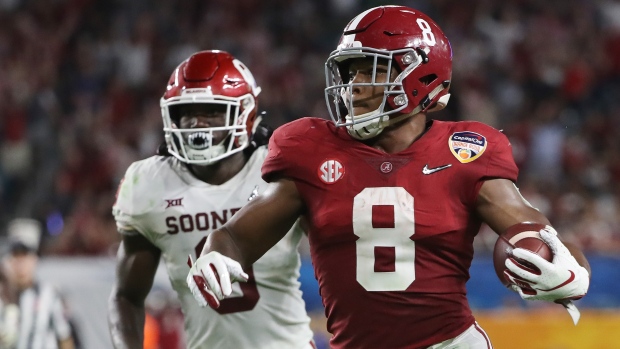 School: Alabama
Age / Year: 21 / Junior
Height / Weight: 5'10" / 220 lbs.
2018 Stats: 120 carries, 640 yards and 11 TDs; 20 receptions, 247 yards and 3 TDs
There has been a run on NFL teams selecting running backs high in the draft over the past few years, but that doesn't seem likely to happen again this year. Jacobs, who is ESPN's top rated running back prospect, may very well wind up being selected sometime in the first round, but that hardly seems like a sure thing.
At Alabama's first Pro Day, Jacobs originally ran an uninspiring 40-yard dash in the 4.63 to 4.66 range, before getting his time down to somewhere in the range of 4.52 and 4.56 at the school's second Pro Day, according to NFL Network.
Defence:
DE Nick Bosa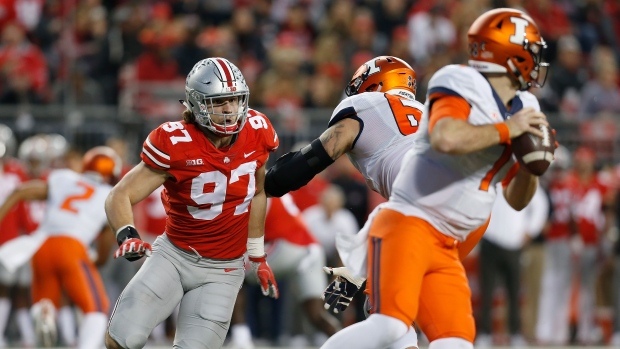 School: Ohio State
Age / Year: 21 / Junior
Height / Weight: 6'4" / 266 lbs.
2018 Stats: 14 tackles, 4.0 sacks and 1 forced fumble
An impact player since his freshman year at Ohio State, Bosa has long been considered the best defensive player in this year's draft. Before his 2018 campaign was cut short after three games because of injury and rehab, some pundits believed that Bosa had a shot at finishing the season as one of the finalists for the Heisman.
Bosa, whose older brother, Joey, was selected third overall by the then-San-Diego Chargers in 2016, stands a good shot at being the higher drafted player of the two brothers.
DT Quinnen Williams
School: Alabama
Age / Year: 21 / Redshirt Junior
Height / Weight: 6'3" / 303 lbs.
2018 Stats: 70 tackles, 7.0 sacks and 0 forced fumbles
Williams is the latest high-rated defensive lineman prospect in a long line of D-linemen that Alabama has produced under star head coach Nick Saban. What separates Williams from his fellow alumni, however, is the unique speed the 300-pounder has.
After putting up an impressive 4.87 unofficial 40-yard dash on his first attempt at the NFL scouting combine, Williams, despite being advised by his agent not to make a second attempt, improved his time to an official 4.83. His second attempt was the fourth-fastest time ever run by a player weighing 300 pounds or more at the combine, per NFL.com.
OLB

Josh Allen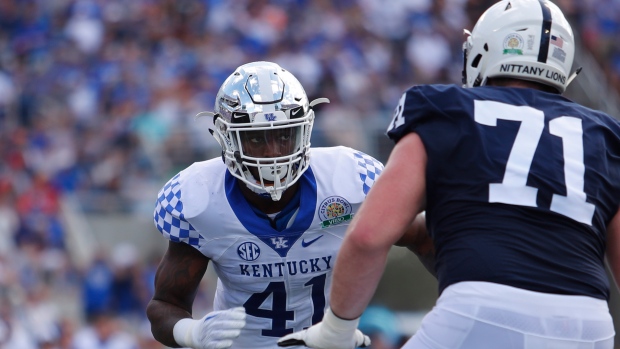 School: Kentucky
Age / Year: 21 / Junior
Height / Weight: 6'5" / 262 lbs.
2018 Stats: 88 tackles, 17.0 sacks and 5 forced fumbles
Allen put up respectable numbers through his first three seasons at Kentucky, but he completely took his game to another level as a senior – more than doubling his sack total from any of his previous three seasons, by adding a whopping 17.0 QB takedowns in 2018. For his stellar play as a senior, Allen was named the recipient of the Chuck Bednarik Award and the Bronko Nagurski Trophy, which are awarded annually to the top defensive player in college football.
According to ESPN, When Allen hears his name called on Thursday night, he will become just Kentucky's third first-round pick since 2003.
DT Christian Wilkins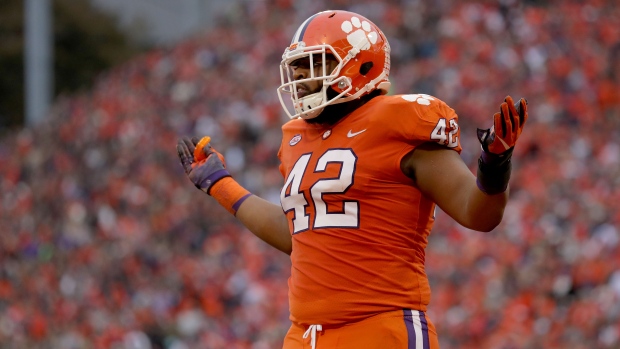 School: Clemson
Age / Year: 23 / Senior
Height / Weight: 6'3" / 315 lbs.
2018 Stats: 50 tackles, 6.0 sacks and 2 forced fumbles
In addition to being a star defensive lineman, Wilkins was also quite the scholar. According to NFL.com, Wilkins was Clemson's first scholarship football player to earn a degree in just two and a half years. For his performance in the classroom, along with his work in the community and production on the field, Wilkins was named the 2018 winner of the William V. Campbell Trophy, which is awarded to the college player which best exemplifies the aforementioned attributes.
With his help, Clemson won two national championships during Wilkins' four seasons with the program.
DE Montez Sweat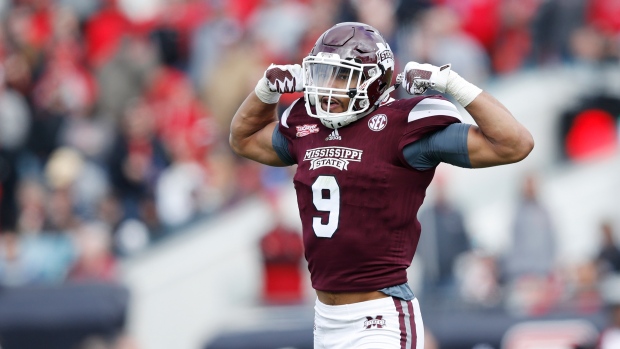 School: Mississippi State
Age / Year: 22 / Redshirt Senior
Height / Weight: 6'6" / 260 lbs.
2018 Stats: 53 tackles, 11.5 sacks and 1 forced fumble
Before arriving on Mississippi State's campus, Sweat spent two extremely lacklustre seasons with Michigan State, the latter of which saw him play in just two games before being suspended for the rest of the season. Following his departure from Michigan State, Sweat played a season at the junior college level, before signing with Mississippi State and posting two straight seasons of double-digit sack totals to end his career.
On top of his strong production at Mississippi State, Sweat's 40 time of 4.41 was the fastest among all of this year's defensive linemen prospects, and was among the top-five best put up by the running backs and cornerbacks as well.