IIHF Women's Worlds cancelled; new date sought
All systems seemed go for the women's world hockey championship in Nova Scotia when the premier pulled the plug.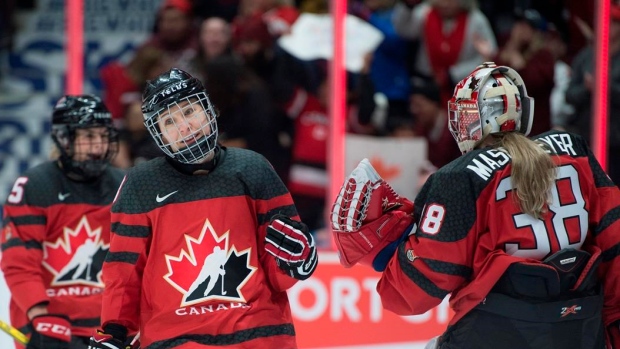 All systems seemed go for the women's world hockey championship in Nova Scotia when the premier pulled the plug.
The May 6-16 championship in Halifax and Truro, N.S., was cancelled Wednesday because of COVID-19 after initially being delayed from April.
The 2020 championship in those communities was also called off because of the global pandemic.
Canada's team was on the verge of announcing its world championship roster, while the nine other participating countries were due to arrive Thursday.
Eight teams were departing on international flights Wednesday when those plans were aborted. Reigning Olympic and world champion United States was using ground transportation.
"Absolutely devastating. How?" American forward Amanda Kessel said in a social media post.
Canada's goaltenders had just left the ice after a morning session in Halifax's Scotiabank Centre and their teammates were about to step on the ice when they were told to stand down.
"A little disbelief, a little shock and a lot of emotion," was the reaction, according to Hockey Canada's director of national women's teams Gina Kingsbury.
Concerns over increasing numbers of COVID-19 and the circulation of variants in the province compelled Premier Iain Rankin to withdraw permission for the 11-day tournament less than a day after his chief medical offer expressed support for it.
"I sincerely regret the short notice, but the rapidly changing environment dictates this decision in the interest of the safety of Nova Scotians and participants," Rankin said in a statement.
"We have worked diligently with Hockey Canada to ensure we can stage a safe and successful world hockey championship and they have been a great partner, but the safety of the Nova Scotia public and participants is paramount and is the reason for our decision."
Provincial CMO Robert Strang said Tuesday he was comfortable with the protocols in place for the tournament to go ahead.
"That tournament in my opinion, does not present a risk of bringing COVID and transmitting it into Nova Scotia with all the very strict protocols they have even before they leave their home countries," Strang said then.
But the International Ice Hockey Federation and Hockey Canada were informed early Wednesday morning the tournament was off.
"At five o'clock this morning, this was a go. At seven-thirty, it was not," Hockey Canada president Tom Renney said on a video conference call.
"Some of this is much, much further beyond our control than we would like. What we can do is control what we have in front of us and we have every intention of making sure we follow through with a world championship here in Canada at a point in the near future."
The IIHF confirmed it will work with Hockey Canada for it to host the women's championship this year.
"This is very disappointing news to receive with just a few weeks until the tournament was to begin," IIHF president Rene Fasel said in a statement.
"We strongly believe that we had the adequate safety measures in place to protect players, officials, spectators, and all residents in Halifax and Truro, based on the IIHF and Hockey Canada's experiences from hosting the IIHF world junior championship in Edmonton."
Hockey Canada executives indicated one Plan B considered earlier this year was waiting until Aug. 20-30 to host the women's championship.
In vowing the tournament will happen in Canada this year, there wasn't a commitment Wednesday to hold it in Nova Scotia.
"We will look at every opportunity possible to deliver this event in a location where we are told and have the commitment that it's safe to do so," Hockey Canada chief executive officer Scott Smith said.
"We will look at every option available to us."
Nova Scotia imposed new travel restrictions this week barring people from outside the province, Prince Edward Island and Newfoundland and Labrador from entering unless travel is essential or they're permanent residents of Nova Scotia.
The province announced 25 new cases Wednesday for a total of 79 active infections.
Players and team personnel arriving Thursday were to begin a 14-day quarantine starting with individuals self-isolating in hotel rooms before graduating to teams moving back and forth between hotels and the arenas on buses.
Each player, coach and team staff member was to undergo a total of seven tests, including four before they were cleared to compete.
As was the case at the world junior men's hockey championship in Edmonton, wearable technology would monitor quarantine compliance and allow for contact tracing.
U.S. women's head coach Bob Corkum stepped down, telling The Associated Press on Saturday he was uncomfortable with tournament protocols without elaborating on whether he felt they were too strict or not strict enough.
"I think we heard very clearly from Dr. Strang that he was very comfortable and confident in our protocols, but at the end of the day there was also a clear discussion with the province of Nova Scotia and the increasing case load that the concern was for the health and safety of Nova Scotians," Hockey Canada's vice-president of events Dean McIntosh said.
"We certainly respect that decision."
The 2021 men's under-20 world championship was held Dec. 25 to Jan. 5 in Edmonton. The 10-country men's under-18 championship opens Monday in Frisco, Texas.
The men's world championship is scheduled to open in less than a month in Riga, Latvia. January's women's under-18 hockey championship in Sweden was cancelled.
— With files from Keith Doucette in Halifax.
This report by The Canadian Press was first published April 21, 2021.