Altidore talks Champions League, USMNT and being 'overrated'
Mike Beauvais, TSN.ca Staff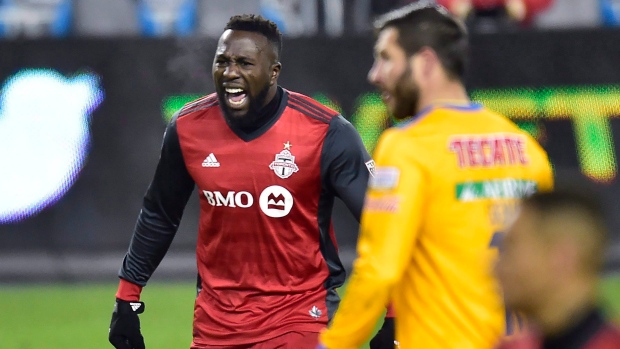 Jozy Altidore's Toronto FC team is looking for an encore.
Not yet four months removed from a 2-0 MLS Cup triumph over the Seattle Sounders to cap a record-breaking season in which the Reds completed an unprecedented treble by also capturing the MLS Supporters' Shield and the Canadian Championship, Toronto is ready for more in the form of the CONCACAF Champions League. They've actually been ready since almost immediately after winning Major League Soccer's biggest prize last December.
"I'm telling ya, after three or four days, guys were just thinking, 'What do we do next year?' It's crazy," Altidore told TSN.ca. "It's a crazy group to be in where everybody just wants more; everybody wants the next opponent, the next game. It's infectious. Now you have that from every guy, so in a lot of ways, you think, 'Oh, are we enjoying it enough?' but on the other side, we're always ready for the next challenge and I think that's an X-factor for us."
The next challenge comes in the form of Mexican giants Club America, seven-time winners of the competition, in the semi-finals with the first leg coming on Tuesday at BMO Field. While a team boasting the likes of Oribe Peralta, Renato Ibarra and Jeremy Menez poses a challenge for any team it goes up against, TFC will be ready, having already put to bed one of Liga MX's Goliaths.
To reach the semis, the Reds defeated UANL Tigres on away goals, undaunted by the club's international stars in Andre-Pierre Gignac, Enner Valencia and Eduardo Vargas. Altidore says there was never any fear when it came to facing Tigres and, if anything, it was refreshing for his team to have the roles reversed from what they're accustomed to in MLS.
"I think the interesting part is just being on the other side of the coin, because when we play in the league, that's what everybody says. 'Oh, Toronto's payroll is so much bigger than everybody else's' and this and that," Altidore said. "So to have it be reversed and play against a team that was far more – on paper – superior, to be honest, nobody was rattled. I'm not just saying that because we got through, but everybody took it as a challenge that they wanted to overcome because of all the talk and so, it was exciting, man. But I don't think anybody has a fear of anything. If anything, I think you're just excited to be in this place we're in now and the opportunity we have."
To advance to the Champions League final, something the club has yet to accomplish, the Reds will need to endure the test of the Estadio Azteca. Mexico City's famed stadium sits well above sea level and that's to say nothing of the challenge of playing in front of some of world football's most boisterous fans.
Altidore has competed in the Azteca as a member of the United States men's national team, but he doesn't think any advice for his about playing there for teammates who haven't will be particularly helpful.
"It's one of those things where it doesn't matter what I tell you, it's just a different experience," Altidore said. "It's at an altitude of a pretty extreme level. That's the part that gets you. On top of the team being so talented, you're gonna start to lose your air quicker and, obviously, that's vital in soccer. That's gonna play a huge element and it's not something that I can explain to anybody – you have to go through it. So hopefully, we pass the test. I think we're prepared as good as we can [be], so preparation won't be an issue."
What has been an issue for the Reds, though, are games in the league following a Champions League match. Over its history, Toronto FC is 0-9-3 in MLS action in the game after a Champions League match, including dropping both of its MLS matches this season, going scoreless in losses to the Columbus Crew and Montreal Impact. It's a trend that Altidore knows needs to change.
"There's a lot of highs in the Champions League," Altidore said. "You get all of these highs and then to come down, we play a regular-season game with not much at stake. It's difficult, but that's also the challenge of taking that next step to being elite. For the best players at the highest level, whether it be a conference final game for Kobe [Bryant] or his last game or his third game, he comes out with the same mentality of 'I'm going to kill you.' So I think that's something that we have to improve upon and we can't make excuses for it. This is a good opportunity for us to show that we're taking steps by not having these kind of layoffs and we have a big chance on Friday [at Real Salt Lake] to turn that around."
You can catch Real Salt Lake vs. Toronto FC LIVE on TSN1, TSN3 and TSN5 and on TSN GO at 8pm et/5pm pt.
Real Salt Lake will be TFC's third league match, but their seventh competitive fixture this season when you include the Champions League games against Tigres and Colorado Rapids. The first leg of TFC's tie with the Rapids came on Feb. 20. Altidore believes MLS teams are at a disadvantage when it comes to the Champions League in this current incarnation.
"I think we can get a little bit more help [from MLS]," Altidore said. "With the starting of the Champions League, it's difficult to come off preseason, have a couple of weeks and then play [Mexican sides]. Those guys are almost halfway through [their seasons]. That's the toughest part that people don't understand. You can't rush the body, you know what I mean? The body needs time to rest as it does need time to get ready for a season. That's the only issue that I hope they can kind of figure out, not only for us, but for teams in the future."
While TFC's success on the pitch over the past couple of seasons has been undeniable, the team is still not without its detractors. In an ESPN players' poll released last week, TFC captain Michael Bradley was named as the league's second-most overrated player, while Altidore himself was third (LA Galaxy's Giovani dos Santos came in first in the survey). Altidore takes the (dis)honour in stride.
"I think it's beautiful," Altidore said of the vote. "It's beautiful because it's the world we live in. None of those guys would ever come up after a Saturday after I beat them, pummeled them to the ground, they would not come up to me and say, 'Hey, you're overrated.' They'd probably be after my shirt. In the end, it is what it is, but I got three trophies. I'm on the best team ever. I was a part of that and if that's being overrated, I hope I'm overrated for the rest of my career."
Altidore has been used to criticism in recent months from south of the border in the aftermath of the USMNT failing to reach the World Cup for the first time since 1986. He's heard it from the fans and he's heard it from the pundits, but to Altidore the suggestion that he and Bradley somehow care less about the USMNT than they do their club team is laughable.
"I love it because me and Michael, we've given everything to US Soccer – to any team we've played on for our whole lives," Altidore said. "I've given everything to this sport and my country since I started kicking a ball. That was my dream, to make it to the national team and to do great things for them. Those people who think that I don't care or that I don't try, I love it. It fuels me and I try to keep working harder."
Capped 110 times, Altidore might need to get used to familiar faces from Toronto with the national team. While he, Bradley and Justin Morrow have featured regularly for the United States, goaltender Alex Bono was recently called into the team's training camp and midfielder Marky Delgado received his first cap last week in a 1-0 win over Paraguay.
Altidore believes the USMNT taking notice of his teammates is a credit to the quality of his squad and what's happening in Toronto.
"It says a lot about where we're trying to go," Altidore said. "From the eleven that start to the seven or eight on the bench to the six or seven on the practice squad, we're trying to have a team that on any given day can play at the highest level. People laughed at it four years ago, but nobody is laughing at it now. So that doesn't change. That's our mindset and congratulations to those guys, but as soon as they're back here, we're going to be on them to help us keep building."
The ultimate testament to TFC's success might come in the next coach of the USMNT. With Dave Sarachan acting only as the team's interim manager, TFC gaffer Greg Vanney's name has emerged as a candidate for the permanent job. Altidore is nothing but effusive with praise for his coach and believes that the best is yet to come for the 43-year-old Boston native, who was capped 37 times by the USMNT as a player.
"I think Greg is interesting because you've [only seen] the tip of the iceberg in terms of what he's capable of doing as a coach," Altidore said. "And I mean that with all due respect, I don't think that he's a bad coach. I just think there's so much more to him and we're going to see that over the years. He has so many great ideas. He has so many great ways of seeing the game. I just think there's so much there for him and I'm excited to watch him grow as a coach."
For Altidore, it's only natural to see Vanney being attached with the vacancy.
"I think a lot of the guys can't wait to see his ceiling because we all love Toronto FC, but a guy like Greg will have opportunities elsewhere and, obviously, it's on him whether he takes them or not," Altidore said. "But I'm just enjoying the time I'll have playing with him because I think he's a terrific person and a very good coach."
While Vanney might be receiving the plaudits he deserves, Altidore says that one teammate of his in particular is flying under the radar when it comes to hype and it's something he thinks will change soon.
"Jonathan Osorio, man," Altidore said. "He's Canadian. He loves Toronto to the death and he comes in every day, he keeps his mouth shut and competes. And on a team that we have, for him to keep his place and not miss a beat, but instead elevate his play says a lot about him. I don't think he gets the love or credit he deserves from people in Canada and I think people need to do more to appreciate him because there aren't many players who can do what Jon does in our league."
And that league continues to grow. Altidore made his MLS debut as a 17-year-old with New York Red Bulls in 2006, a year before TFC entered the league. With the addition of LAFC, MLS is up to 23 clubs, marking 11 new clubs since the Reds joined the fray.
David Beckham's Miami franchise will enter the league in 2020, while a Nashville team is also on the way. It's a far cry from those early days that Altidore remembers with one major difference:
"Relevance," Altidore said. "I think people care more. I think when I first started playing in MLS, my first year I remember people didn't even know there was a game. I was playing in New York and there would be a game and there'd be 3,000-4,000 people in the stadium. Teams now are relevant in their markets and that says a lot about where the league is going and it also says a lot about the game of soccer. It's so diverse that you can attract new fans very easily and I think the league has done a good job of harnessing that and I think you're just going to see better growth from now on."