American Edmunds rallies to win Four Continents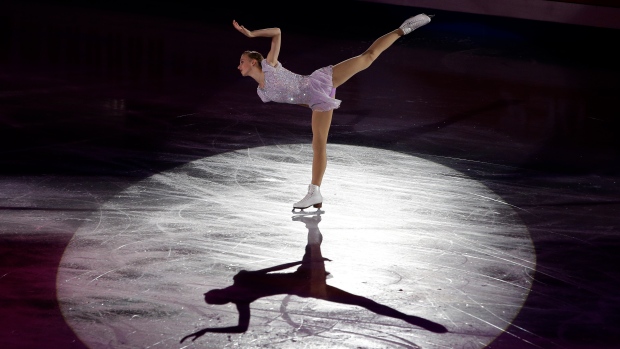 SEOUL, South Korea - American Polina Edmunds rallied Sunday to win the Four Continents figure skating championship, finishing ahead of two Japanese skaters, despite a few stumbles.
Edmunds, who came into the free skate in fourth place, hit the wrong edge on an early combination, a triple flip-single loop-triple Salchow, but landed most of her other big jumps, including a late combination. Skating to "Tinker Bell" by James Newton Howard, the 16-year-old finished with 184.02 points.
Gabrielle Daleman of Newmarket, Ont., produced a career-best international result, finishing seventh.
The Four Continents provides an important gauge of possible competition at next month's world championships in Shanghai, but it doesn't include powerful European skaters. The absent Russians who swept the medals at the European championships earlier this month, however, were on the minds of many.
"I don't think that the Russians are stronger than any one of us," Edmunds, the second youngest woman to ever win the event, told reporters. "It's going to come down to the elements. It's going to come down to how we perform. But going into worlds I'm optimistic that, hopefully, it's not going to be all, 'The Russians are coming!'"
Satoko Miyahara of Japan, who'd been first after the short program, had an uneven free skate, including a fall on a triple Lutz, to win silver, with 181.59 points. The 16-year-old skated to "Miss Saigon" by Claude-Michel Schoenberg.
"I know the Russian girls are so strong," Miyahara said, "but I don't like to think about other people. I just want to focus on myself."
She blamed her shaky free skate on a lack of speed and power on her jumps.
Rika Hongo, 18, of Japan got the bronze medal with 177.44 points.
American Gracie Gold, the 2014 U.S. champion, finished fourth.
Alaine Chartrand of Prescott, Ont., was 10th and Veronik Mallet of Sept-Iles, Que., 14th.
The Russians will be a focus of worlds. They include Elizaveta Tuktamysheva, who won gold at the European championships, and Elena Radionova and Anna Pogorilaya, who were second and third, respectively.
Russian Olympic champion Adelina Sotnikova, who has had an ankle injury, hasn't skated in international competition since beating South Korea's Yuna Kim for gold at Sochi in February 2014, in a victory that caused heated debate over the judging.
Kim has retired, but reminders of still-fresh South Korean outrage at her loss were everywhere at the arena. "ISU out," said one sign, a reference to the International Skating Union that governs the sport. Another said "Robbers Sochi," and one, also directed at ISU, read: "I know what you did last winter in Sochi."
Other skating highlights at the championships at Seoul's Mokdong Ice Arena included Olympic bronze medallist Denis Ten's commanding win at the men's event Saturday. The Kazakh skater finished well ahead of Joshua Farris of the United States in second place.
Canada collected two gold. Kaitlyn Weaver and Andrew Poje won the ice dance, while Meagan Duhamel and Eric Radford took the pairs competition.