Andreescu's hot streak headlines Australian Open Canadian storylines
With the Australian Open set to kickoff today on TSN, Michael Gallo takes a look at five Canadian storylines heading into the biggest tournament of the season so far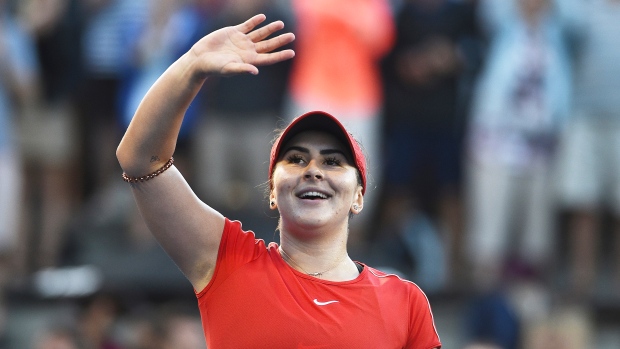 With the Australian Open set to kickoff today on TSN, Michael Gallo takes a look at five Canadian storylines heading into the biggest tournament of the season so far:
---
1. Bianca breaking through down under
Canada's biggest sports story so far in 2019, Bianca Andreescu has taken the tennis world by storm with her run in Auckland. The 18-year old posted wins over former world No. 1's Venus Williams and Caroline Wozniacki and won seven matches before coming up just short in her first WTA final against Julia Goerges. Andreescu caught everyone by surprise, having to go through qualifying to start her run. She played fantastic defense while holding the baseline firm against some of the world's top players. Her ranking jumped 46 spots to No. 106 in the world and is right on the cusp of getting direct entry into grand slam main draws. In Melbourne, Andreescu still had to go through qualifying and she had a relatively easy run, dropping just seven games in three matches, although two of her opponents retired with injury. The Mississauga, Ont., native was the only one of six Canadians to come out of qualifying, with Felix Auger-Aliassime, Peter Polansky, Brayden Schnur, Rebecca Marino and Katherine Sebov all failing to win three matches. Coming into Melbourne, Andreescu leads the entire WTA tour with ten match wins in 2019 – two more than any other player – which shows how busy the start of the year has been. She has a favourable first round matchup against American wildcard Whitney Osuigwe in hopes of winning her very first grand slam match. Don't be surprised if Andreescu is the top-ranked Canadian by Wimbledon.
2. Difficult draw for Milos
The one matchup that had everyone salivating when the draw came out is Milos Raonic against Nick Kyrgios. The 16th seeded Canadian was handed a very tough draw right out of the gate taking on the unpredictable Aussie, and if he wins that match, 2014 champion Stan Wawrinka could be next. There is a silver lining – the seeded players he could then face in the deeper rounds are favourable. No. 24 Hyeon Chung is Raonic's projected third round opponent, and is riding a three-match losing streak including a surprising loss in Auckland to No. 360 Rubin Statham. Alexander Zverev is the top seed (No. 4) in that section, but he injured his lower left leg in a nasty fall during practice last week. There is no indication whether or not Zverev will 100 per cent when the tournament begins, but this could open up the draw for Raonic if the top-ranked German is unfit. Coming into the tournament, Raonic played one ATP tournament, posting two wins before losing in the Brisbane quarter-finals to Daniil Medvedev.
3. Shapovalov settling down
This year is poised to be a big season for Denis Shapovalov. His ranking improved 24 spots from last year, even briefly holding the No. 1 Canadian spot in May, and reached three ATP semi-finals. Now with his first full season completed, Shapovalov is eying to conquer the next challenge; winning his first ATP title. However it's been a little rocky since making the semi-finals in Tokyo back in October, winning just one of his last seven matches during the winter months. The 19-year old lost his debut match of 2019 to the lower-ranked Joao Sousa in Auckland, and that was his only tune-up before the Australian Open. Shapovalov remains the youngest player in the ATP Top-30 and has achieved more than most top players on the tour as a teenager. He opens up the tournament against clay courter No. 82 Pablo Andujar and could face Thanasi Kokkinakis in the second round, who already beat one Canadian (Polansky) during the final round of qualifying. A couple of wins in Melbourne could set up a dream matchup with six-time champion Novak Djokovic.
4. Under the radar
Not to be forgotten, Genie Bouchard quietly got her ranking back inside the grand slam cut-off before the end of 2018. She fell all the way back to No. 193 in June, but then quickly got back into the top-100 behind two WTA semi-final results. Now at No. 79, Bouchard has gotten off to a great start in 2019, making the quarter-finals in Auckland before losing to the eventual champion Goerges. Bouchard actually had a match point and was unable to convert, but the real story was that she and partner Sonya Kenin won the doubles title, which was the first of Bouchard's career. That is some solid momentum going into the Australian Open where she will face No. 128 Shuai Peng, who just recently returned from a six-month suspension for trying to change her doubles partner after the sign-in deadline at Wimbledon. If Bouchard was to win her first round match, a date with 23-time grand slam champion Serena Williams will likely occur.
5. Doubling up
Canada's top ranked player on either tour is looking to build off a career year. Gabriela Dabrowski won three WTA doubles titles and comes in as the defending Australian Open mixed doubles champion with partner Mate Pavic. Currently ranked No. 10 in doubles, the Ottawa native and partner Julie Xu have played two tournaments so far in 2019, with a semi-final result Brisbane and second round loss in Sydney as the No. 1 seeds. The pair are seeded No. 3 in the doubles draw and are hopeful to build off a fantastic season, but did not find as much success in the grand slams compared to the Premier tournaments. Dabrowski has proved to be one of the elite doubles players on the women's side and is a threat to win the title in Melbourne in both draws.