Argos reunite GM Popp and head coach Trestman
The Toronto Argos have reunited GM Jim Popp and Marc head coach Trestman, hoping the duo can replicate the success they enjoyed with the Montreal Alouettes.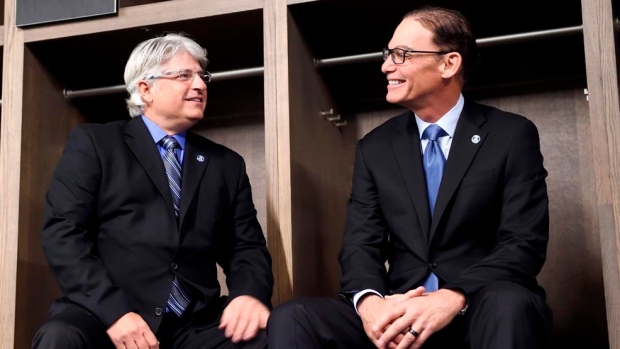 TORONTO — Marc Trestman wasted no time making his first official decision as head coach of the Toronto Argonauts.
Trestman named veteran Ricky Ray as his starting quarterback Tuesday, moments after he and new general manager Jim Popp were unveiled by the CFL club at BMO Field. Ray had been pondering his future this off-season after losing the starting job to Drew Willy, who was acquired late last season from the Winnipeg Blue Bombers.
Trestman said he spoke at length with Ray last week and not only was the 37-year-old returning for a 15th CFL season — and sixth with Toronto — but he was back as the Argos' starting quarterback.
"I haven't seen Drew Willy play at all . . . but I've seen Ricky Ray play and I know he's a Hall of Fame quarterback who has won championships," Trestman said. "He's excited to play and he'll come in here as the starting quarterback.
"There will be no competition and he and I will decide whether he's capable of doing that as we move along. Drew Willy understands that. I had a chance to talk with (Willy) and I am very very impressed with him as a person."
Trestman's declaration was certainly bold given Ray has missed 36 regular-season games since arriving in Toronto prior to the 2012 season. When healthy, the six-foot-three, 210-pound Ray remains a pinpoint passer — his 67.97 per cent completion average is the best in league history — and he's won three CFL championships, the last being in 2012 when the Argos claimed the historic 100th Grey Cup game at Rogers Centre.
But Ray has started just 11 games the last two years.
Willy, 30, completed 77-of-113 passes (68.1 per cent) for 681 yards with three TDs and an interception in four starts with Toronto. But the six-foot-three, 213-pound New Jersey native couldn't stop the club's nosedive as it lost 11 of its final 12 regular-season contests to finish last in the East Division at 5-13.
Trestman enjoyed tremendous success the last time he teamed up with a veteran CFL quarterback. With Anthony Calvillo — pro football's all-time passing leader — directing Trestman's offence in Montreal, the Alouettes posted a 59-31 regular-season record from 2008-12, appearing in three Grey Cups and winning two.
"Ricky has also said if it doesn't work out that he's the starter, he'll be the best backup we could possibly have from an emotional and mental standpoint," Trestman said. "But there's no competition starting out, Ricky Ray is going to be our quarterback until he shows us he can't be.
"With that, he brings hope to all of us if he's healthy. He's done it, he's a great leader in this locker-room. He'll come here and do everything he can and we'll just work from there."
In Popp and Trestman, the rebullding Argos get two proven CFL commodities. Popp spent 21 seasons as Montreal's GM, leading the franchise to eight Grey Cup appearances and three titles.
He also earned a Grey Cup ring in '95 as the Baltimore Stallions' GM. But the 52-year-old native of Elkin, N.C., proved ineffective as a head coach, posting a 22-36 regular-season record and 1-4 playoff mark in four separate stints on Montreal's sidelines.
Popp was removed as Als coach last September before being let go as GM in November.
Changes were expected this off-season in Toronto. Expectations were high as the franchise had new ownership — Bell and Maple Leafs Sports and Entertainment chairman Larry Tanenbaum — and relocated to a refurbished BMO Field.
But after a solid 4-2 start, the Argos' season quickly unravelled. Ray was sidelined by three separate injuries and Toronto allowed a CFL-high 586 points while posting a dismal 2-7 home record.
General manager Jim Barker was fired Jan. 24 and head coach Scott Milanovich resigned three days later to become the quarterbacks coach with the NFL's Jacksonville Jaguars, leaving assistant GM Spencer Zimmerman to guide the Argos once CFL free agency opened Feb. 14.
"We understand it was unorthodox in terms of timing and we were prepared to accept that to get this right," said president Michael Copeland, who spearheaded the club's GM search. "And we got this right.
"We identified select candidates to round out our shortlist and upon close consideration by me and our ownership group, Jim Popp emerged as the best person for the job. Contrary to speculation, we did not offer the job to any other candidate. Jim won the job."
Defensive lineman Shawn Lemon said the hiring of Popp and Trestman was worth the wait.
"They're proven winners," he said. "They understand the CFL game and I couldn't be happier with the choices.
"Sometimes you've got to sit back and evaluate the situation and find the right guys who fit. They definitely got it right."
Popp wasn't bothered with the late start.
"I'll be the first to tell you, I don't believe in building a team through free agency," he said. "I believe in building from within.
"Find your people, develop them, keep your guys, that's the goal. We'll find people along the way if we have to plug holes but I like the basis of where we are."
With the quarterback issue resolved — at least for now — Trestman's most pressing need is filling out his coaching staff.
"I'm not concerned or stressed out about the timeline we have," he said.
Trestman left Montreal to become the Chicago Bears coach in 2013 and held the post for two seasons before being fired after compiling a 13-19 overall record. The Baltimore Ravens hired Trestman to be their offensive co-ordinator but fired him in December after just 21 regular-season games on the job.
Trestman said he isn't in Toronto with an eye on returning to the NFL.
"When I went to Montreal, I went to be the best football coach I could be on a daily basis and that's the only thing I thought about," Trestman said. "I want to be the best football coach I can for the Toronto Argonauts on a daily basis and that's all I'm going to think about because that's the only thing I can control.
"Where the stars lead they lead but I'm glad they led here."