Barker says Wilder Jr., Butler weren't promised early exit
Former Toronto Argonauts general manager weighs in on off-season controversy surrounding players looking to leave their CFL contracts after one year to pursue opportunities in the NFL.
Dave Naylor, TSN Football Insider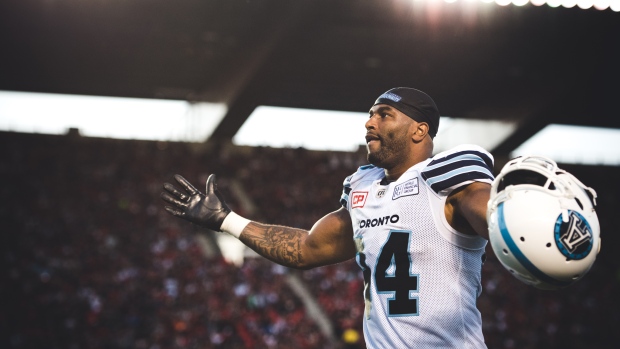 Jim Barker, the former general manager of the Toronto Argonauts who oversaw operations during last winter's negotiations with Victor Butler and James Wilder Jr., insists neither player was promised an early exit from his contract to pursue NFL opportunities as part of joining the Canadian Football League club.
"I never spoke to either player or their agent, but it was my director of player personnel and assistant general manager who did, and in both cases they said the players were told they were entering a two-year commitment," Barker told TSN on Thursday.
"I was the GM. I was in charge and take responsibility for what they do. And neither Curtis Rukavina or Spencer Zimmerman ever brought it up to me. They never came to me about it."
Rukavina has since joined the NFL's Buffalo Bills as a pro scout. Zimmerman remains in the role of assistant GM with the Argos.
Barker, who continues to live in Toronto, has been a keen observer of the contract drama that's played out over the last several weeks with Butler and Wilder Jr.
Both players have insisted they had verbal agreements to leave their contracts after one year to pursue opportunities in the NFL. The Argos, under the direction of general manager Jim Popp, who succeeded Barker in February, have refused.
The Canadian Football League Players' Association announced Thursday it plans to investigate the circumstances around the signings to determine what may have been promised to the two players.
Barker is confident the answer is nothing but a two-year contract to play in the CFL.
"With both young men [Rukavina and Zimmerman] there's no reason for them not to tell the truth," he said. "They would have come to me and said, 'He wants to do this,' and I wouldn't have allowed it."
Barker said the only instance he recalls of signing a player during the off-season and promising to release him early from his contract was that of Armond Armstead, a former star at USC who came to the CFL in 2012 to prove he was healthy enough to play professionally after suffering a heart attack while in college. He subsequently signed with the NFL's New England Patriots.
"The point is [with Butler and Wilder Jr.] it never happened," Barker said. "When a GM gets fired, it doesn't mean that they [the players] can say, 'The old GM said this,' because the old GM never did that." ​