Bell open to retirement if franchised again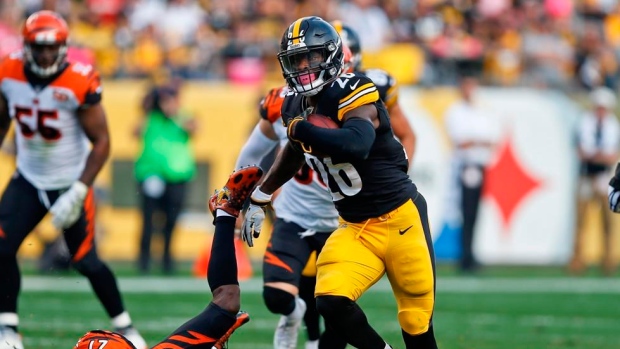 Running back Le'Veon Bell pulled no punches on Thursday when it came to his next contract.
The Pittsburgh Steelers running back told ESPN that he's prepared to sit out a year or even retired if the team uses the franchise tag on him for a second year in a row.
"I hope it doesn't come to that, but I would definitely consider it," Bell told ESPN prior to Thursday's practice ahead of the team's AFC divisional round date with the Jacksonsville Jaguars on Sunday.
The franchise tag for running backs is projected to rise to around $14.5 million next year, up from the $12.1 million Bell earned this season. The window for teams to franchise a player opens on February 20 and stays open until March 6. Once tagged, teams have until July 16 to work out a long-term deal.
"It will eventually come down to me playing on the tag or not," Bell said. "They tag me again, it will be me [saying], 'OK, do I want to play on the tag or do I not want to play on the tag?' That's what it comes down to. If I was a free agent and they let me go, be a free agent, then yeah, I'm going to go explore free agency, test the market."
Bell, 25, indicated that if he were to sit out 2018, he'd likely lean towards retiring altogether.
The Reynoldsburg, OH native reportedly rejected a lengthy pact with the team last summer, one believed to have totalled $30 million over the first two seasons of the deal. The Michigan State product reportedly felt that the team didn't recognize his full skill set.
When asked what he was looking for this offseason, Bell says he wants the club to fairly rate him.
"Just get the numbers straight exactly where we want them," Bell said. "I'm not going to settle for anything. I know what I do and what I bring to the table. I'm not going out here getting the ball 400 times if I'm not getting what I feel I'm valued at."
Bell appeared in 15 games for the Steelers this season. He had a league-leading 321 carries for 1,291 yards rushing and eight touchdowns. Bell added 655 yards receiving on 85 catches with with another two touchdowns.