Bills GM Beane: 'You've got to have a franchise QB'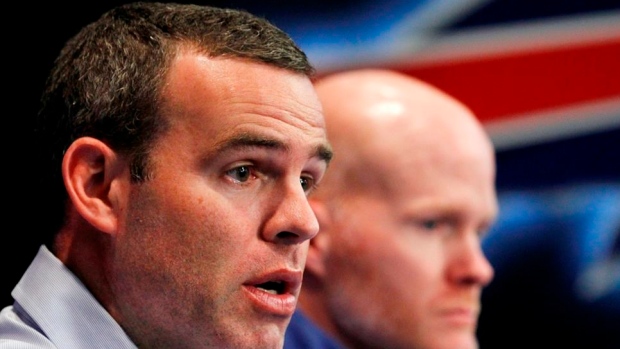 Buffalo Bills general manager Brandon Beane reiterated his team's desire to land a franchise quarterback in this month's NFL Draft, but wouldn't guarantee that he would land one.
"You've got to have a franchise quarterback," Beane said. "That's one of the main jobs of a GM, to find a franchise quarterback. It's a quarterback league. I'll say it every single time, you have to have one."
The Bills have the 12th overall selection in the April 26 draft after having traded up in a deal with the Cincinnati Bengals that saw the No. 21 selection and offensive lineman Cordy Glenn head to Ohio. Alongside head coach Sean McDermott at a media availability, Beane noted that the team has met with all of the top quarterbacking prospects ahead of the draft.
"It's part of the process and yes we have met with them all," Beane said. "At this point we know them pretty well. As I was alluding to regarding the Senior Bowl and the NFL combine is that was part of the process. What I would say is they're all great young men and there's a reason they're all being talked about."
Yet Beane made no guarantees of landing that pivot with the pick and said that even if he didn't, the draft could still be a success.
"Yes, because there are a lot of good players in this draft," Beane said. "That was the big thing of moving from 21 to 12. The natural assumption, I get it, is we're moving up to get a quarterback. We improved our draft position. It was a second-round value to go from 21 to 12. We're excited about where that moves us on our draft board and the players that we see would be available there."
Beane also addressed the status of seemingly retired guard Richie Incognito, who announced his intention to retire last week, walked it back and then confirmed his decision on Sunday.
"I'm not really going to get into detail," Beane said. "Richie is on the reserve/retired list, which is not a part of our 90-man roster and that's really where we're at."