Bills name veteran Orton starting quarterback; bench Manuel
The Buffalo Bills will have a new starting quarterback in Week 5. Bills coach Doug Marrone announced on Monday Kyle Orton will start when the Bills play the Detroit Lions on Sunday. "Kyle Orton is our starting quarterback right now," Marrone said. "We need more overall production from that position."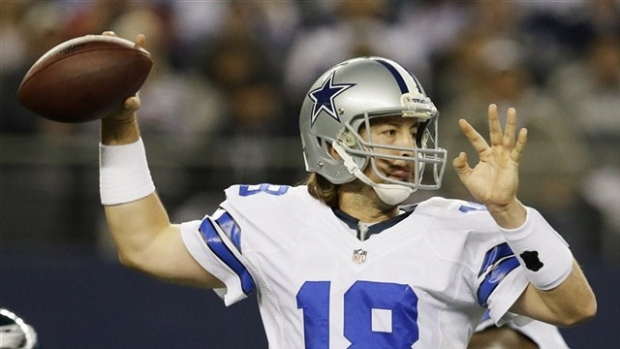 ORCHARD PARK, N.Y. - Buffalo Bills coach Doug Marrone benched starting quarterback EJ Manuel on Monday, one day after the former first-round draft pick completed less than half his passes and threw two interceptions in a loss to Houston.
Marrone said Kyle Orton will start Sunday's game against the Detroit Lions. The Bills signed Orton on Aug. 30 to back up Manuel.
Manuel was the Bills' first-round draft pick in 2013 and had started 14 games over the past two seasons.
He had a season-low quarterback rating of 59.4 and threw an interception to J.J. Watt that was returned for a momentum-changing touchdown Sunday during the Bills' 23-17 loss. Manuel has completed just 58 per cent of his passes for Buffalo (2-2) through four games this year.
Orton, a nine-year NFL veteran, spent the past two seasons in Dallas before being cut by the Cowboys in mid-July after he skipped the team's off-season workouts amid reports that he was considering retirement.
While Manuel has size and mobility, his decision-making and leadership have been questioned. He acknowledged needing better command of the offence days before the season opener, and understood that he had plenty to prove in showing he's capable of being a bona fide starter.
Manuel also faced injury issues last year that hampered his development. He missed six regular season games and went 4-6 in 10 starts.
Manuel got off to an encouraging start in helping the Bills open with two wins this year. The familiar troubles, however, popped up in Buffalo's past two losses.
The Bills invested heavily to improve their offence this season in order to give Manuel every chance to succeed. It made its biggest splash in the draft when it traded next year's first-round selection to move up five spots and select dynamic receiver Sammy Watkins with the No. 4 pick. The Bills also used three of its seven selections on offensive linemen, and acquired wide receiver Mike Williams in a trade with Tampa Bay.
Marrone said as Orton began practicing with the team that the Bills first targeted Orton early in training camp as a backup, saying the need for a contringency plan emerged when former backups Thad Lewis and Jeff Tuel didn't show enough progress.