Blue Bombers in talks to make Ekakitie No. 1 pick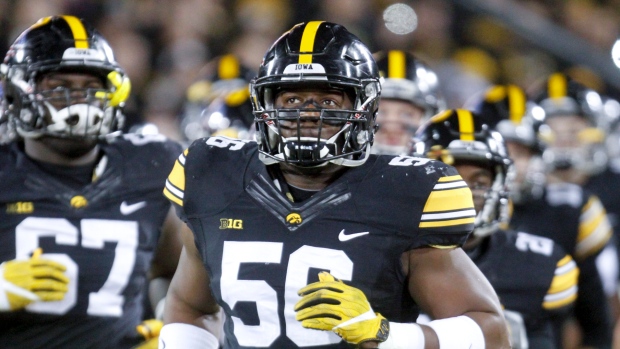 The Winnipeg Blue Bombers are in negotiations to make Iowa defensive tackle Faith Ekakitie the first overall pick in Sunday's CFL Draft, TSN has confirmed.
Ekakitie, a 24-year-old from Brampton, Ont., is ranked as the fifth-best prospect for the 2017 draft and is considered among the very best who is not otherwise getting attention from the NFL.
The Bombers had no comment on their potential selection, although general manger Kyle Walters told TSN 1290 Radio in Winnipeg on Friday that he would not draft a player first overall without first having contract terms in place.
"When you're sitting at No. 1, there's no games to be played," Walters told Hustler and Lawless on TSN 1290. "When you call that No. 1 pick you want to make sure that the player and the agent are comfortable with the pay structure you're looking at and more importantly that they are excited about being in the CFL and start playing and want to be in training camp."
Ekakatie saw action in 34 games over four seasons for the Hawkeyes, amassing 39 total tackles during his senior season last fall.
"He's a guy we've had our eye on forever and just followed along the NFL interest and to see how that shakes down," said Walters. "If we go D-line he's right at the very top of the list."
A year ago, the Saskatchewan Roughriders drafted Oklahoma offensive lineman Josiah St. John first overall but were not able to sign him to a contract until after the regular season was underway.
The Bombers are not expected to trade the first pick whether or not they can get a deal with Ekakitie. They also have the sixth selection in the draft.
The first two hours of the 2017 CFL Draft will air Sunday on TSN from 7-9pm et.