Bombers re-sign versatile DB Alexander
The Winnipeg Blue Bombers have signed American defensive back Brandon Alexander on a one-year contract extension. Alexander returns to the Bombers for a fourth season.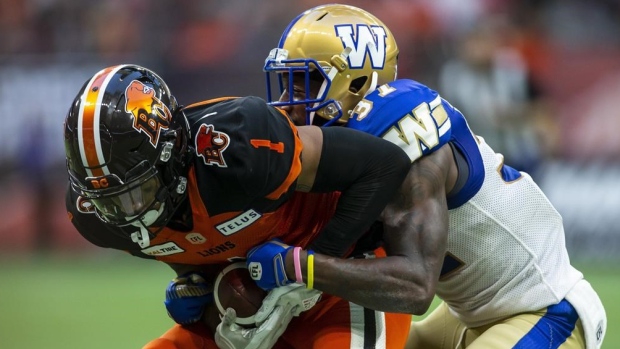 WINNIPEG — The Winnipeg Blue Bombers have agreed to terms with 2019 CFL most outstanding defensive player Willie Jefferson on a restructured contract.
Jefferson had a career-best 12 sacks, set a new CFL record for pass knockdowns by a defensive lineman with 16 and led the league with six forced fumbles in 2019, his first year with the Blue Bombers.
He added 24 tackles, an interception and two fumble recoveries.
Jefferson had three sacks and two forced fumbles in Winnipeg's 2019 Grey Cup win over Hamilton.
He had signed a two-year contract extension in February 2020. The 2020 CFL season was cancelled due to the COVID-19 pandemic.
Jefferson, a three-time CFL all-star, has appeared in 94 regular-season games, with Edmonton, Saskatchewan and Winnipeg, registering 43 sacks, 151 tackles, three interceptions, and 12 forced fumbles.
The Blue Bombers also signed American defensive back Brandon Alexander to a one-year contract extension on Monday.
Alexander returns to the Bombers for a fourth season.
The Orlando native was limited to 10 games in 2019 due to injury. He was shifted from halfback to safety, helping the Blue Bombers win the Grey Cup with an interception against Hamilton.
Alexander has 126 tackles, four interceptions and four forced fumbles in three years with Winnipeg.
Winnipeg also announced that they added Winnipeg-born receiver Macho Bockru and Canadian defensive tackle Zach Houghron.
Bockru, who finished his U Sports tenure with the University of Manitoba in 2019, was a Canada West all star in his final year after leading the Bisons in receiving yards with 493 on 34 receptions.
Houghron, from Toronto, appeared in 22 games over four years with the Wilfrid Laurier University Golden Hawks. He had two sacks, 7.5 tackles and two pass knockdowns in seven games in 2019.
STAMPS RE-SIGN CANADIANS
The Calgary Stampeders have re-signed Canadian linebacker Fraser Sopik and running back Charlie Power.
A fourth-round selection by the Stampeders in the 2019 CFL draft draft, Sopik played all 18 games for Calgary in his rookie season, recording 13 defensive tackles, 10 special-teams tackles, two sacks, two forced fumbles and a blocked punt.
The Toronto native was a first-team Ontario University Athletics all-star at Western in his final university season and was named the top defensive player in the Mustangs' 2017 Vanier Cup victory.
Power played all 18 regular-season games in 2019, as well as the Western semifinal. He finished third on the team with 15 special-teams tackles and also had one forced fumble. On offence, Power added four receptions for 27 yards.
Through seven seasons, Power, from Okotoks, Alta., has made 85 appearances in the regular season and has suited up for six playoff games. Power was originally selected as the team's fourth-round pick in the 2013 CFL draft.
The Stampeders also announced that American running back Brandon Wilds has exercised his right to opt back into his 2021 contract.
REDBLACKS INK PAIR
The Ottawa Redblacks have re-signed American defensive back Sherrod Baltimore and American defensive lineman Danny Mason for 2021.
Baltimore has 91 tackles the past three seasons for Ottawa.
Mason has played 17 games over the past two seasons for the Redblacks, recording 33 defensive tackles.
EDMONTON EXTENDS SIX
The Edmonton Football Team announced it has extended the contracts of wide receivers Kevin Elliott and Anthony Parker and fullback James Tuck through 2021 and defensive lineman Jake Ceresna, offensive lineman Colin Kelly and wide receiver Harry McMaster through 2022.
Elliott returns for his sixth CFL season and his third with Edmonton. The Florida A&M product has accumulated 116 receptions, 1,510 yards, and 13 touchdowns in his CFL career.
Parker has recorded 185 receptions for 2,344 yards and 15 touchdowns over his nine-year career. He has yet to appear in a game for Edmonton due to a season ending injury in 2019.
Tuck is entering his fourth season with Edmonton and sixth in the CFL. In 58 career games, he has accumulated 46 special-teams tackles.
Ceresna had 32 defensive tackles, eight sacks, and a forced fumble for Edmonton in 2018. He spent the 2019 season attending the New York Giants training camp, but was one of the team's final cuts after registering two tackles and a sack in the pre-season.
Kelly is back for his fourth season with Edmonton and his sixth in the CFL. He has started 74 games in his CFL career.
McMaster was originally drafted by Edmonton in the seventh round (53rd overall) in the 2018 CFL Draft. After spending the 2018 season on the suspended list so he could return for his final season at Western University, McMaster signed with Edmonton and played in 12 games in 2019.
LIONS ADD PAIR
The B.C. Lions have added quarterback Gage Gubrud and linebacker Jake Carlock.
Gubrud completed 753 passes for 9,984 yards and 87 touchdowns over four years at Eastern Washington University.
Carlock spent part of 2019 on the New York Giants' practice roster.
This report by The Canadian Press was first published Jan. 11, 2021.