Mitchell returns as Stampeders defeat Eskimos in Labour Day game
Bo Levi Mitchell completed 19-of-28 pass attempts for 263 yards and a touchdown as the Calgary Stampeders downed the visiting Edmonton Eskimos 25-9 in Monday's annual Labour Day game.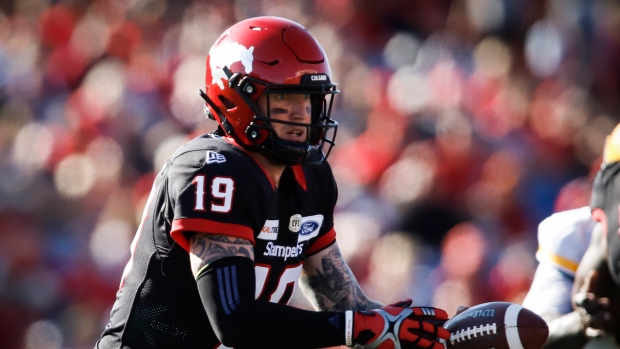 CALGARY — Stampeders quarterback Bo Levi Mitchell answered questions about his arm with his arm in Calgary's 25-9 win over the Edmonton Eskimos in Monday's Labour Day game.
The CFL's Most Outstanding Player and Grey Cup MVP in 2018 threw for 263 yards in his first game action in just over two months.
His 24-yard touchdown pass to Reggie Begelton to start the fourth quarter helped Calgary (6-4) clinch the regular-season series against Edmonton (6-5).
Mitchell hadn't played since sustaining a tear in the pectoral muscle of his throwing arm during a June 29 game.
But he threw the football with control and authority Monday. The quarterback combined with Richie Sindani on a 51-yard passing play late in the first half.
"No more talk about the shoulder," Mitchell declared following the game.
The quarterback extended his perfect record in Labour Day starts to 6-0.
The 29-year-old Texan also became Calgary's all-time Labour Day passing leader surpassing Henry Burris's 1,729 yards.
"Bo, he needed to mentally overcome a hurdle and feel like he could go 60 minutes and his arm feel good," Stampeders head coach Dave Dickenson said. "It sure looked good."
Calgary moved past Edmonton into third in the CFL's West Division behind leader Winnipeg (8-3) and Saskatchewan (7-3), although the Stampeders and Eskimos square off again Saturday in Edmonton.
Mitchell drew a roar from an announced 32,350 at McMahon Stadium when he sprinted out of the tunnel in pre-game introductions.
"I don't know if you've ever seen me run that fast," Mitchell said. "I just wanted to show the team, the crowd that I was excited to get out there and play."
The annual game between Alberta's CFL teams on the September holiday Monday honoured Canada's military and was preceded by a flypast of CF-18 Hornets.
"I love the jets. Come on. Do we not get fired up when they come over?" Dickenson said. "The fans were really into it, man. Best crowd all year. It helps."
Mitchell's backup Nick Arbuckle, who went 4-3 in Mitchell's absence, was under centre when the Stampeders held off the Esks 24-18 back on Aug. 3.
Arbuckle rushed for a short-yardage touchdown, while Rene Paredes kicked field goals from 27, 36 and 39 yards Monday.
The Eskimos lost a third game this season in which they did not score a touchdown.
Quarterback Trevor Harris went 27-for-35 in passing for 216 yards. He was intercepted once and sacked twice.
Two of Sean Whyte's three field goals Monday were from 44 yards. Edmonton's ratio of field goals to touchdowns so far this season is 35 to 23.
"Couple trips, couple field goals and it's not good enough," Edmonton head coach Jason Maas said. "Very few times in the CFL are you going to win without scoring touchdowns.
Mitchell's return was supported by an offensive line that didn't give up a sack. Begelton totalled 138 yards on a dozen catches and Ka'Deem Carey rushed for 143 yards on 16 carries.
Begelton's touchdown was his fifth in two games after collecting four in an overtime loss to Montreal on Aug. 17.
"One of the biggest things I wanted going into this game was to continue to chop wood," he said. "Keep that momentum going."
After giving up 558 yards to Montreal's offence, Calgary's defence limited Edmonton to 271 yards.
"This hurts," Harris said. "We've got to be better. I've got to be better. It's a good thing it's a quick turnaround and we get them in five days."
Stampeders sideline staff held large white placards over coaches at various times of the games.
Asked if the practice was to prevent enemy eyes from stealing play calls, Dickenson replied, "We're just basically trying to shade our guys so we didn't get sunburned.
"We're just using them to block out the sun so our guys can see."
Notes: Calgary has beaten Edmonton in eight straight Labour Day games at McMahon . . . Mitchell moved into 19th on the CFL's all-time career passing list with 25,263 yards, overtaking Condredge Holloway (25,193).