Browns place WR Austin on IR, in hospital with kidney injury
The Browns have placed wide receiver Miles Austin on injured reserve and say he's still in the hospital recovering from a kidney injury. Austin was hurt in Sunday's loss to Buffalo. Browns coach Mike Pettine said Austin remains in the Erie County Medical Center.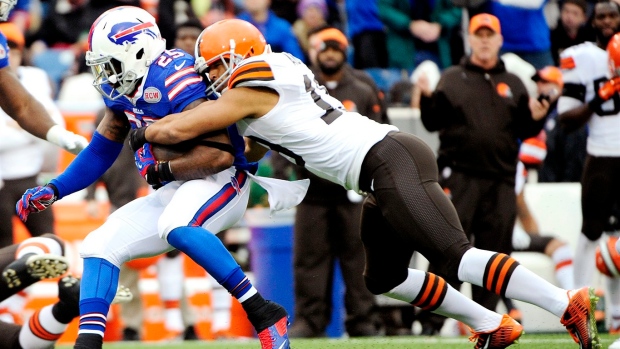 BEREA, Ohio - Wide receiver Miles Austin's first season with the Browns ended in a hospital bed.
Cleveland placed Austin on injured reserve Wednesday after he sustained a kidney injury in Sunday's loss at Buffalo. Austin, who had seven catches for 86 yards, remains in the Eric County Medical Center, where he was taken by ambulance from Ralph Wilson Stadium after complaining of stomach discomfort.
While the team didn't provide specifics on the injury, Browns coach Mike Pettine said it's not serious and that he's being kept for precautionary reasons.
"I don't think you could term this at this point as something that's serious or critical," Pettine said. "But I think it's them being very precautionary with him going to travel."
Pettine said Austin's wife, Stacy, was at the game and has been with him since he was injured.
The 30-year-old Austin signed as a free agent with Cleveland in May after eight seasons with Dallas. He finished the year with 47 catches for 568 yards and Pettine said Austin made valuable contributions off the field as well.
"It's unfortunate because he was a guy that really embodies what we're trying to build here," Pettine said. "When you talk about 'Play like a Brown' and the way guys handle themselves on and off the field and how they interact with teammates and with the staff and just their level of play and how they approach the game and everything A to Z, we couldn't have asked a guy to come in and be a better example for our young players."
Pettine said he spoke to Austin on the phone and that several Browns players have reached out to him.
One of them was linebacker Karlos Dansby, a close friend of Austin's. Dansby said Austin told him he has a lacerated kidney.
"It's a tough injury," Dansby said after practice Wednesday. "He really can't do nothing but let his body heal. They can do everything they possibly can, but if his body's not ready to go, he can't move. ... It's very dangerous, man. I'm glad they're taking all the precautions they need to take in order to get him back healthy and get him back here."
Austin started 11 games this season, and his loss is another blow to Cleveland's struggling offence. He was effective on third downs, making 17 catches as a go-to target for quarterback Brian Hoyer.
With starting running back Isaiah Crowell slowed by a hip injury, the Browns signed running back Shaun Draughn. The 5-foot-11, 205-pounder in his fifth NFL season out of North Carolina.
Draughn signed with Washington as an undrafted free agent in 2011. He has appeared in 26 career games, rushing for 254 yards and two touchdowns. He played in six games this season, two with Chicago and four with San Diego.
___
AP NFL website: www.pro32.ap.org and www.twitter.com/AP_NFL