Calgary Stampeders Season Preview
Get ready for the CFL season with TSN.ca's Team Previews. Check out roster breakdowns and season outlooks from CFL on TSN analysts. We'll roll out a new team each week day. Today, the Calgary Stampeders.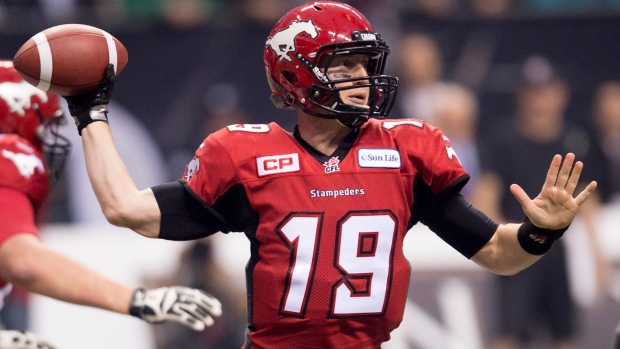 Mitchell, Stampeders going dynasty hunting
Head Coach and GM: John Hufnagel
| Record | Offence | Defence |
| --- | --- | --- |
| 15-3 | 363.2 (2nd) | 325.3 (5th) |
Only once in the past 17 years has a CFL team repeated as champions (the 2010 Montreal Alouettes). For a league as comparatively small as it is, the repeat is still a massive undertaking.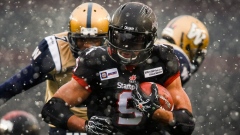 The Calgary Stampeders are, of course, next up to attempt the feat after last year's Grey Cup win and appear to have as good or better a chance as any team for this year's Grey Cup.
The team lost major pieces of their offensive line when Stanley Bryant signed with the Winnipeg Blue Bombers and Brett Jones with the New York Giants, but the Stamps offence still features maybe the top two players in the league in Bo Levi Mitchell and Jon Cornish. And at just 25-years-old, there's still the very real possibility Mitchell is only getting better.
There could be a little more concern on defence however, where the team lost two starters to a middle-ranked unit.
The West should present an even greater challenge this year with a healthy Darian Durant in Saskatchewan, a (hopefully fully) healthy Travis Lulay in BC, and teams only getting better in Edmonton and Winnipeg. And Brandon Banks is still in Hamilton, but Calgary is as good a team to bet on as any heading into the season.
Duane Forde's Canadian Content
En route to winning the 2014 Grey Cup, Stampeders GM and head coach John Hufnagel's list of National starters included the CFL's Most Outstanding Canadian Player in Jon Cornish, and the league's Most Outstanding Offensive Lineman, Brett Jones.
As impressive as Cornish, Jones, and the other Calgary starters were, it's the homegrown depth assembled by Hufnagel, director of player personnel, John Murphy, and Canadian scout, Brendan Mahoney that makes them the envy of the CFL. Consider that, last season, starting Canucks Cornish, offensive tackle Dan Federkeil, guard Brander Craighead, and defensive tackle Corey Mace all missed time due to injury, in a year where the club had already lost Nationals Dimitri Tsoumpas (retirement), Jon Gott (trade), and J'Michael Deane (expansion draft).
Thanks to RB Matt Walter, OL Spencer Wilson and Shane Bergmann, and DTs Junior Turner and Quinn Smith, among others, the team never missed a beat.
Fast forward to 2015 and Jones' departure to the New York Giants. Well, the Stampeders prepared for that possibility a year ago when they drafted centre Pierre Lavertu first overall. Also look for receivers Anthony Parker and Simon Charbonneau-Campeau, punter Rob Maver, kicker René Paredes, and possibly corner Adam Thibault to play significant roles this season. Grade: A+
Matt Dunigan's Quarterback Analysis
Is Bo Levi Mitchell the next truly great CFL quarterback?
Bo Levi certainly has all the parts and the right group of people around him to start stacking one great season after another. Seasons similar to the one he had last year, when he looked at ease guiding his team to the 102nd Grey Cup Championship. And as with all quarterbacks, getting to the Grey Cup and winning championships is what he will be judged by.
We have many "truly great" QBss in the CFL right now: Ricky Ray, Henry Burris, Darian Durant, Travis Lulay, and I believe Kevin Glenn has earned that moniker as well, although he has not won the elusive Cup like his aforementioned companions. These guys have achieved greatness and have been able to sustain it too, with the exception of Lulay who has been derailed lately with shoulder issues.
That is what's next for Mitchell: sustaining the level of play we saw last season and continually improving, which is a scary thought in and of itself. Full analysis
Farhan Lalji's Draft Analysis
The Stamps scored big with their first two selections in the draft. Karl Lavoie was part of a deep O-line class and was expected to fill the vacated roster spot of Brett Jones, but a shoulder injury will keep him out of action for the next three weeks.
Lemar Durant meanwhile, was fortunate there was no "green room" so CFL fans couldn't see his expression as he fell to the bottom of the second round. The Stamps strongly considered taking the receiver from SFU with their pick at the end of the first round, and couldn't believe he was still available nine spots later.
Durant's talent is undeniable, and he's in the perfect spot, on a team with an elite QB and offensive coordinator, and one that needed to upgrade its Canadian talent in the receiving corps. Durant has improved each week during camp, committed to playing special teams, and has been able to absorb the playbook better than expected.
Once he learns how to take advantage of the waggle, combined with the new rules limiting contact by defensive players, Durant could be a ratio-changer for the Stamps down the road.
| Round (Pick) | Player | Pos. | College |
| --- | --- | --- | --- |
| 1 (9) | Karl Lavoie | OL | Laval |
| 2 (18) | Lemar Durant | WR | Simon Fraser |
| 3 (19) | Tyler Varga | RB | Yale |
| 3 (22) | Tevaughn Campbell | DB | Regina |
| 3 (27) | William Langlais | FB | Sherbrooke |
| 5 (44) | Dexter Janke | DB | Saskatchewan |
| 6 (53) | Aaron Picton | OL | Regina |
| 7 (62) | Andrew Buckley | QB | Calgary |
Paul LaPolice's Scouting Report
The Stampeders were a very good football team last year and you can see why. They don't turn the ball over, they protect the QB, they don't get penalties, they don't give up points defensively, and they take the ball away on defence.
As with most teams, you are always playing against yourself trying to execute at the highest level and eliminate mistakes; the Stampeders do that very well. Bo Levi Mitchell makes plays and is able to take over a game when needed to as he proved in the playoffs and the Grey Cup. They have lost some key people on the offensive line and receiving corps but the Stampeders are the best at having a plan to replace people.
Read LaPolice's full analysis here
East: Redblacks, Argonauts, Alouettes, Tiger-Cats
West: Blue Bombers, Lions, Roughriders, Eskimos, Stampeders