Camp Creek wins the 2016 Breeder's Stakes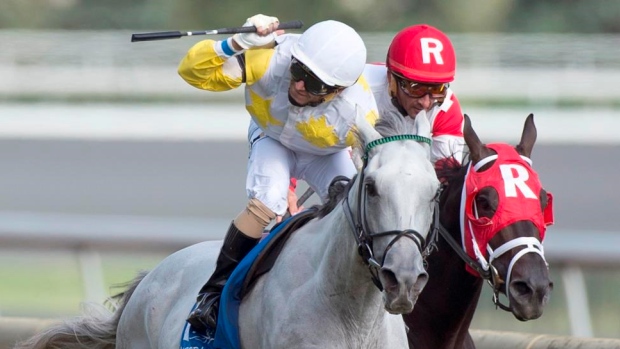 TORONTO — Camp Creek and jockey Rafael Hernandez made successful debuts Sunday.
Hernandez guided Camp Creek, a 26/1 longshot to a stirring win in the $500,000 Breeders' Stakes, the final leg of the Canadian Triple Crown, at Woodbine Racetrack. Camp Creek was making his first Triple Crown appearance while Hernandez was riding the Ontario-bred horse in a race for the first time.
"Thank you to the owner (Ontario's Hillbrook Farms) and thank you to the trainer (Rachel Halden) for letting me ride for them," Hernandez said. "I think everything worked out good.
"I had a little trouble in the first turn, one horse came out a little bit. So he (Camp Creek) settled back even more and relaxed himself. At the 3/8ths pole, I started to ask him to pick it up. When we turned for home I put him clear and he did everything on his own."
Camp Creek won the 1 1/2-mile event on a firm turf in 2:29.45. Queen's Plate winner Sir Dudley Digges was second ahead of Leavem in Malibu.
Hernandez, who lost a kidney in a spill earlier this year, had Camp Creek running last one point in the race. After making up ground, Hernandez swung Camp Creek wide in mid-stretch before angling him beside Sir Dudley Digges in deep stretch to set up a classic duel with the Queen's Plate winner.
"I can't say I was expecting it but we were hopeful and thought he deserved a chance," Halden said. "To me, he was just an improving horse.
"I'd been looking to get him on the grass for awhile and when we did he won quite nicely and it looked like a stretch out in distance wouldn't be an issue for him. Sometimes, when you have a three-year-old Canadian-bred you need to take a chance at these kinds of races."
The remainder of the field included: Scholar Athlete; Conquest Daddyo; Amis Gizmo; Gotta Get Away; Niigon's Edge; Last Class to Go; Narrow Escape; and Rocket Plan.
Unraced as a two-year-old, Camp Creek earned his second win in five races this year with the $300,000 winner's share boosting his career earnings by more than seven times. Camp Creek improved to 2-0 on turf following a maiden win over 1 1/8 miles at Woodbine on July 15.
But the tight finish left Hernandez wondering where his horse had finished.
"When I passed the wire, I said, 'I won,'" he said. "I couldn't believe it."
Camp Creek paid a whopping $55.30, $26.20 and $12.10. Sir Dudley Digges returned $10 and $6.20 while Leavem in Malibu paid $6.90
Jockey Robby Albarado, who rode Sir Dudley Digges in place of injured regular Julien Leparoux, was content with the second-place finish.
"It was a great trip," he said. "I had to ride him a little bit early and kind of inherited the lead on my own turning for home.
"He kept on but the winner ran by me with authority. It's a rare distance for these horses at this point in their career, but he handled it well."
Ken Ramsey, Sir Dudley Digges' owner, put a call into Hernandez to ride his horse after Leparoux was hurt but Hernandez had already committed to Camp Creek. Hernandez had ridden previously for Ramsey.
"I said to him, 'It's a shame you're riding a maiden winner when you could be on the Queen's Plate winner,' but I'd never ask someone to break their commitment," Ramsey said. "I wasn't expecting a horse that just broke its maiden to beat us but that's why they call it horse racing."
Sir Dudley Digges completed the Canadian Triple Crown with a win and second-place effort while finishing off the board in the $500,000 Prince of Wales Stakes at Fort Erie. But Ramsey plans to return to Woodbine this fall with horses in both the $1-million Ricoh Woodbine Mile on Sept 17 and $1-million Pattison Canadian International on Oct. 16.
Each year, Woodbine flies flags in its infield of the Queen's Plate, Mile and International winners. Having won a flag already, Ramsey has set his sights on capturing the remaining two.
"They've never had three flags flying with the same owner before so it's a challenge," he said. "I've got a bunch of turf horses . . . we'll start looking now that we've got the flag flying."