Canada aims to find another gear in quarter-final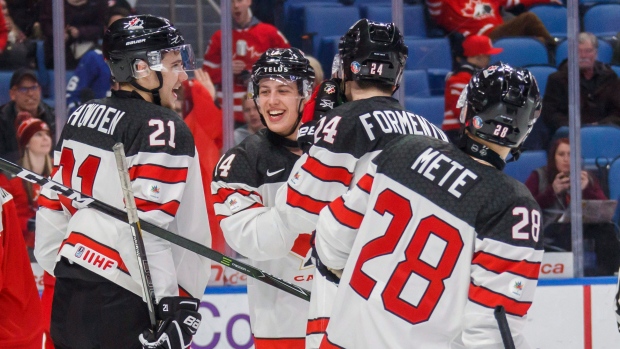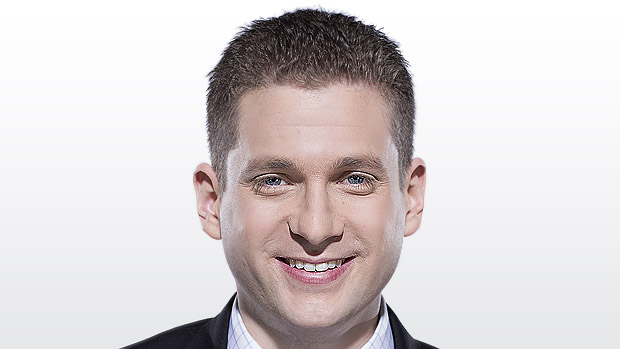 Team Canada cancelled its morning skate ahead of Tuesday's quarter-final against Switzerland.
It's do-or-die time at the World Juniors and there's a different feeling around Team Canada.
"It's definitely a lot tougher leading up to the game, the nerves and everything," admits centre Sam Steel. "Then once you get playing the adrenaline takes over."
"It's more fun," said captain Dillon Dube. "These are the games you want to be in. It's the time to start playing. It's when teams really step up. Hopefully we can start rolling."
Canada is the heavy favourite against Switzerland in Tuesday's quarter-final. They thrashed the Swiss 8-1 in a pre-tournament game on Dec. 22. The line of Dube, Steel and Jordan Kyrou dominated that game.
"That was our first game together and we almost kept it simpler playing fast and with speed and we had a great game," said Dube, who racked up two goals and an assist in that contest. "Throughout the tournament we've been building and I think we're really going to step it up for these last three games."
"We just did what we're good at," said Steel, who had two assists in the exhibition game against Switzerland. "We played with speed and executed our passes. If we do that against any team we'll have success so it's just about execution."​
What's the chem​istry like on the line?
"It's getting better every game," Steel said.
Steel and Kyrou are tied for the team lead so far at the World Juniors with five points each, but Steel believes he has another gear to get to.
"Definitely," he said. "Playoffs or elimination games, it always brings out another level in guys and, for me, that's something I take pride in, showing up and giving everything I got."
----
"Dude, where's Makar?" read one sign in the crowd at Canada's preliminary round finale on Saturday night. That would be in reference to Cale Makar. He'll likely never be confused for Ashton Kutcher, the star of the 2000 movie, Dude, Where's My Car? but some fans are wondering where the defenceman's ice time has gone during the World Juniors.
After playing a big role in the pre-tournament games, the Avalanche prospect has been the seventh defenceman at times during the preliminary round. He played less than seven minutes in the opener against Finland and was under 10 minutes in the outdoor game against the United States.
But Makar, the highest draft pick on the roster (fourth overall last June), has been pressed into duty at times as Canada's blueline has endured a couple of injuries. And he has responded well in the chances he's received with two goals and two assists. Both of Makar's goals have come on the man advantage. Canada leads the World Juniors in power play efficiency clicking at a rate of 53.3 per cent.
H​ow has head coach Dominique Ducharme assessed Makar's play so far?
"On the power play he's been doing a great job," the coach said. "He's great in transition, the way he moves his feet. He's a competitor too. Smart kid and he's learning. You know, it's a big change for him. A year ago he was playing Junior A [for the Brooks Bandits in the Alberta Junior Hockey League] and he had to adapt to the NCAA and now he's at the World Juniors so there's a lot of things, but he's picking it up quick."
During the selection camp, Makar admitted there was an adjustment period at UMass this season as he went up against older and stronger players.
"Just the physicality," he said. "Guys are on you right away. My speed's one of the main things in my game so I feel that was right there with everybody so it was just the physicality. I've been progressing this whole season. I think at the beginning it was a little bit tough in terms of transitioning to the NCAA, but getting better every day is one of my things and I think I've done that."
Victor Mete (undisclosed) missed Monday's practice and will miss Tuesday's game, which should give Makar a regular role against the Swiss.
----
Team USA had high expectations entering the World Juniors, but the defending champions haven't lived up to the hype.
"We haven't played our best game yet and if there's ever a time to play it, this is it," head coach Bob Motzko said after Sunday's win over Finland.
The Americans will need to be at their best on Tuesday, because they'll face a stiff challenge against Russia in the quarter-finals.
"Well, they don't beat themselves, that's the No. 1 thing," Motzko said. "They're strong; they're very patient like we've seen out of them in the past. Their coach does a heck of a job with that group. They just hang around, hang around and then they have playmakers to end it. We have to stay out of the penalty box. We can't beat ourselves today. It almost has to be two teams kind of mirroring each other."
Leafs prospect Joseph Woll, who had an .894 save percentage in three preliminary round starts, gets the call between the pipes.
"He gives us a chance," said Motzko. "He's got experience. He's a heck of a goalie. We go b​ack and there's one shot, maybe, he wants back. Most of the issues have been what we do in front of him. He'll give us a chance tonight. He'll do his job and we have to do our job in front of him."
Senators prospect Logan Brown will miss his third straight game with a lower-body injury, but the forward could return should the Americans advance.
"His spirits are great right now, because it's getting better," Motzko said. "He's hoping it turns a corner so we live on that."
With Canucks prospect Will Lockwood done for the tournament, Team USA will only have 11 forwards tonight. As a result, discipline is an even bigger issue.
"You're going to take some penalties, but we can't take the dumb ones that we've taken, because we don't have enough gas in the tank to waste our gas on those situations," Motzko said. "That was one of our big battle cries today. We can handle all the play heading into the timeouts, we have enough bodies to do that, but we can't go to the well unnecessarily."
----
Two players who have been at their best so far are Sabres prospect Casey Mittelstadt and the draft-eligible Brady Tkachuk.
Mittelstadt leads the tournament with nine points. No other player had more than six points in the preliminary round.
"His talent level, his hands and vision are scary," said Motzko. "And he wants to play. He looks at me a lot during the game and it's, 'Okay, I'm ready,' and I love that. I do. This kid wants to be out in critical minutes. Big-time athletes want to be in big-time moments and he wants it."
Mittelstadt's incredible goal late in the loss to Slovakia will go down as one of the plays of the tournament.
"That backhand toe drag, it's something I've been practising my whole life and I still can't do it so for him to do that, it's unbelievable how much skill he's got," said Tkachuk. "He's an awesome player. His hands are unbelievable. His playmaking ability is off the charts so to finally play with him, I'm really excited."
There was instant chemistry between the pair when they were united in the outdoor game against Canada.
"We sit next to each other in the room so we get some good laughs going and I think that helps on the ice," said Mittelstadt. "We complement each other well. I like to carry the puck around quite a bit and he goes to the dirty areas and finds the soft spots so that makes it a lot easier for me to play."
Has Mittelstadt noticed that Tkachuk is adept at agitating the other team?
"I'm usually skating around the outside when he's doing most of that stuff so I probably don't see too much of it, but," Mittelstadt said before breaking into a smile and adding, "I guess he is a Tkachuk so he's for sure in on it somewhere."
Tkachuk certainly hasn't been shy despite his status as the team's youngest forward. Having watched his dad, Keith, and now brother, Matthew, handle life in the professional ranks has given him a bit of a leg up.
"He's just scratching the surface of how good he's going to be," said Motzko. "He's one of the guys that plays the right way every single shift he's out there. Every day, every practice he does it the right way and that's what these athletes need to be watching and learning from. He carries himself in the room like a pro, he has a great attitude. I love being around him."
Does Tkachuk feel like he's taken his game to another level at the World Juniors?
"Yeah, I definitely feel like I've picked it up a couple levels," he said. "It's a new tournament now so now I need to elevate more."
He said brother Matthew, who plays for the Flames, is in constant contact and there's one consistent message.
"He keeps telling me, 'Elevate every day. Be better every day.'"