Canada wins first gold of 2018 Olympics in team figure skating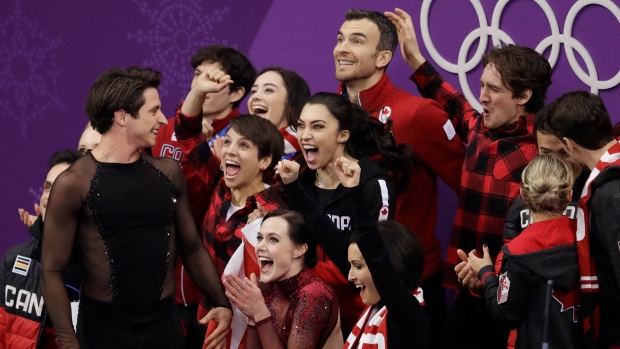 GANGNEUNG, Korea, Republic Of — Canada has won its first gold medal of the Pyeongchang Olympics.
Gabrielle Daleman of Newmarket, Ont., clinched the top spot in the team figure skating competition after finishing third in the women's free skate on Monday with teammates Tessa Virtue and Scott Moir still to compete in the ice dance.
Daleman's 137.14-point performance added eight points to Canada's cumulative score, bringing it up to 63.
Olympic Athletes from Russia were second at 58 and the United States was third with 53. Although Virtue and Moir still had to do their free dance in the event's final segment, Daleman's performance clinched gold because neither O.A.R. or the U.S. could catch the Canadians once the ice dancers stepped on the ice.
"At the end of the day, a medal's a medal and I'm going to hold this medal tight to me and it's going to be as good as the individual event," said Patrick Chan, whose performance earlier in the day set up the gold medal. "I'm sorry, that's how I'm going to see it, that's how I'm going to enjoy it, and that's for me to decide."
The three-time world champion placed first with a score of 179.75 in the men's free program, keeping the veteran Canadian team in first place before Daleman's performance.
Skating to Jeff Buckley's haunting "Hallelujah," the 27-year-old from Toronto opened with two huge quadruple toe loops, his two mistakes coming on his triple Axels — he popped one and fell on the other.
"I hadn't been that nervous in awhile," Chan said through a grin. "I did the best I could and left no rock unturned.
"Looking back to last summer when I was struggling, and after Skate Canada (in October, where he missed the podium for the first time in eight years), of getting the national title and then making the team, and then doing the team event seemed so daunting, and so far away. And now I'm standing here after all of that. I survived, and I get to enjoy possibly a gold medal."
Canada took a six-point lead over OAR into the third and final day of competition, while the Americans were third.
Meagan Duhamel and Eric Radford skated pairs for Canada, while Kaetlyn Osmond was Canada's entry in the women's short dance (teams can make up to two substitutions).
Canada hasn't won an Olympic figure skating gold since Virtue and Moir climbed to the top stop of the podium in 2010 in Vancouver.
The Canadians won silver when the team event made its Olympic debut in 2014 in Sochi, and have had their sights set on gold ever since.
Four years later, Canada arrived in South Korea as the world's No. 1-ranked team, and is the only country balanced across all four disciplines. The Russians were second, with the Americans holding just a one-point lead over Italy for third.
Similar to golf's Ryder Cup, the team event sees the world's top 10 countries compete in short and long programs in all four disciplines, but rather than tally up the judges' scores for each event, they're given points according to ranking — 10 points for a first-place performance, and so on, down to a point.
The bottom five countries were eliminated after the short programs.