Canada earns comeback win over Finland at Summer Showcase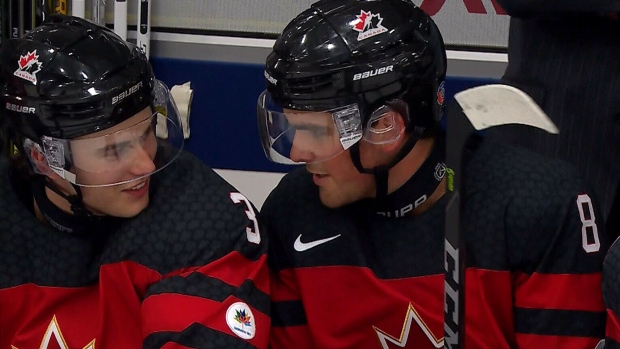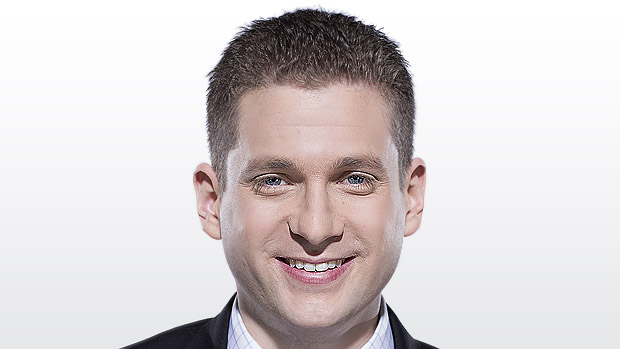 Canada defeated Finland 6-5 in overtime on Wednesday at the World Junior Summer Showcase in Plymouth, Michigan. The lines are listed below.
Michael McLeod scored the winning goal to cap a wild end to the game, which saw Canada storm back from 4-2 down to take the lead only to see the Finns tie it up with the goalie pulled.
The win represented a nice bounce-back effort for the Canadian group, which had been shelled 8-2 in a scrimmage against Team USA on Tuesday.
"We stuck with it," said head coach Dominique Ducharme. "That's one positive thing. It's not perfect, but those guys played better than they did yesterday and that's what we want to see from one day to the other is our guys improving."
Flames prospect Matthew Phillips scored twice in the third period to spark the comeback. The shortest (5-foot-6) and lightest (141 pounds) player on Team Canada's roster wasn't sure he would even be invited to this event, but is now making the most of the audition.
"Honestly, I really wasn't expecting it," Phillips said. "There was a lot of excitement when I got the call and I've been looking forward to it ever since. This week's going really well."
"He's involved," said Ducharme. "He's not the biggest guy, but he gets in there and he's in the action for sure. He can make plays and has that drive to take it to the net like he did with that goal at the end. There's a reason why he's scored so many goals in the WHL (50 in 70 games with Victoria last season) and I think the more it goes on you see him get a little more comfortable. We like what we're seeing right now."
Team Canada lines in Wednesday's game:
Howden-McLeod-Phillips
Gadjovich-Pu-Lind
Dube-Ang-Raddysh
Katchouk-Glass-Bitten
Suzuki
Mahura-Timmins
Cholowski-Quenneville
Girard-Fabbro
Hague
Skinner
Wells

STANLEY A FORCE ON THE ICE, 'TEDDY BEAR' OFF IT
Thirty-nine teenagers are playing for Canada at the World Junior Summer Showcase and all of them are trying to stand out and get noticed by the coaching staff. Logan Stanley doesn't have to worry about standing out. At 6-foot-7, 231 pounds, the defenceman is noticeable the moment he steps on the ice. "I joke that he doesn't even have to move in the D zone," said goalie Michael DiPietro, Stanley's teammate in Windsor, "he can just poke his stick and reach the blue line. Yeah, with that oak tree of a stick it makes him pretty effective out there on the ice."
But with the NHL game getting quicker and quicker, Stanley has made keeping up a priority. "You always try and develop your skating," the Winnipeg Jets prospect said. "The game's so fast now that everyone has to be able to skate. You can't just be a big guy so that's what I try to work on and I think it's been improving."
Stanley's expansive wingspan allows him to cover a lot of ground even if he's not the most nimble guy. "You just have to take advantage of the long reach you have and have a good stick and just try and close gaps on guys quick," he explained. "After that it comes down to moving your feet. You can't just rely on your reach. You have to move your feet all the time."
"I think his skating has really improved," DiPietro said. "You know, he's definitely a threat defensively and then offensively I think he's underestimated a bit. He has great hands for a big guy. And he's definitely mobile. He can get to spots on the ice, use his skating to his advantage and with his stick length and reach there's no problem."
Stanley, who returned from a knee injury just in time to help Windsor win the Memorial Cup last spring, is an imposing figure on the ice and not afraid to drop the gloves. In fact, back in the 2015-16 season he fought Guelph's Givani Smith, a friend and Canadian teammate at the Summer Showcase.
"That game was pretty nuts," Smith recalled, referencing a series of fights near the final buzzer. "We looked at each other at centre and said, 'Hey, why not? Let's do it.' The good thing about Stanley is he's a hard player to play against on the ice, but off the ice he's a nice guy and we joke around a lot."
How different is Stanley's demeanour away from the rink?
"I think polar opposite is the best way to describe it," DiPietro said. "On the ice he can definitely rub people the wrong way and off the ice too he can sometimes get in moods (laughs), but he's a great guy off the ice. Just a big teddy bear."

BROTHERLY ADVICE
Smith, Detroit's second round pick in 2016, relies on his older brother Gemel Smith, a fourth-round pick of the the Dallas Stars in 2012, for advice. "My brother's helped me a ton. He's been through everything before I have and he always tells me, 'You got to work, you got to be the best player you can be.'"
The older Smith made his NHL debut last season playing 17 games for the Stars, but at the moment he's living vicariously through his younger sibling.
"He's loving it," Givani Smith said. "He tells me that he wishes he could be here. But, for me, I got to do the little things right, got to finish your checks and be confident with the puck."
Smith is one of eight Detroit prospects at the Summer Showcase, which is more than any other NHL team. That's an encouraging sign for Kris Draper and the management team, who saw the franchise's remarkable 25-year playoff streak come to an end last season.
FUTURE PREDS
The Nashville Predators have one of the deepest blue lines in the NHL, which could be a bit intimidating for a prospect in the franchise's pipeline. But Team Canada defencemen Dante Fabbro and Samuel Girard don't see it that way. Quite the contrary, they view it as a great opportunity to learn from elite players.
"For me, Ryan Ellis is the best role model," Girard said. "When it's my time I'll have my place there."
"All the guys they have now are pretty much all superstars," Fabbro said, "so for me to watch those guys go through the same things is pretty cool."
Fabbro looks up to Roman Josi in particular. "He does everything well offensively and defensively and his play speaks for itself."

QUICK HIT: A GM'S PERSPECTIVE
Playing intense games in the summer can be tough for those on the ice as well as the scouts in the crowd. Veteran GM George McPhee, who has four Golden Knights prospects in Plymouth, explains what he's looking for when assessing a performance in early August:

UPCOMING SCHEDULE:
THURSDAY: Canada will hold an off-ice workout and team meetings
FRIDAY: Canada v Sweden, 1pm et (TSN Network) ... USA v Finland, 4pm et (TSN Network)
SATURDAY: Sweden v Finland, 4pm et on TSN3/5 ... USA v Canada, 11pm et (tape delayed) on TSN3/5
Gord Miller and Craig Button will call the games with Tessa Bonhomme hosting the coverage.