Canada hammers Swiss to clinch Group A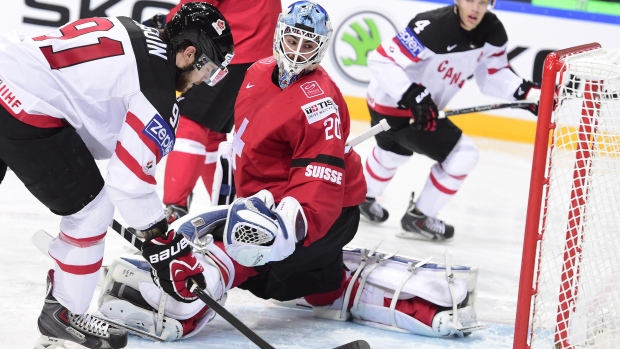 PRAGUE - When coach Todd McLellan challenged Canada to play better at even strength, Sean Couturier and the fourth line answered the call.
Couturier had a goal and two assists as Canada remained undefeated at the world hockey championship with a 7-2 rout of Switzerland on Sunday.
Couturier and linemates Cody Eakin and Tyler Toffoli were a problem for the Swiss all game, causing turnovers and getting to loose pucks to create three even-strength goals.
Sunday's win comes a day after Canada struggled to a 4-3 victory over France. McLellan suggested after the game that Canada could improve its five-on-five play.
"As a fourth line, when we get out there we try to keep it simple and create some momentum for the team by forechecking and getting to the puck first, winning battles and creating turnovers," Couturier said after being named Canada's player of the game. "Tonight we capitalized on some chances and hopefully we can build on that and carry that on for the next few games."
Eakin added a goal and an assist for Canada, while Toffoli chipped in with an assist.
Canada (6-0-0) clinched first place in Group A with the win and will face the fourth-place team in Group B in the quarter-finals.
In other games Sunday, it was: United States 3 Slovenia 1; Czech Republic 4 Germany 2 and Russia 3 Slovakia 2 in overtime. All three winning teams qualified for the quarter-finals.
Tyler Seguin, Nathan McKinnon, Aaron Ekblad, Jordan Eberle and Claude Giroux also scored as Canada used a balanced attack to beat the Swiss.
"It's nice to be able to score like that as a team," Colorado Avalanche forward Matt Duchene said.
Morris Trachsler and Damien Brunner scored Switzerland's goals.
Canada finishes round-robin play against Austria on Tuesday.
Seguin opened the scoring just 50 seconds into the game with his fifth goal of the tournament. Reto Berra failed to handle a Jake Muzzin shot cleanly and Seguin shovelled the loose puck into the net.
Switzerland drew level on a soft goal at the 6:21 mark. Trachsler put the puck on net from the boards at the goal-line, and the puck fooled Canada goaltender Mike Smith and in to the net.
McKinnon put Canada up 2-1 with 17 seconds left in the second period. McKinnon charged in on the left wing and fired a shot past his Avalanche teammate.
Ekblad extended Canada's lead to 3-1 when Couturier forced a deep turnover in the Swiss zone and found the young Florida Panthers defenceman in front of the Swiss goal.
Canada essentially put the game away with two goals in the final minute of the second. Eberle made it 4-1 with a power-play goal, putting in the rebound of a Sidney Crosby shot. Crosby's assist gave him at least a point in every game so far at the tournament.
Eakin extended Canada's lead to four goals when he put a rebound past Berra with less than a second to go before the second intermission.
"As the game went on we got better and better," Couturier said. "We had a good start but then we had a letdown after that first goal. After that we kind of tightened up defensively and from there we took over and created more turnovers on the forecheck and more scoring chances by bringing the puck to the net.
"That's what we need on a consistent basis here every night against any team here. Any team can beat you so its really important to do it every night."
Brunner gave Switzerland temporary life when he took control of a turnover caused by a Canadian defensive breakdown and poked the puck under Smith.
But that was as close as the Swiss would come as Couturier tapped in the rebound of a Tyler Toffoli shot to make it 6-2, and Giroux capped the scoring with a power-play goal.
In other games, Brock Nelson scored twice and added an assist as the United States clinched a spot in the quarter-finals.
The United States is atop Group B with 15 points from six games, one ahead of Russia while Finland is in third with 12. Slovenia has zero and will be demoted to the second-tier tournament next year.
Artemi Panarin gave Russia the win over Slovakia when he fired a wrist shot past goalie Julius Hudacek 2:06 into overtime. Marina Gaborik tied the game for Slovakia 7:05 into the third period.
Jaromir Jagr set up captain Jakub Voracek 7:36 into the final period to score the winning goal for the Czechs.
— With files from The Associated Press.