Canada makes first cuts to WJC roster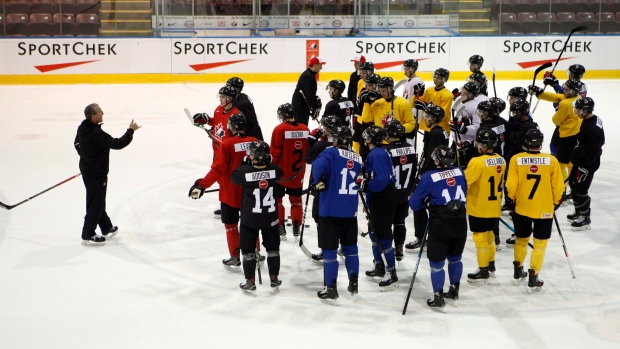 The cuts have started for Canada's world junior hockey team.
Canada cut forwards Raphael Lavoie and Ty Dellandrea as well as defencemen Cameron Crotty and Calen Addison following its 5-3 exhibition loss to the U Sports all-stars on Thursday night.
The 18-year-old Lavoie, who currently plays for the QMJHL's Halifax Mooseheads has 31 points this season (14G, 17A). He is regarded as a potential top-10 pick in the 2019 NHL draft, according to TSN's Bob McKenzie, and is eligible to play for Canada in next year's tournament.
Dellandrea, 18, has recorded 29 points (13G, 16A) this season with the OHL's Flint Firebirds. He was drafted by the Dallas Stars in the first round of this year's draft. He, too, is also eligible to play for Canada next year.
Crotty, 19, was drafted by the Arizona Coyotes in the third round in 2017. The defenceman is currently in the midst of his second season with the NCAA's Boston University Terriers. Crotty has failed to register a point with Boston through seven games this season.
Addison, 18, has recorded 31 points (4G, 27A) this season with the WHL's Lethbridge Hurricanes. The 2018 second-round pick of the Pittsburgh Penguins can play for Canada in 2020.
Team Canada, which dropped Thursday's exhibition game to the U Sports All-Stars 5-3, still has to release one goaltender, three defencemen and four forwards in order to get down to its official 22-man roster.