Canada captures bronze in mixed team aerials
Canada's mixed aerials team has won bronze at the Beijing Olympics. The United States claimed gold with 338.34 points while China settled for silver with 324.22.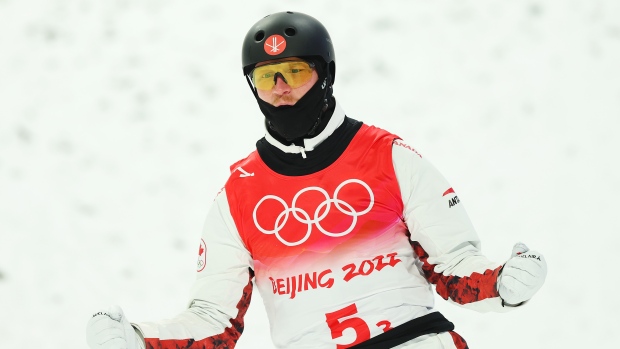 ZHANGJIAKOU, China — Canada's Marion Thenault and Miha Fontaine stood at the bottom of the aerials hill, looking up at their teammate Lewis Irving.
For the Canadians to win a medal in mixed team aerials, they needed Irving to stick the landing on the team's final jump and lift their score above Switzerland's in the event's final four.
Irving started his approach, committed to a back-double-full-full-full, hit the jump and went airborne.
Moments later, Canada had clinched a medal in the first-ever mixed aerials event at an Olympics. The United States and China would top Canada's score, but the Canadians were still guaranteed a bronze on Thursday at the Beijing Games.
"I could see them shuffling at the bottom knowing that if I landed, we were on the podium," said Irving, who as the senior member of the team got to go last. "That's all I was telling myself. I was like, 'All right, just trust the speed and your takeoff and put it to your feet.'"
The trio of Thenault, Fontaine and Irving finished with a total of 290.98 points to edge out fourth-place Switzerland, which had 276.01. The United States claimed gold with 338.34 points while China settled for silver with 324.22.
"It's not like in hockey where you can make passes to the other player. I just had to hope," said Fontaine. "I had faith in my friends and they delivered."
Irving gave credit to his teammates for even having the Canadians in a position to win a medal. After all, if Thenault hadn't scored a 62.74 and Fontaine hadn't earned a 116.48, Irving's 111.76 would have been meaningless.
"They did great," said Irving. "Miha, I watched him go and put it down. So it was up to me and it's just amazing to be able to support a team like that and get it done."
Flavie Aumond and Émile Nadeau also competed for Canada in the qualifying rounds of the freestyle skiing event, which was making its Olympic debut at the Zhangjiakou Genting Snow Park.
"Usually when it's an individual event, you're the only one that can have an impact on the results. You're in control," said Thenault. "Once you've done your job in team event, it's just trusting that we are capable of doing it. We knew we were capable of doing it.
"It's so stressful to watch, but I was really pleased today because my teammates crushed it."
It's Canada's first aerials medal since the 2002 Salt Lake Olympics, when Veronica Brenner won silver and Deidra Dionne claimed bronze in the women's event.
Irving hopes that the team bronze will invigorate Canada's aerials program and attract more young skiers to the team.
"It's been awhile (since Canada's last aerials medal), so for us to do it all together, I think is really gonna push things," said the 26-year-old Irving. "We've got a really strong team of young kids coming up.
"If this win can motivate them and we have an even bigger crew coming up, then I think we did our job and there's not much more we can ask for."
Although mixed aerials is making its official Olympic debut at the Beijing Games, it was a demonstration event in 1992 at Albertville. Fontaine's father, Nicolas Fontaine, won silver in that exhibition and went on to make three official Olympic appearances.
The younger Fontaine said that his father's bibs have a place of honour in their family home above a stairwell.
"I asked him before leaving if I can have a place for my bib and now I need a place for my bib and my medal, so that's pretty awesome," said the 18-year-old Fontaine.
Thenault only took up freestyle skiing in 2017 after attending an RBC Training Ground event. The former gymnast said that after only a week or two of training in aerials, she knew she had found her calling.
"It went really quickly from there. I won on the Nor-Am Tour two years after that, I won a World Cup last season, I earned my spot at the Olympics," said Thenault, adding that she had skied with her family a few times before joining Freestyle Canada but she "wasn't very good."
"Now I'm at my first Olympics and four years ago I was not even skiing. It's kind of crazy, but at the same time it happened because we did everything we needed."
This report by The Canadian Press was first published Feb. 10, 2022.