Canada's women's soccer team gains confidence ahead of WC qualifiers
Canada's women's soccer team defeated Brazil 1-0 in a friendly in front of an impressive crowd at TD Place in Ottawa Sunday, gaining confidence in their final tune-up before the CONCACAF Women's Championship in October.
Meaghen Johnson, TSN.ca Staff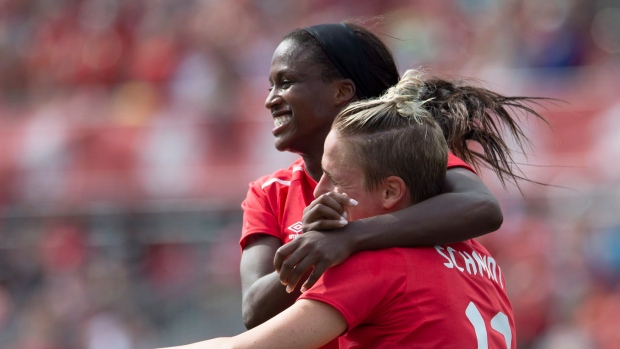 There was no revenge for Rio in Ottawa.
Canada's women's soccer team defeated Brazil 1-0 on Sunday at TD Place. It was the teams' first meeting since Canada beat the South Americans to win bronze at the 2016 Rio Olympics. Nichelle Prince scored the lone goal early in the second half.
"What we wanted in this game was to definitely give the fans here a goal, and to give the fans here a win as well," said head coach Kenneth Heiner-Møller. "I think on the ball we're still building, we're not there yet. We're still building on our performance. The execution just lacked a little bit. But it's a win in Ottawa."
Canada, ranked fifth in the world, improves to 4-3-0 this year, and has won four of its last five meetings with seventh-ranked Brazil. The two sides will play again on Tuesday in a closed-door match.
This camp is Canada's final tune-up before World Cup qualifying begins in October. The CONCACAF Women's Championship begins Oct. 4, with the top three teams earning a place in next year's FIFA Women's World Cup in France. Canada is in Group B and will play its games out of Edinburg, Texas. Seven other teams will participate, with the tournament draw being held on Tuesday.
Heiner-Møller and his players had said their main goal from this game was to gain confidence heading into the qualifiers, and they believe they accomplished that.
"We haven't had some big results against big teams this year, so we really wanted to come out and not only put on a good performance for our Canadian crowd, but to get a result," goalkeeper Stephanie Labbé told TSN.ca. "(Brazil) had very limited goal-scoring opportunities, and I think that's huge for us, coming out against a very technical and dynamic Brazilian team. For us to do that and come away with a victory is huge."
"A team like Canada, ranked like we are, we cannot take giant steps. We can take small steps. We need to take a lot of small steps to build into the World Cup next year," said Heiner-Møller.
CANADA'S FRONT LINE
The combination up front of captain Christine Sinclair, Janine Beckie and Prince created numerous scoring chances, especially during the first half when they dominated possession.
Prince was finally able to bury a goal in the 48th minute. On a free kick from Beckie, centre back Kadeisha Buchanan got a touch on the ball, and Prince was able to connect for her seventh career international goal, and her first since Feb. 16, 2016, when she scored a hat trick against Guatemala.
"It was exciting to be in the final third and have those opportunities," said Prince. "I think we're still building in the final third, and still trying to connect a little bit more. I think our partnerships are building."
"Nichelle was in the right place at the right time, but it's tough to finish a goal like that," Beckie told TSN.ca. "So good on her, and we're excited for her to get that goal, and hopefully that pushes her confidence a little bit going into the next few months."
While Sinclair sits on 173 internationals goals, 11 back of tying American Abby Wambach for the all-time record, she generated great chemistry with Beckie and Prince. The trio played together for the majority of the game, with Beckie being subbed out in the 70th minute.
"It's been a long time coming for us," said Beckie. "I think we've seen a bit of cohesiveness in the front three over the past few years, which has been really nice. The players we have on the bench on the front positions – it's a super competitive group of people, and it's really tough to get good playing time. I thought we did a good job, so it's just a testament to the work we put in on the training field."
It was a physical battle throughout the game. Several Canadian players absorbed some hard tackles, including Beckie. In the 65th minute, she looked to be bleeding after taking a blow to the face. She ran to the sidelines before returning a few minutes later.
"It's what we expect when we play Brazil," she said. "Although they're a cheeky and technical side, they're also very physical. We invite that kind of game. I think that's obviously something that we don't mind as players. It gets a little chippy sometimes, but that's the game, especially with a 1-0 score line. We probably would've been the same if the roles were reversed."
CANADIAN DEFENCE
Labbé earned her 22nd clean sheet with Canada, although it wasn't the busiest game for her, especially in the first half. She was strong when called upon, with her best save coming in the 52nd minute, as she denied a chance from Ludmila.
"For me, it was dealing with really dynamic forwards," said Labbé. "They loaded the line a lot, so they had four players within our back line all the time, and their movement is really excellent. I thought that we did a really good job of keeping our tight shape, and not getting sucked out too much based on their movements, and just absorbing their runs. We didn't let them get behind us, which is when they can be dangerous because they're very fast. I think we did really well to deny those opportunities and we had some people putting their bodies on the line to block shots."
"Defensively we were very, very good," added Heiner-Møller. "We didn't let them have any joy between our lines, which is what we wanted, to close down on the ball."
Canada returned to its usual 4-3-3 formation after experimenting with a 3-5-2 line-up against Germany in June. The backline of Buchanan, Shelina Zadorsky, Allysha Chapman, and Ashley Lawrence kept the Brazilian strikers at bay for most of the game.
"They looked solid," said Labbé. "We haven't been together for quite a bit now, so for the team to look that tight and that connected, I think that's huge.
"For us to have the different formations in our pocket now, and to be able to bring them out when we want against different teams just to throw something different at them I think is huge for us. Moving forward, it's just about remaining confident and keeping that connection."
HOME CROWD
16,128 fans were in attendance at TD Place for Sunday's win. It was a far cry from the last time Canada's women's team played at the stadium in June of 2016, when 23,568 gathered to watch another 1-0 win against Brazil. However, with Sunday landing on the long weekend, and heavy rain plaguing the start of the game, the players were more than appreciative of the crowd size.
"For that many fans to come out, not only just for a friendly, but given the circumstances of the rain – we know they're not just fans, they're invested in the team, and that means a lot to us," said Labbé.
"For a long weekend, to have 16,000-plus is a testament to Canadian soccer and how far it has come," said Beckie. "We're so happy to see a turnout like that. It makes it more fun for us, makes it more fun for everyone when there's a good atmosphere."
The conditions for the game were a roller coaster, with the rain at the start making way for muggy and humid conditions later in the game.
"It makes it a much quicker game," Labbé said about the rain. "People's touches were a little bit off, and things can happen really quickly. The transitions started to come into play in the first half especially, when our touches weren't as tight as we were hoping, and maybe there were some giveaways which you're not expecting. For me, it was just about keeping calm and communicating a lot and just being ready for those moments."
"It's a bit of a hard field," added Beckie. "Turf always is tough, especially with rain. You've got to take into account that the ball is going to skip a little bit more. (But) I really didn't think it caused as many issues as we thought (it would) in the warm-up."
ROSTER NOTES
Canada was missing one of its key players, as midfielder Jessie Fleming didn't see game action due to a knee injury. Fleming had started every match for Canada this year.
"She's just not good enough," Heiner-Moller joked when asked her absence. He added that it's not a serious injury, and if it were the World Cup Finals, she would have played.
For Brazil, their captain and superstar, Marta, didn't make the trip after suffering a left thigh injury in training with her NWSL club, Orlando Pride.
Two teenagers saw the pitch on Sunday for Canada. Julia Grosso made her sixth appearance with the senior team after replacing Diana Matheson in the 71st minute, and Jordyn Huitema came on in place of Prince in the 79th minute. The duo, along with fellow 17-year-olds Jayde Rivière and Maya Antoine, are hoping to stay with the team for next month's qualifiers and beyond.
"I hope after these games that my job will be difficult. It's definitely not getting easier," said Heiner-Møller about his roster decisions. "The ones you saw on the pitch, they definitely push the more experienced players. We've got some very fast, skillful-on-the-ball, don't-give-the-ball-away players who can both attack and defend. It's incredible. It's very exciting for Canadian soccer."​