Canada shows improvement against Americans with draw at BC Place
The drought isn't over, but Canada's women's national soccer team still feels like they slayed the dragon. Canada battled the United States to a 1-1 draw on Thursday in an international friendly at BC Place in Vancouver. TSN's Meaghen Johnson has more.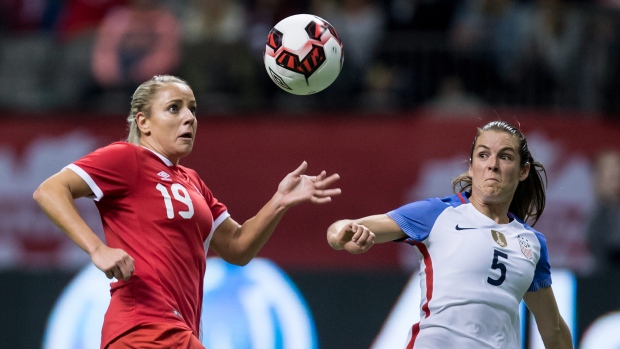 The drought isn't over, but Canada's women's national soccer team still feels like they slayed the dragon.
Canada battled the United States to a 1-1 draw on Thursday in an international friendly at BC Place in Vancouver. Alex Morgan gave the Americans the lead in the 31st minute, but Canada responded with a goal from Adriana Leon in the second half.
Canada – ranked fifth in the world – still hasn't beaten the top-ranked Americans in over 16 years, going 0-27-6 since their last win in 2001. But for head coach John Herdman and his players, Thursday still felt like a win.
"That was as good of a performance as I've seen from a Canadian team," said Herdman. "There's an exciting future for Canada here. I don't think we've ever seen a performance like that before where we controlled parts of the game against the U.S. I think if they're honest, they'd probably say they got out of BC Place pretty lucky tonight."
"I have never ended 90 minutes against the U.S. feeling the way I did, almost like we did win," said veteran midfielder Desiree Scott. "That fear of the U.S. is not there anymore."
"At the end of the game, in my mind, I wanted to play them again right away," added midfielder Jessie Fleming.
Canada will get another chance to knock off the soccer powerhouse on Sunday, when the teams wrap up their home-and-home series in San Jose, California. It will also be the last match of 2017 for both sides.
Here are the top takeaways from Thursday's match:
LEON-HEARTED
Leon was substituted into the game in the 32nd minute, and made an immediate impact. She created numerous chances for both herself and her teammates before finally burying in the 57th minute. Off a scramble in front of the American net, Rebecca Quinn hit the cross bar, but Christine Sinclair pounced on the rebound, and with a lovely flick over her head, the ball found Leon in front. It was Leon's eighth career international goal, and her second this year.
"I had to watch the replay on my phone because I blacked out a little bit," Leon said with a smile after the game.
It's been a journey for Leon, who has had to fight her way back on to the national team roster since losing her spot after the 2015 FIFA Women's World Cup in Canada.
"It's been a tough last couple of years for me. I've put in the work, and gained confidence from knowing that I did put the work in it's nice that it's finally coming all together."
"Just to see Adriana score that goal, she's been very resilient over the last two years. She's let her career tell her story," said Herdman. "She's fought and scrapped to make sure she hits the standards required for this level. Then she went and defined her key moment tonight. She envisioned herself scoring. She told us she was going to score."
Added Sinclair, "Adriana Leon is one of those players that is never going to give up and never going to quit. You saw that tonight, she was a spark plug."
NEW FACES
25-year-old Maegan Kelly, one of four new players named to the roster, made her national team debut in the 71st minute. Like Leon, Kelly also made a strong impression, and almost gave Canada the lead in the 84th minute. Scott – Kelly's NWSL teammate on Kansas City – found Kelly in between two American defenders inside the 18-yard box. Kelly controlled the ball and looked to bury far corner, but goalkeeper Alyssa Naeher just got a touch on it to send it wide.
16-year-old Jordyn Huitema also made an appearance as a late substitution in the 90th minute. The Chilliwack, B.C. native received a huge cheer from the crowd as she ran onto the field. Not long after, she also received a souvenir from the game after her head had to be bandaged, the result of a collision with American defender Kelly O'Hara.
"Builds character. I guess it's a battle scar," joked Huitema.
BACK LINE
Canada was missing a key member of its back line, with centre back Kadeisha Buchanan unavailable due to club commitments in Europe. Quinn started in Buchanan's place alongside Shelina Zadorsky, with Allysha Chapman and Ashley Lawrence (who was a late addition to the roster this week) rounding out the back four.
While the quartet looked solid and played together for the entire 90 minutes, their biggest miscue ended up in the back of the net. Canada couldn't clear in front of their net, and with three Canadian defenders around her, American forward Alex Morgan found the loose ball and buried it. It was Morgan's 79th career goal, and her seventh against Canada, her second-most against any country.
Canada also got a scare in the 19th minute, when goalkeeper Stephanie Labbé stayed down after colliding with a few players while going to snag the ball on an American free kick. After staying down for several minutes, she remained in the game and made some key saves, including a free kick attempt by Lindsey Horan minutes later that Labbé was able to punch over the bar. Labbé ​also prevented the Americans from retaking the lead in the 65th minute, as she got just enough of a deflected shot from Megan Rapinoe.
NEW FORMATION
Sinclair dropped back from forward to be an attacking midfielder for the start of this game. A young trio of Janine Beckie (23), Nichelle Prince (22), and Deanne Rose (18) started up front. The speed of the three was creating problems for the American back line in the first half, particularly Rose, who was able to get past full back Casey Short on the right wing numerous times, but unfortunately couldn't capitalize. Rose was subbed off in the 32nd minute for Leon, a move that Herdman said was planned in advance.
HOME CROWD
With an announced attendance of 28,017, the crowd at BC Place provided Canada with an extra spark throughout the game, particularly after Leon's goal.
"It was just terrific. That BC Place crowd was as good as I've ever experienced," said Herdman.
With Sunday's game in San Jose also expected to be sold out, the two friendlies will have a combined attendance of over 46,000.