Canada's 2026 World Cup bid to look clearer in August
Canadian soccer officials, along with their U.S. and Mexican partners, will find out in August whether they face competition to host the FIFA men's World Cup in 2026.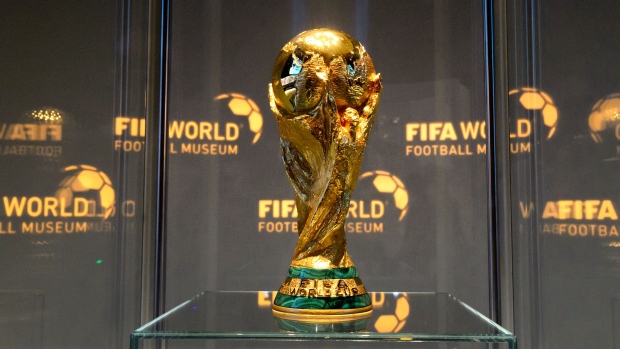 TORONTO — The clock is already ticking on the 2026 World Cup bid.
Canadian soccer officials, along with their U.S. and Mexican partners, will find out in August whether they face competition to host the FIFA men's showcase. Guidelines for the bid will be sent soon after that and the CONCACAF group will have to submit its proposal next March.
FIFA hopes to have its decision next June.
The deadline to submit bids is Aug. 11. The hope is CONCACAF, which covers North and Central America and the Caribbean, will be left alone to carry the 2026 torch.
"I think it's a very compelling bid," said Steven Reed, who was elected president of the Canadian Soccer Association in May.
Reed says the CONCACAF bid group has already formed its bid committee board of directors with six members from U.S. Soccer and two each from Canada and Mexico, as well as CONCACAF president Victor Montagliani, a former CSA president.
"The process is starting and it's going to be a tough slog for the next 11 months," said Reed. "There's so much to do."
The CSA president, speaking before Canada's 6-0 women's friendly win over Costa Rica at BMO Field on Sunday, said the group will engage stake-holders, from cities to government, come mid-August.
"To be honest there's been preliminary talks with different levels of government," said Reed. "I don't know that we've talked to any potential host cities at this point of time."
The proposed blueprint for the 2026 World Cup calls for 60 of the 80 games in the new expanded tournament format to be held in the U.S. with 10 going to Canada and 10 to Mexico.
CONCACAF's agreement calls for all games from the quarter-finals on to be held in the U.S.
Reed said it's hard to say at this point how many Canadian host cities there might be.
"You could host 10 matches very comfortably in two cities," he said. "Part of it will depend on the requirements that are necessary in order to meet the FIFA standards — stadia size, transportation, security, accommodation, training sites. All of that will come into play."
He said stadiums will need a minimum of 40,000 seats, with a higher number for knockout games.
"We've got a number of stadia in the country that either are at or could be expanded to achieve that," Reed added.
He said his expectation is all three bid partners will get automatic qualification as hosts "but that will be a decision that FIFA will have to make."
Russia is slated to host the 2018 World Cup, followed by Qatar in 2022.
They will use the current tournament structure, involving 32 teams and 64 matches. The new format will feature 16 groups of three with the top two from each pool advancing to a 32-team knockout.
The tournament time period will remain at 32 days.
When 2026 comes round, there will have been 32 years and seven World Cups since the 1994 one held in the U.S. with Europe (3), Asia (2), Africa (1) and South America (1) having served as host.
Follow @NeilMDavidson on Twitter