Canadian swimmer Hayden re-retires after solid performance at Tokyo Games
Canadian Olympic swimmer Brent Hayden has retired — again. Swimming Canada made the announcement Friday morning.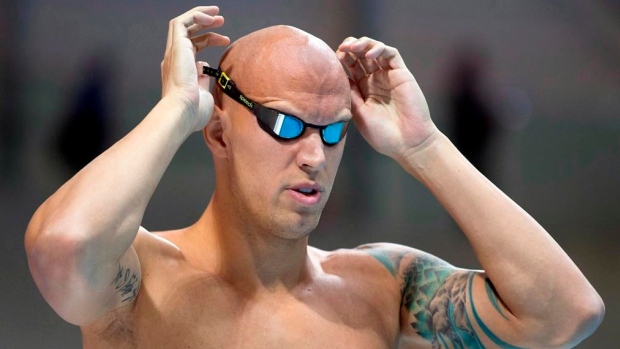 An injured back and depression forced Brent Hayden to retire from competitive swimming after the 2012 London Olympics. After a successful comeback at the Tokyo Games last summer, Hayden's retiring again, but on his terms.
The 38-year-old Hayden announced his retirement through Swimming Canada on Friday, officially bringing an end to his career as an athlete. He said that instead of retiring at the end of the Tokyo Olympics this past August, or at the end of the International Swimming League season, he wanted to carefully consider the decision instead of rushing into it like he had to back in 2012.
"I think I'm at that age where it's it's a good time for me to go," said Hayden from his home in New Westminster, B.C. "There are just so many more things that I want to do in life, like my entire life. I don't want my entire life to be swimming."
Hayden said he will continue to administer to his Swimming Secrets online program, that he hopes to expand into in-person clinics worldwide. He also intends to help his wife Nadina Zarifeh with her business projects and continue to pursue his passion for photography.
The Mission, B.C., swimmer competed at four Olympics, earning bronze in the men's 100-metre freestyle at the 2012 London Games. He also won the world championship in the same discipline in 2007.
Hayden retired in 2012 after the 4×100-metre medley relay at the London Olympics because of an ailing back that left him in constant pain. Coupled with depression, he had lost his passion for swimming.
In September 2019, Hayden announced that he was coming out of retirement, with the intention of competing at the Tokyo Olympics.
He achieved that goal and became the oldest Olympic swimmer in Canadian history at age 37.
"I wanted a chance to not just to come back and swim, but also a chance to re-retire," said Hayden. "It was a split-second decision in 2012. I'm not going to do that this time.
"Originally, I was just talking about maybe taking the summer off. But the longer I went into this time off, the more I started realized that it was time for me to move on."
Hayden helped Canada to a fourth-place finish in the men's 4x100-metre freestyle relay last summer at the Tokyo Games, setting a Canadian record of 3:10.82. His leadoff leg of 47.99 made him the oldest to ever swim under 48 seconds.
He also finished ninth in the men's 50-metre freestyle, the top result among Canadian men.
Nineteen-year-old Josh Liendo, who followed Hayden in the Tokyo relay, said he'll never forget their race together. Liendo said Hayden had an immeasurable impact on his career, despite their brief time together as teammates.
"His preparation going into a race, his mentality going into racing, the way he carries himself, that fight he has going into a race," said Liendo. "I also learned I've got to take care of my body as much as I can. Him coming back was nothing short of amazing and I wish him success in his next chapter."
Hayden's comeback began when he emailed Swimming Canada's high performance director John Atkinson about a potential comeback when the national team was competing at the Gwangju 2019 FINA World Championships.
"We were ready to help him come back and he did a tremendous job in his comeback. Not only making the Games, but being a key member of the team," said Atkinson. "He helped the men's 4x100 freestyle relay team place fourth in the final, and the impact he had with that team will stay with Swimming Canada through Paris 2024 and Los Angeles 2028.
"We wish him all the best in his future endeavours and hope to keep him involved in some way."
This report by The Canadian Press was first published April 1, 2022.