Canadian women's soccer team embracing expectations
National team expected to emerge from group of minnows at CONCACAF Olympic qualifying in Texas.
By Mike Beauvais, TSN.ca Staff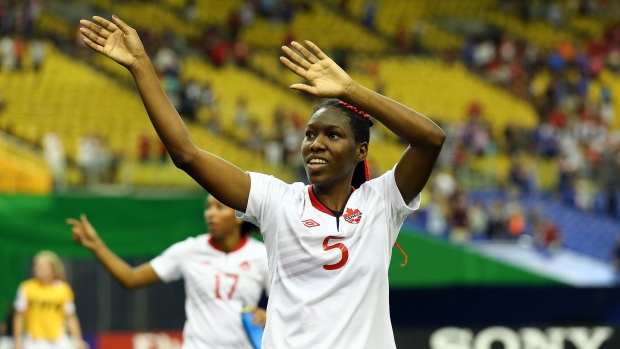 Heavy favourites.
That's how Canada's women's national team will enter CONCACAF Olympic qualifying early next month in Frisco, Texas. John Herdman's team of 20, named on Tuesday, will attempt to qualify for the Rio Summer Olympics by emerging from a group of minnows in Guyana, Trinidad and Tobago and Guatemala.
Defender Kadeisha Buchanan is fine with big expectations on the team from the get-go.
"I think it's good for us," Buchanan told TSN.ca of the CWNT's standing in their group. "Just to start off with a winning mentality and not taking our foot off the gas pedal; keep going for more goals and just building that momentum throughout the tournament."
Only 20, Buchanan was a revelation in last summer's World Cup and will be looked to anchor a back line on a new-look Canada team that Herdman says "represents the best of Canadian soccer, consisting of a subtle blend of youth and experience."
With the likes of 16-year-old midfielder Deanne Rose and 17-year-olds Gabrielle Carle and Jessie Fleming on the squad heading to Texas while veterans like Kaylyn Kyle, Emily Zurrer and Lauren Sesselmann stay home, age will sometimes belie experience and allow for youthful players to take up the leadership mantle.
Midfielder Ashley Lawrence, also 20, has noticed the change in the dynamic of the team.
"In the World Cup, we were amongst the youngest players and there's been a shift or transition and now we're kind of in that middle ground," said Lawrence. "I think we've taken on different roles in leadership with our experience, so it's definitely been a change, but we're willing to embrace that and do what leaders like Christine Sinclair have done for us for the next generation."
The CONCACAF qualifying represents the CWNT's return to the national spotlight for the first time since last summer's quarterfinal exit to England at the World Cup. That the focus seems to only turn on the team during major tournaments can obscure the constant work put in by those on the squad to keep the goal of qualification in the crosshairs.
"We talk about putting in the hard work and dedication 100 per cent of the time and it's easy to do it when everybody's watching, but we strive for greatness every day," said Lawrence. "This past month, we were in Vancouver for a training camp, so they're every-day processes. Once the moment comes, like this upcoming qualifying, we're ready to put on the best performance when all eyes are on us."
Buchanan believes that sometimes flying under the radar of the national sports consciousness is due in part to unavoidable seasonal factors.
"I think it can be hard when your sport, for example, only takes place in the summertime," said Buchanan. "There's a gap in the rest of the year, but I think there are other ways you can get people [to notice], just by interacting with them [on social media]. A lot of people recognized what we did at the 2012 Olympics, and now with these Olympics coming up, I think there is the expectation to get back on the podium."
With national attention to the team about to return, Lawrence says she's still coming to grips with what it means to be looked at as an aspirational figure for players and fans even younger than herself.
"I think with the last World Cup, I got a glimpse of what it's like, but I don't think it's set in," Lawrence said. "I know again for us, we have a responsibility, not only as soccer players, but off the field and we are examples for the next generation. We're still going through that transitioning process. For me, I'm not quite there, but I know we have a role to play."
Right now, that role involves what can be considered a bit of unfinished business when it comes to the goals the team has in front of it.
"Coming off of that last Olympics and winning a bronze medal, that was a huge precedent for (Canadian) soccer, so from there, we always want to improve," said Lawrence. "Now coming into qualifying, our main goal is to qualify, but it's also a tournament and John stressed that, so we want to win it and then from there, do something at the Olympics."
To win the CONCACAF tournament, it would likely mean Canada beating its archrival United States, the top team in a Group A that is, perhaps, even weaker than Canada's group. The Americans will face Mexico, Costa Rica and Puerto Rico.
The top two teams in each group will play in the crossover semi-finals on Feb. 19 with the winners booking their ticket to Rio.
For Buchanan, qualification is great, but style points matter, too.
"As a team we talked about not only qualifying," said Buchanan, "but putting on a great performance for our country and getting the result we want in the final match against, most likely, the USA."
Canada's tournament gets underway on February 11 when it takes on Guyana.