Canadian women's soccer team set for World Cup tune-up
Algarve Cup one of the last chances to make an impression on head coach Kenneth Heiner-Møller ahead of his selection of the 23 players who will compete on soccer's biggest stage.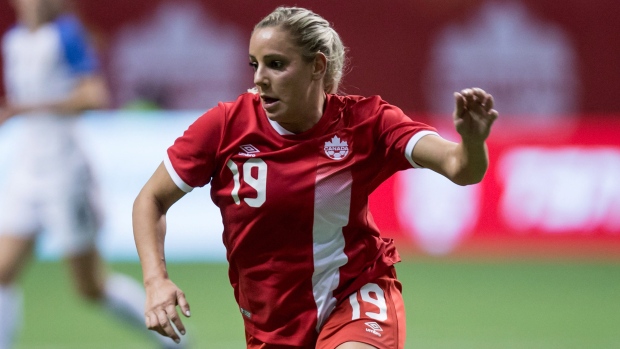 The Canadian women soccer team is preparing for its last tournament before stepping onto the world's biggest stage.
With just over three months until the FIFA Women's World Cup in France begins, Canada is set to take part in the 2019 Algarve Cup in Portugal.
"It's of huge importance," head coach Kenneth Heiner-Møller told TSN. "This is the last tournament preparation we're able to do before the World Cup. For us to grow through a tournament is something we can use."
"It's crucial that we do everything right, all the little things right. That way we have no surprises this summer," added forward Adriana Leon.
The Canadians, who are the top-ranked team in the Cup at fifth in the world, kick things off on Wednesday against Iceland before wrapping up the group stage on Friday versus Scotland. The team will play a third game on Mar. 6 to determine its final ranking. All three games will be streamed live on CanadaSoccer.com.
For Heiner-Møller, the tournament setting is vital preparation for France.
"You have to win two matches to either be in the final or meet the best opponent in the third match," he said. "[In friendlies] you can win a game or you can lose a game, but the consequences aren't there. In a World Cup, the difference between winning and losing is not too big, but the consequences are huge."
"One of the key things is we want to start out strong," said Leon. "In the past we haven't done that. This tournament we'll be looking to get a good start and really just go after it. These are three important games and we want to get it right."
The tournament also serves as an important evaluation for Heiner-Møller and his staff ahead of selecting the 23 players that will go to France. The current roster in Portugal has an average age of 26.16, with five players credited with 100 or more caps for their country. The squad also features three teenagers, as Heiner-Møller continues to aim for the balance between experience and youth.
"[There is] this great balance of veterans and players who haven't been to a senior World Cup yet, players that are very hungry coming into every single camp, and players who know what it's all about," he said.
"There's definitely some scrutiny going on. You can see it from the players as well. They know that they are examined, that they're tested. You can feel that they're excited. They want to perform; they want to show what they're actually capable of."
Leon is one of several Canadian international players who have recently made the switch to play club soccer in Europe, joining West Ham United in the Women's Super League in January.
Forward Janine Beckie signed with Manchester City last year, while defenders Kadeisha Buchanan and Ashley Lawrence have played in France's Division 1 for several seasons. Midfielder Rebecca Quinn also joined Paris FC earlier this month.
Leon said one of the reasons for the change was to better prepare for the World Cup.
"Getting games in in January, with the World Cup coming up, it was good for me," she said. "It's a better chance to work on what I need for my game.
"It's a more technical game in Europe. I feel that suits me much better than the NWSL, which is mostly based on athleticism."
Seven of the 12 teams in this year's Algarve Cup are headed to France this June, including the Netherlands, who Canada will face in Group E play at the World Cup. The Canadians will also take on New Zealand and Cameroon during the group stage in France.
"The depth of the teams [at the Algarve Cup] are definitely growing. No win is given," said Heiner-Møller.
This is the fourth straight year Canada will participate in the Algarve Cup. They won the tournament in 2016 and finished as runners-up in 2017.
Canada has faced Iceland only once before in its history: a 1-0 win at the 2016 Algarve Cup. The Icelanders, ranked 22nd in the world, didn't qualify for this summer's World Cup, narrowly missing advancing to the playoff round of UEFA qualifiers, while 20th-ranked Scotland will be making its World Cup debut. The Canadians have won six of seven all-time meetings with the Scots, with the lone loss coming in 2008.
While Canada doesn't have much history with either team, Heiner-Møller faced both countries often when he was head coach of Denmark's women's team from 2006 to 2013.
"They're both good teams. Iceland missed a penalty in the 91st minute [against Czech Republic in UEFA qualifiers], and that's the reason why they're not at the World Cup. Even though it's two teams that are ranked significantly lower than us, they've got world class players," he said.
Last year's Algarve Cup marked the debut of Heiner-Møller as head coach, who took over for John Herdman. It was a shaky start for the Dane, as Canada lost 3-1 to Sweden in the tournament opener.
"I remember it very vividly," he said. "That was my first game as a head coach, and having a very poor performance in the first match inspired this group to bounce back. Sweden was definitely a good team, but that was not the reason why we lost that match. The way we lost that match was a bit disturbing. We won't be doing that again. I cannot guarantee a win, but I can definitely guarantee a better performance."
The Canadians won their next three games against Russia, South Korea and Japan to finish fifth in the tournament. The team went 8-4-0 overall under Heiner-Møller last year, with all four of its losses coming against other top 10 teams.
Canada opened up its 2019 campaign last month with a 0-0 draw against Switzerland in a training match, followed by a 1-0 win in a friendly against Norway. They will play fourth-ranked England on Apr. 5 at Manchester's Academy Stadium. Canada Soccer is expected to announce at least one more friendly at home before June's World Cup.