Carrasco, Indians beat Jays for 13th straight
Carlos Carrasco struck out 14 over seven-plus innings as the Cleveland Indians won their 13th straight game on Thursday night, defeating the Toronto Blue Jays 4-1. Carrasco went 7 1/3 innings, allowing just one run on three hits and walking two.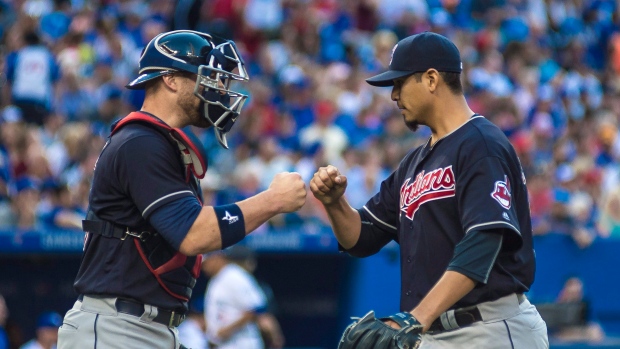 Toronto Blue Jays manager John Gibbons wasn't using a long flight or road trip as an excuse Thursday night.
Carlos Carrasco was just that good.
Carrasco struck out 14 over seven-plus innings as the Cleveland Indians won their 13th straight game by defeating the Blue Jays 4-1.
"It was just Carrasco tonight," Gibbons said. "I don't care what lineup you're throwing at him, he was on. He's that good, we've seen him before as well, he was that good."
Toronto was returning home from a six-game road trip that was capped off on Wednesday in Colorado. That series featured a lengthy delay on Tuesday night that didn't see the game finish until past 3 a.m. ET.
It didn't matter what the Jays tried against Carrasco (4-2) on Thursday.
The 29-year-old righty continued the dominance that he displayed in his last start — a complete game shutout against Detroit — by going 7 1/3 innings, allowing just one run on three hits and walking two.
"He pitched his heart out," Indians manager Terry Francona said. "That's a good lineup and he really pitched well."
"He was able to throw that change-up in some huge spots and it made his fastball that much better."
Cody Allen picked up his 17th save of the season by working a perfect ninth.
Toronto batters struck out a total of 17 times, the most since July 18, 2014 against Texas when they also struck out 17 times.
Rajai Davis and Jason Kipnis hit solo home runs to lead Cleveland (48-30), which last lost on June 16 to the Kansas City Royals. The Indians finished June with a 22-6 record — their best month in franchise history.
"We expect to win every night we step on the field," said Davis, who played three season in Toronto from 2011-13. "We've just got to keep that mindset and not worry about everything else. "
Davis led off the second inning with a home run off Toronto starter R.A. Dickey to give the Indians a 1-0 advantage. Kipnis extended the lead to 2-0 in the third with a shot to right field for his 11th home run of the season.
Dickey (5-9) rebounded from some early struggles to go seven innings, allowing eight hits while striking out four and walking one.
The 41-year-old veteran knuckleballer is tied for fourth with an MLB-worst 19 home runs allowed this season.
Dickey was giving full credit to Carrasco, however, after the game.
"His stuff is good. You know you're going to have your hands full when a staff like that comes through," Dickey said.
"I felt real strong, another night I could have thrown a complete game."
Left-handed reliever Brett Cecil came on in relief of Dickey to pitch a scoreless eighth inning. The Blue Jays activated Cecil from the disabled list earlier Thursday. The 29-year-old had been out since May 15 with a muscle strain in his left arm.
"I was impressed with my fastball command," Cecil said. "It was a little off in the bullpen but probably just a little excited to be back in the pen. I'm just glad I was able to keep it calm during the game and hit my spots."
Josh Donaldson had a solo home run to straight-away centre field in the fourth inning for the Blue Jays (43-38), who started an 11-game homestand at Rogers Centre.
It was Donaldson's 19th home run of the campaign. He's now reached base safely in 32 of his last 33 games.
Jose Ramirez had an RBI single in the sixth to make it 3-1 for the Indians while Tyler Naquin hit a triple in the ninth that scored Davis to give Cleveland a three-run cushion.
Notes: Announced attendance was 41,365. . . Devon Travis extended his hitting streak to seven games with a one-out single in the bottom of the first. . . Ryan Tepera was optioned to triple-A Buffalo to make room for Cecil on the Blue Jays roster. . . Toronto's Marcus Stroman (6-4, 5.33 ERA) faces Cleveland's Josh Tomlin (9-1, 3.32 ERA) in a Canada Day matinee Friday.
---
Follow @RyanBMcKenna on Twitter