CAS repeals WJC ban on Swedish coaches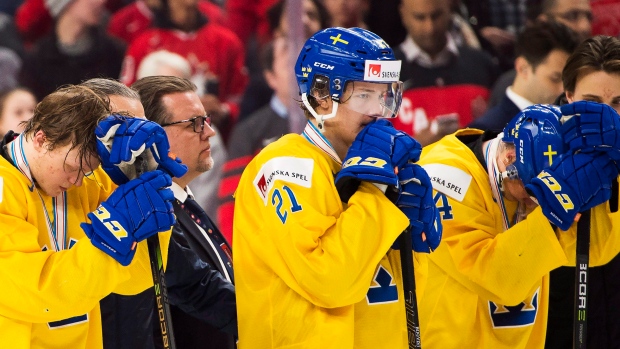 The Court of Arbitration for Sport (CAS) has repealed the suspensions given to Team Sweden's coaches for their conduct during the medal ceremony at the 2018 World Junior Hockey Championship.
In May, the IIHF suspended head coach Tomas Montén from working in any capacity during the first three games of the 2019 tournament in Vancouver and Victoria and suspended assistant coaches Nizze Landén and Henrik Stridh for the first two games. The suspensions were the result of all three coaches removing their silver medals after losing 3-1 to Canada in the tournament final.
The CAS ruled on Friday that the existing IIHF championship regulations required only players to wear their medals during post-game ceremonies. The wording stated all players must wear their medals "around the neck in respectful manner for the duration of the closing ceremony and the following post-game mixed zone and media conference procedures," but did not include any rules for coaches.
The IIHF said they are disappointed by the ruling since coaches should set an example for players and that the federation has since updated the wording of their championship regulations to include coaches. The federation added coaches were "always intended" to be included in the rule.
The suspensions handed to Swedish players in May will remain in place. Forward and team captain Lias Andersson received a four-game suspension, while forwards Axel Jonsson and Jesper Boqvist, goaltender Olle Eriksson Ek and defenceman Rasmus Dahlin each received two-game suspensions for the first two games of the 2019 World Juniors.
"Taking off the silver medals presented to the members of the team shows not only the disrespect against the spectators and the organizers of the championship, but also the disrespect against their opponents and winners of the championship," said the IIHF in a statement when the suspensions were handed out. "This behaviour has to be considered as highly unsportsmanlike and is a breach of conduct that brings the sport of ice hockey into disrepute.
"It is not compatible with the idea of sport as a fair competition between the teams involved in order to determine the best team of the tournament. The actions in question cannot be excused by disappointment or even frustration not to have won the championship. Losing a game is part of any competition and of the sport of ice hockey, and does not excuse any unfair and unsportsmanlike behavior; to be 'frustrated' by the loss of a game is not the right attitude."