CFL Draft heavy on receiver talent
The Toronto Argonauts are on the clock in a CFL Draft deep with talented receivers. Watch the CFL Draft live on TSN1/3/4, TSN Direct, and streaming on TSN.ca starting at 8pm et/5pm pt.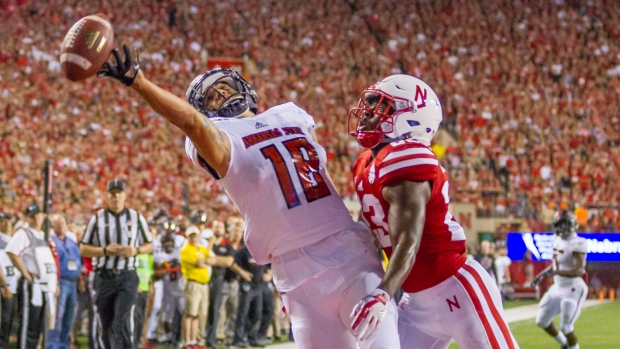 The Toronto Argonauts are on the clock with the first-overall pick in a CFL Draft that is deep with talent at the receiver position. Six of the CFL Scouting Bureau's Top 20 prospects are receivers, led by the third-ranked Justin McInnis.
Watch the CFL Draft live on TSN1/3/4, TSN Direct, and streaming on TSN.ca starting at 8pm et/5pm pt.
"I don't think there's any question [the deepest group is] the wide receiver position and it starts with Arkansas State's Justin McInnis," TSN's Farhan Lalji said. "He's 6-foot-4 ½, almost 220 pounds and he runs in the 4.5s. He's got a couple of NFL mini-camp invites that he has accepted, but if he gets to the CFL I think he's going to have a long, productive career."
"He's one of a number of bigger-bodies guys – anywhere from 6-foot-1 to 6-foot-5, all in the 200-pound range – that run very well. There's depth at receiver all the way to the third round."
McInnis has NFL mini-camps scheduled with the Indianapolis Colts and Tennessee Titans. But after posting 61 receptions for 748 yards and five touchdowns in 13 games with the Red Wolves in the NCAA's Sun Belt conference last year, drafting him could be worth the risk he earns a full training camp invite with one of the AFC South teams.
Other receivers that featured on the CFL Scouting Bureau's final rankings were UConn's Hergy Mayala (No. 5), St. FX's Kaion Julien-Grant (No. 9), New Mexico's Brayden Lenius-Dickey (No. 11), Laurier's Kurleigh Gittens Jr. (No. 16), and Laval's Alexandre Savard (No. 20), while one receiver not in the Top 20, Manitoba's Shai Ross, accepted an invitation to the New York Giants' mini-camp.
Lenius-Dickey and Savard both top 6-foot-5 and 240 pounds, while Ross is the smallest of that group, listed at 6-feet and 180 pounds. Julien-Grant was the fastest of the group at the CFL Combine in March, running a 4.49, while Gittens Jr. and Ross ran in the 4.6s.
"It is a good receiver group, you saw it at the combine," Winnipeg Blue Bombers GM Kyle Walters said ahead of the draft. "A few of them are in [NFL] mini-camps right now so the reality this year is with the mini-camps after our draft, it's a bit more of a guessing game. But you just have to get the best information you can from these teams."
Lalji noted teams generally don't take mini-camp invites as seriously as undrafted free agent contracts, and only one CFL Draft-eligible prospect has thus far landed a full deal in Laval pass rusher Mathieu Betts. But that figures to shake up the top of the first round.
Betts was the No. 1 prospect in each of the past two CFL Scouting Bureau rankings, but after signing as a undrafted free agent with the Chicago Bears, a deal that likely guarantees him a spot on the team's roster through training camp at least, the top prospect is essentially off the board for the first round in the CFL Draft.
"As far as Betts is concerned, that contract really throws the No. 1 pick in flux and I think if you talk to nine teams, you'll probably get five different players that they would view as the No. 1 pick in this draft," Lalji said. "Because that is wide open and because of the amount of depth in this draft, I don't believe you're going to see the amount of trade movement at the top of the first round that we've seen in the last few years."
Betts could still be selected later on in the draft by a team gambling he'll make his way to the CFL if he gets cut in the NFL.
UPDATE: Argos expected to select Richards No. 1
Another prospect to keep an eye on Thursday is Canadian quarterback Michael O'Connor, one of the highest-ranked Canadians at the position in recent memory. O'Connor played the last three seasons at the University of British Columbia after transferring from Penn State, and led the Thunderbirds to a Vanier Cup in 2015. His 9,990 regular-season passing yards are second all-time in Canada West history.
TSN Football Insider Dave Naylor pointed out drafting O'Connor could have added benefits for a team if, as expected, ratio rules are updated with a new collective bargaining agreement.
"Right now, a Canadian quarterback doesn't count as a Canadian, but I think that a lot of teams believe that by the time a new deal is signed that will have changed," Naylor said. "I don't think that's a reason to take O'Connor, I think it's just something that sits in the back of their minds that could be a bonus for them down the road."
Lalji added for O'Connor, who he believes will go in the third or fourth round, his talent outweighs ratio considerations.
"CFL teams view him as a quarterback, not a Canadian quarterback."