CFL Draft: Seven thoughts about seven positional groups
Ahead of Sunday night's 2017 CFL Draft, TSN's Duane Forde gives his seven thoughts on players from the seven positional groups available for selection.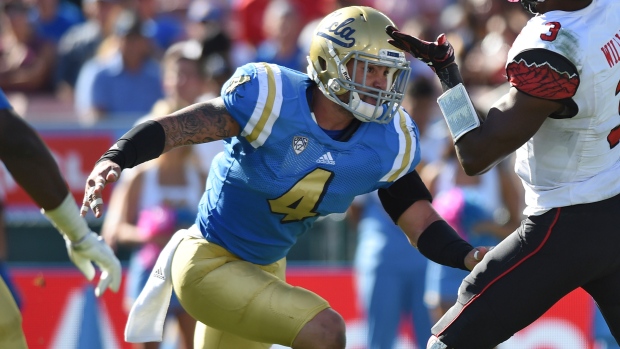 Ahead of Sunday night's 2017 CFL Draft, TSN's Duane Forde gives his seven thoughts on players from the seven positional groups available for selection.
--
SPECIALISTS: In the Canadian Football League, we always talk about the kicking game, along with quarterback play, Canadian talent and coaching, as a cornerstone of success. However, we rarely talk about kickers among draft prospects. In my humble opinion, I think that it's because the uniqueness of the position makes it a difficult one for most scouts to evaluate. Consider the following: Last season, four of the league's nine teams relied primarily on an International to handle their punting and placekicking duties. Of the five teams that used National players in these roles, only Toronto - with Lirim Hajrullahu - had one player fill both jobs. Doing the math, this means that there were nine roster spots filled by National punters and kickers. Of those nine specialists, three were undrafted and one entered the league as a domiciled junior. Of the other five, the only one playing for the team who drafted him is Calgary's Rob Maver, who was drafted to placekick and now only punts. This brings me back to my point, which is that nobody really knows what they're doing when they draft kickers. By the way, for what it's worth (which I've just established isn't much), my top kicking prospect is Montreal's Félix Ménard-Brière, a very good directional punter, who led U Sports (formerly CIS) with a 42.4 yard average last season.
DEFENSIVE BACKS: A couple of years ago, Montreal's Chip Cox described the Alouettes defence to me as follows, "We don't really have positions. We're all just X's on a whiteboard." It was a reference to the desire of CFL defensive coordinators to have flexibility and versatility among the twelve players on the field, enabling them to do many different things from the same alignment and, conversely, do the same thing from many different alignments. To me, the group most affected by this philosophy is the DBs, including cover linebackers. Simply put, teams want their safeties to be physical enough to exchange responsibilities with linebackers, but still athletic enough to cover receivers. In this year's DB class, I see Dondre Wright (Henderson State) as the player who most represents the desired skill set and physical abilities.
RECEIVERS: In most teams' offensive nomenclature, the "Z" receiver is the outside receiver on the wide side of the field, the farthest guy away from the quarterback and the receiver who will be targeted the least. If a prospect's skill set limits him to lining up primarily as a Z receiver, then said prospect shouldn't be drafted very high. In order to play closer to the quarterback - in the slot, where he'll be frequently targeted - a receiver needs to be both tough enough and sufficiently elusive to play in traffic, have the ability to "win" on a wide range of routes and possess the football IQ to process a seemingly endless number of moving parts in the blink of an eye. The more that I prepare for this draft, the more convinced I become that ultra-competitive Nate Behar (Carleton) is that guy and, therefore, my top prospect at receiver.
LINEBACKERS: Every CFL draft class has a number of linebackers who are intelligent, instinctive and technically sound. However, very few of those guys get to earn their living as linebackers at the next level. In fact, a lot of them don't even get the opportunity to play special teams in the CFL. The determining factor of the potential of a National linebacker is usually athleticism, specifically speed. Do they run well enough to match up well and be effective on special teams? Are they athletic enough to defend sideline to sideline and cover RBs out of the backfield? Cameron Judge (UCLA) is not only the most athletic linebacker by a wide margin, but he might be the most explosive athlete in the entire draft class. For that reason, he should be the first LB off the board.
RUNNING BACKS: It's not that hard to find backs who are willing and able to run with the football. What's required for a back to crack a CFL roster, whether he's a running back or fullback, is a competitive desire to block, the skill to run routes and catch the football and the mentality to play special teams. There's a trio of backs in this class who have caught my eye with their multifaceted skill sets. Johnny Augustine (RB, Guelph) turned heads at the National Combine with his fierce pass blocking and quickness as a receiver. Ante Milanovic-Litre (RB/FB, Simon Fraser) should be able to contribute immediately as a fullback, H-Back, occasional tight end and backup running back. Finally, Anthony Gosselin (FB, Sherbrooke) looks and plays like an old school bruiser, but has surprising speed and soft hands when called upon as a receiver.
DEFENSIVE LINE: This is widely viewed as the best and deepest position group in this draft, particularly at defensive tackle. It's pretty much a given that Faith Ekakitie (Iowa) will go first overall with Randy Colling (Gannon) and Junior Luke (Montreal) viewed as the most likely candidates to join him in Round 1. The depth of this class at defensive tackle supports the league's growing trend towards teams starting at least one Canadian starter on their interior D-Line.
OFFENSIVE LINEMEN: There are only two things on which most scouts agree when evaluating the 2017 O-Line class. The first is that the two players currently unavailable due to NFL commitments, Justin Senior (Mississippi State) and Geoff Gray (Manitoba), are the two best players in the group. The second point on which there is a consensus is that there is absolutely no consensus between teams in terms of how they rank the rest of the O-Line group. It feels as if each of the nine teams could use its first pick on an offensive lineman and all nine would emerge from the draft genuinely convinced that they got the best guy. Here's my two cents: This isn't the Class of 2016, in which three first-round linemen eventually established themselves as starters and two more started at least one game. This group has more developmental players, who may become starters a year or two or three down the road, but for this season should rarely be pressed into duty as their respective teams' seventh O-Linemen. Drafting from that perspective, the first offensive lineman on my board is Qadr Spooner (McGill), on the premise that he's athletic, has the greatest untapped potential, a valid reason why that potential is untapped and possesses the desired level of nastiness.
--
This week in Quebec City, the Laval Rouge et Or will serve as the host team for the 2017 U Sports East West Bowl, a mini-camp, combine and game that will feature many of the top prospects for the 2018 CFL Draft. Best of luck to all the players involved, and thank you to the many U Sports coaches who generously give their time every year to help me prepare for the CFL Draft.