CFL Draft: Six sleepers and four not-so-sleepers
Ahead of Sunday night's 2017 CFL Draft, TSN's Duane Forde gives his thoughts on six sleepers to watch and four others who miss the mark.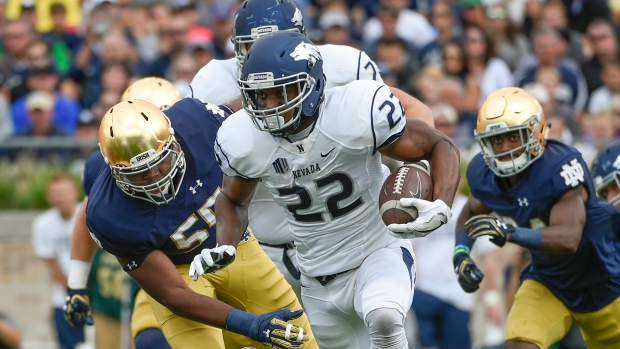 Ahead of Sunday night's 2017 CFL Draft, TSN's Duane Forde gives his thoughts on six sleepers to watch and four others who miss the mark.
--
SIX SLEEPERS TO WATCH FOR
Honourable Mention: Adam Melanson (DT, Acadia) – His testing numbers are underwhelming but he's a smart, productive, and technically sound player. Last season, he picked up his second consecutive All-Canadian nod after leading all USports interior D-Linemen with 6.5 sacks.
6. Jimmy Ralph (REC, Alberta) – The younger brother of former CFLers Brett and Brock might be the best athlete in Raymond, Alberta's first family of football. He began his college career at Weber State and, after a redshirt season in 2013, transferred home to join the Golden Bears. In 2015, he ranked fifth in the nation with 862 receiving yards but sat out last season. The knock against him is his size (5'10", 185 lbs.)...but that's also what they said about his brother Brett, who led all CFL rookies in receiving in 2005.
5. Akeeno Williams (DB, Manitoba) – With the growing trend in the league towards bigger receivers, there is an accompanying demand for bigger defensive backs. Williams is raw, having only made the full-time move from receiver to DB last season, but scouts are willing to be patient with him because of his 6'3", 210 lbs. frame.
4. Brad Friesen (LB, British Columbia) – After Cameron Judge (UCLA) and Christophe Mulumba Tshimanga (Maine), the 2017 linebacker class is pretty wide open. Physically, Friesen stacks up well against the rest of the group but has received limited attention because he had to sit out last season after transferring from Calgary to UBC.
3. Oumar Touré (TE/SB, Sherbrooke) – Although less polished as a blocker and route runner, the 6-foot-4, 245 lbs. Touré is physically very similar to Antony Auclair (Laval) in terms of both stature and athletic ability. With Auclair currently under contract to the NFL's Tampa Bay Buccaneers, this Vert et Or star may be the best available option for a team looking to fill the TE/SB/FB/H-Back role.
2. Jacob Scarfone (REC, Guelph) – His name has scarcely been mentioned leading up to the draft because he has been recovering from the ACL injury that cost him the entire 2016 season. He attended the Toronto Regional Combine, testing only on the bench press, where he recorded 19 repetitions, which would've tied him for second among receivers at the National Combine. The numbers that matter most, however, are those that he posted on the field when healthy in 2015. The London, Ontario native averaged 117.5 receiving yards per game, which would've ranked first among draft eligible receivers in 2016.
1. Marc Glaude (OL, Montreal) – Over the last few years, the RSEQ (Quebec conference) has earned a reputation for churning out professional offensive linemen. Aside from the Laval quintet chosen in the first round of the last three CFL drafts, there's also current Kansas City Chief Laurent Duvernay-Tardif. The 6'2", 300 lbs. Glaude, has been overshadowed in this year's draft talk by fellow RSEQ products Qadr Spooner (McGill) and Jen-Simon Roy (Laval) but, as an RSEQ All-Star at both guard and tackle, he shouldn't be overlooked.
--
FOUR PROSPECTS WHO COULD'VE IMPACTED BUT WON'T
4. Eddie Meredith (OL, Western) – The 6-foot-6, 310 lbs. Torontonian began his post-secondary career at Boston College before transferring to Western in 2013. With the Mustangs, he earned a reputation as one of the nation's top linemen, earning All-Canadian status at offensive tackle in 2014 and 2015, but decided to hang up his cleats prior to the 2016 season.
3. Ryan Doull (OG, Virginia) – This powerful Kanata, Ontario native had become a starter on the Cavaliers O-Line by the beginning of his sophomore season in 2014. Unfortunately a serious concussion suffered midway through the year sidelined him for the next season and a half, and ultimately led to his retirement from football.
2. Rashaun Simonise (WR, Calgary) – From 2013 through 2015, he was one of Canadian university football's most electrifying performers. Academic issues forced him from the Dinos program in 2016 but he was able to land on his feet after entering the NFL Supplemental Draft and earning an invitation to the Cincinnati Bengals training camp. After being released by the Bengals, the 6'5", 205 lbs. Vancouver native spent the rest of the season playing junior football for the Okanagan Sun. As recently as December, he had been the Canadian Scouting Bureau's #4 ranked prospect for this draft but a failed drug test in Cincinnati last year led to the CFL deferring his draft year to 2018.
1. Akeel Lynch (RB, Nevada) – One of the most heavily recruited Canadian running backs ever, Lynch began his NCAA career at Penn State. In three seasons with the Nittany Lions, he recorded over 1300 rushing yards, including five contests in which he eclipsed the century mark. He transferred to Nevada in 2016 to play his final year of eligibility and began the season as the Canadian Scouting Bureau's #3 ranked prospect for the 2017 CFL Draft. However, after suffering two concussions within the Wolfpack's first seven games, he elected to retire from football.
--
This week in Quebec City, the Laval Rouge et Or will serve as the host team for the 2017 USports East West Bowl, a mini-camp, combine, and game that will feature many of the top prospects for the 2018 CFL Draft. Best of luck to all the players involved, and thank you to the many USports coaches who generously give their time every year to help me prepare for the CFL Draft.