CFL Fantasy: Lean on Sutton, avoid Mitchell in Week 19
Derek Taylor and Chris Schultz reveal their best buy and buyer beware picks for Week 19 in CFL Fantasy.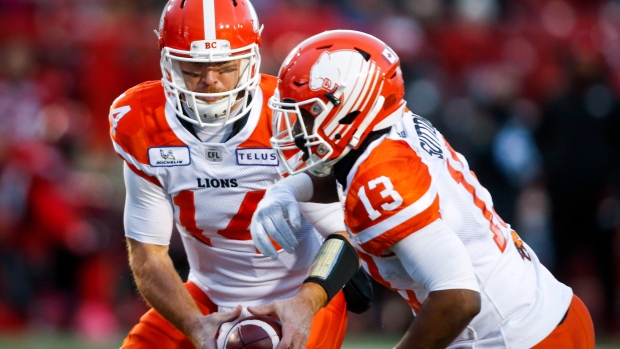 Derek Taylor and Chris Schultz reveal their best buy and buyer beware picks for Week 19 in CFL Fantasy.
---
Best buy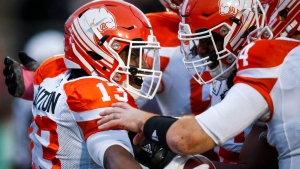 Schultz: Well a Best Buy this week for me is a running back that has had previous success and now is going to have continuous success and that is Tyrell Sutton ($6,580) for the BC Lions. Remember back on Sept. 25 he was traded from Montreal to BC. Now, he's the primary running back for the Lions. In the Calgary game, he had 22 carries and 106 yards which is an average of 4.8 yards per carry with two touchdowns. It means that Sutton is the goal line option and not the quarterback Travis Lulay. No other running back was used by the BC Lions. They have three games left: Edmonton at home, at Saskatchewan and Calgary at home. I think they're going to use Sutton as the dominant ball carrier so as a fantasy football player, I'm looking for him to have opportunities. The more opportunities, the more points.
Season stats: GAMES: 10* / CAR: 108 / YDS: 523 / TD: 3 / AVG: 4.8 / LONG: 44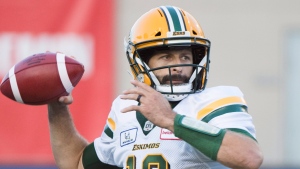 Taylor: My best buy is from the other side: Mike Reilly. With what they say was the flu, or the stomach flu, whatever it was, he was 31-38 for 369 yards and a touchdown. He is a fantasy machine and he's under $13,000 ($12,658) and there were a couple C.J. Gable touchdowns that could have been Reilly touchdowns, it's the way it balances out, so Reilly to me this week is a great pick.
Season stats: GAMES: 16 / COMP: 371 / ATT: 558 / YDS: 4,974 / TD: 28 / INT: 17 / AVG: 8.9
Buyer beware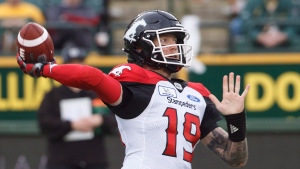 Schultz: Buyer beware: Bo Levi Mitchell. I think that finally the receiver issue with the Calgary Stampeders is affecting the quarterback because if you look at Mitchell and you calculate the four previous games (against Hamilton, Toronto, BC, Montreal) he has 74 completions in 136 attempts and that's only a 54 per cent completion average. Usually, Mitchell is up above 60 per cent and into the 70 per cent range. And then the yards. He's only averaging 247 yards. Touchdowns to interceptions? He has six touchdowns to five interceptions. Now, he's a bit expensive at almost $10,000 ($9,102) and they're playing the Saskatchewan Roughriders defence that was beaten by Winnipeg 31-0. You know that defence is going to be ready to play this time and it might affect Mitchell more than the absence of his top receivers.
Season stats: GAMES: 15 / COMP: 296 / ATT: 493 / YDS: 4,351 / TD: 31 / INT: 13 / AVG: 8.8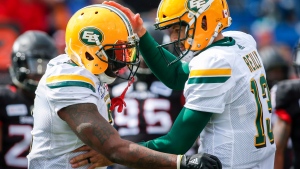 Taylor: My buyer beware is C.J. Gable ($7,129). He was tremendous this past week with 18 touches for 109 yards, one reception and two touchdowns. But to me, that's predicated on Edmonton having the ball at the three yard line and the four yard line. If that ball is down at the one, it's all Mike Reilly, so I don't think you can count on touchdowns from Gable, I'd love to have him on my team, but I do not want him on my fantasy team, so buyer beware of the hot hand of Gable.
Season stats: GAMES: 14 / CAR: 172 / YDS: 940 / TD: 5 / AVG: 5.5 / LONG: 61