CFL Insider Report: Boardrooms plenty busy
CFL on TSN Insiders Gary Lawless and Dave Naylor weigh in on a number of stories across the league.
Gary Lawless and Dave Naylor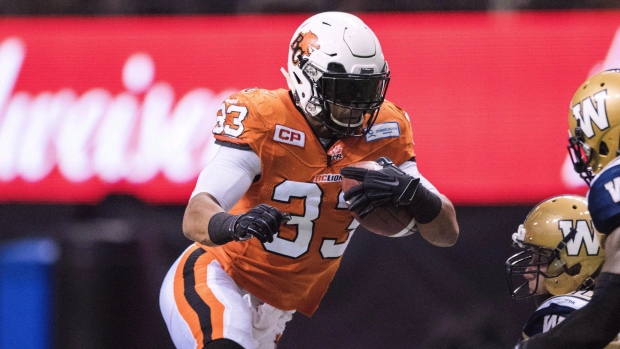 CFL on TSN Insiders Gary Lawless and Dave Naylor weigh in on a number of stories brewing across the league:
Roughriders' GM search in full swing
Saskatchewan Roughriders president Craig Reynolds said this week he's hoping to have new vice-president of football operations and general manager in place by mid-December.
The Riders have engaged a search firm to help and interviews have started. Reynolds says he'll work towards a shortlist of four candidates and interim GM Jeremy O'Day will be on that shortlist. If O'Day retains the position, look for Paul LaPolice to be a top contender for head coach.
The franchise is open to hiring one man for all three jobs if the right candidate is available. Don't be surprised if they ask for permission to speak to Eskimos' head coach Chris Jones who also has a personnel background.
Stampeders' GM/head coach John Hufnagel is set to move upstairs at the end of the season, but we keep hearing his name as a possible candidate in Regina. Calgary assistant general manager John Murphy is considered one of the top personnel men in the league and it could be his time.
Current Hamilton Tiger-Cats assistant general manager Eric Tillman has won a Grey Cup in Saskatchewan and has some support on the Riders board.
Another name to watch is Neil McEvoy, who has taken on an expanded role in B.C. as director of football operations and player personnel. While leaving the Lions previously wasn't a consideration, we're hearing he's prepared to entertain offers.
Blue Bombers searching for offensive coordinator
This will be a big hire for Bombers' head coach Mike O'Shea who is heading into the last year of his contract and needs positive results to earn an extension. Expect Bombers GM Kyle Walters to be involved in this hire as well because whoever they hire will likely have more term on his deal than O'Shea.
Top candidates on the wish list will be Ottawa Redblacks' offensive coordinator Jason Maas and LaPolice. Both those men would likely require assistant head coach titles, term and top-end money.
Prying Maas out of Ottawa would be tough and LaPolice likely wants to wait and see what happens with the head-coach opening in Saskatchewan before making a decision on other opportunities.
If LaPolice is available, he's likely the top candidate. If he ends up in Regina, current Riders' offensive coordinator Jacques Chapdelaine could be a good fit with the Bombers.
Edmonton Eskimos' quarterbacks coach Jarious Jackson is an interesting name as he also holds the passing game coordinator title.
Hamilton Tiger-Cats' offensive coordinator Tommy Condell and Toronto Argonauts' offensive coordinator Marcus Brady have both held roles in successful offences. The question is whether either is willing to break away from their current head coach.
Condell and Kent Austin have been together for stints in Ottawa, Regina, Cornell University and now Hamilton. Brady and Argos head coach Scott Milanovich have been together in Montreal and Toronto.
B.C. Lions' receivers coach Khari Jones is still a brand name in Winnipeg and has strong ties to Bombers CEO Wade Miller. They were teammates and business partners.
Names from outside the CFL we've heard are Doug Berry and Danny Barrett.
Berry is looking to get back into the CFL and Barrett is interim head coach with the University of Central Florida Knights. The Knights are 0-10 and Barrett may need a soft place to land for next season.
Lions pondering key free agents
Running back Andrew Harris' agent Dan Vertlieb and Lions' general manager Wally Buono have exchanged contract proposals on Harris and the early report is they are "miles apart." Harris is a national and there will be opportunities for him.
Quarterback Travis Lulay makes starter money in B.C., north of $400,000, but has lost his job to Jonathan Jennings. He would need to take a pay cut to stay in B.C. He could try his luck on the open market to see if there's a starting job for him out there with another organization.

Montreal, Winnipeg and Saskatchewan are all places with quarterback questions heading into this off-season and Lulay could try to arrange a base salary at the top end of the backup range with playing-time bonuses.
Alouettes seek stability
If you want to understand why the Montreal Alouettes opted to bring back Jim Popp as head coach next season, consider the numbers four, six and 10. As in four head coaches, six offensive coordinators and 10 starting quarterbacks, which is what the Alouettes have run through over the past four seasons.
That's why when Popp the general manager sat down with owner Bob Wetenhall at the conclusion of Montreal's first non-playoff season since returning to the CFL in 1996, they agreed that stability is the no. 1 priority.
Hiring a coach from outside the organization would have meant blowing-up the staff. And while there may be a future Montreal head coach among assistants Noel Thorpe, Kavis Reed and Anthony Calvillo, that will have to wait for now.

This is essentially the same plan Popp tried to sell to ownership two years ago when Wetenhall decided instead to hire Tom Higgins, who was fired midway through this season.
The other thing worth noting in Montreal is the timing of the decisions pertaining to next season's coaching staff. The last few times Montreal needed to make a decision on a head coach, the process drifted into January, setting the organization back on several fronts.

The Als are expected to enter next season with veteran Kevin Glenn at starting quarterback, backed up by Rakeem Cato and Brandon Bridge. Jonathan Crompton and Dan LeFevour are not expected back.
The Als extended Glenn's contract through 2016 at the time of his trade from Saskatchewan this season and were pleased with the job he did for them down the stretch. Glenn turns 37 before the start of next season but the Als hope he can provide them the stability they've been lacking at quarterback since Calvillo retired.
Argos question marks
Quarterback Ricky Ray and receiver/returner Chad Owens have been the Toronto Argonauts most prominent and highest-paid players in recent seasons. Both are free agents heading into this off-season.
The Argos would like to retain Ray, who at age 36 has battled injury troubles during his time in Toronto, including taking nearly a full season to recover from off-season surgery for a torn labrum.
Ray is at the stage of his career when players may have to accept a lower base salary and incentives based on pay-for-play, which is essentially a team insurance policy against injury. Just how much of Ray's salary will be guaranteed and how much he will have to earn by staying healthy is likely to be the starting point for discussions on an extension.
Whether or not the Argos can also bring back free agent quarterback Trevor Harris will depend on how much of a step-up the fourth-year CFLer is looking to make salary wise. It's believed he is looking to earn a salary in line with established CFL starters, a cost that would be prohibitive for the Argos if they re-sign Ray.
Some around the CFL have noticed the head coaching vacancy at the University of Maryland, which just happens to be where Argo head coach Scott Milanovich played quarterback. His former teammate and roommate at Maryland is Kevin Plank, the founder of Under Armour and a significant booster of the Maryland program. That's enough to make it worth paying attention to the Maryland situation, although the transition from CFL head coach to the same position in the NCAA tends to be difficult since so much of success in the college game comes from recruiting, which Milanovich has not done.