CFL Insider Trading: Roughriders interested in Eskimos' Jones
Edmonton Eskimos head coach Chris Jones could be coaching in his last game with the Esks today at the Grey Cup. CFL Insiders Gary Lawless, Dave Naylor and Farhan Lalji have more.
Gary Lawless, Dave Naylor and Farhan Lalji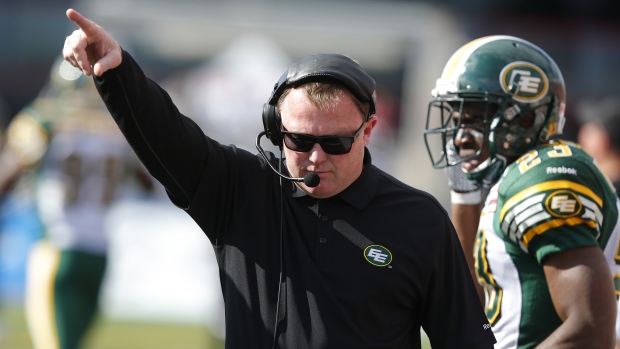 Edmonton Eskimos head coach Chris Jones could be coaching in his last game with the Esks today at the Grey Cup. The Saskatchewan Roughriders have a keen interest in hiring Jones in a dual role as GM/head coach. CFL sources say, Riders president Craig Reynolds will ask the Eskimos to speak with Jones early this week.
Jones has only been a CFL head coach for two seasons but his background in personnel and scouting goes back to his days when he entered the CFL with the Montreal Alouettes. He did the same thing in Calgary and in fact was the assistant general manager when he was in Toronto as defensive co-ordinator. He already spent a good deal of his off-season in personnel and scouting duties. Jones would give Saskatchewan experience in both roles as opposed two other candidates who have already interviewed, Ottawa assistant GM Brock Sunderland and Calgary assistant GM John Murphy. If Saskatchewan went with either of those two, they would have a situation with a rookie GM and likely, a rookie coach as well.
Why would Jones leave a championship calibre team in Edmonton to join the woeful Riders? Power and money. Jones would have complete control of the roster in Regina and would almost certainly double his salary moving from $310,000 for his head coaching duties with the Eskimos to at least double that with the Riders.
If Jones does leave Edmonton, the next coach of the Edmonton Eskimos could be Ottawa offensive co-ordinator Jason Maas. Maas is a former Eskimo who played with current general manager Ed Hervey. If they decide to go with a defensive mind, Orlondo Steinaur, defensive co-ordinator with the Hamilton Tiger-Cats could get consideration and the Cats would let him interview as long as he is a finalist.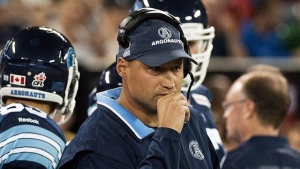 Rowing the Argos boat
The Toronto Argonauts are preparing to move to BMO Field next season but there appears to be an issue fitting in the full length of a CFL field. A final decision has not been reached, but it appears the Argos will be playing next season with 17-yard endzones as opposed to the 20.
A source close to the University of Maryland board confirms that Argonaut head coach Scott Milanovich is a candidate for the head coaching vacancy at that school. Milanovich is a former Maryland quarterback and was roomates with Under Armour founder Kevin Plank, who is a significant booster of that program. Milanovich is under contract to the Argos who would likely allow him to pursue the Maryland job in the event it was offered to him.
The Argos are considering a change at defensive coordinator and if they fire Casey Creehan, look for Calgary Stampeders DC Rich Stubler to consider a move to the Argos. Stubler's contract is about to expire and he has ties to the Toronto organization.
Popp and the NFL
Twice in recent years, Montreal head coach and general manager Jim Popp has interviewed for GM vacancies in the National Football League – once with Indianapolis and once with Carolina. Both times, his advocate was former New York Giant GM Ernie Accorsi. This week, Accorsi was put in charge of the search for the next GM of the Detroit Lions. The timing is not great for Popp, with the Alouettes missing the playoffs last season, which would make him a tough sell at this time.
"I think he is one of the better GM candidates (for) our league and I've recommended him a couple of times," Accorsi told TSN's Dave Naylor in January of 2012.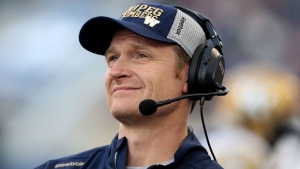 Winnipeg OC
This is a big hire for Bombers head coach Mike O'Shea. He's heading into the last year of his contract and needs positive results to earn an extension. Expect Bombers GM Kyle Walters to be involved in this hire as well because whoever they hire will likely have more term on his deal than O'Shea.
Paul LaPolice remains the top candidate. If LaPolice can't land a head coaching gig, Winnipeg could be the perfect fit. Edmonton Eskimos quarterbacks coach Jarious Jackson is an interesting name as he also holds the passing game co-ordinator title.
Toronto Argos OC Marcus Brady, B.C. Lions receivers coach Khari Jones are also considered candidates. Names from outside the CFL we've heard are Doug Berry and Danny Barrett.
Berry is looking to get back into the CFL and Barrett is the interim head coach with the University of Central Florida Knights but isn't expected to be renewed and may need a soft place to land for next season.
Lions GM
Wally Buono met this week in Winnipeg with team owner David Braley and president Denis Skulsky, and it would appear that Buono will be back for the final year of his contract. An announcement is expected early next week.
But the future of head coach Jeff Tedford is still very much up in the air. Tedford was contacted by some NCAA search firms early last week. No guarantee he is interested, but can he and Buono co-exist? And if Tedford is let go or walks away, there is a real possibility that Buono himself may get back on the sidelines.
Chainsaw Crew
The Redblacks wanted to have their Chainsaw Crew on the sideline for the Grey Cup but the idea met some resistance from the Eskimos and was vetoed by the league. It's a neutral site game went the logic and the Chainsaw Crew is considered a home field advantage perk. The crew brings a log down to the field in Ottawa and they cut a wedge or cookie after each Redblacks touchdown. Not happening, however, on Grey Cup Sunday.