CFL investigating Esks' live mic usage again
The Edmonton Eskimos are once again under investigation for their conduct during a live microphone broadcast. TSN Senior Correspondent Gary Lawless reports the league is investigating Jason Maas' silence in Week 20 since the team "didn't live up to the spirit of the agreement."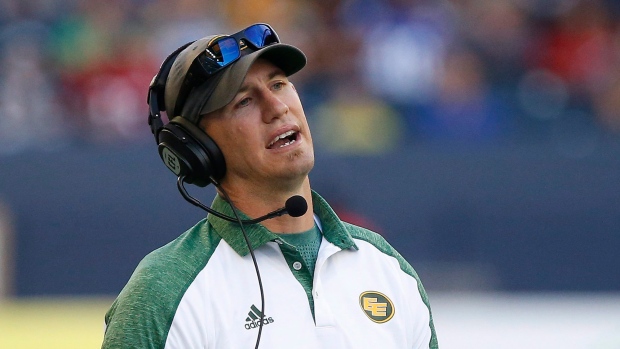 The Edmonton Eskimos are once again under investigation for their conduct during a live microphone broadcast.
Eskimos quarterback Mike Reilly and coach Jason Maas wore the microphones for their Week 20 contest with the Toronto Argonauts, but Maas stood silent for most of the game and covered his mic at times when he was speaking.
TSN Senior Correspondent Gary Lawless reports the league is investigating the issue since the team "didn't live up to the spirit of the agreement."
Maas and Reilly refused to wear live microphones for the TSN broadcast during their Week 16 win over the Montreal Alouettes. The team was fined $20,000 for the incident, while Maas was fined $15,000.
CFL commissioner Jeffrey Orridge wrote in his statement at the time that Maas would be subject to the maximum fine and would be suspended for a game if he refused to wear the microphone again.
"The failure of Edmonton Eskimos Head Coach Jason Maas to wear a live microphone during his club's game last Monday, October 10 was a direct contravention of a directive from this league's Board of Governors, a motion that was supported by all nine clubs," Orridge said.
"…It is also important that Coach Maas be held personally accountable. I am fining him $15,000. The fact that Coach Maas has expressed no remorse whatsoever for what appears to be a unilateral and planned act of defiance is particularly disappointing. I want to send a clear signal that this cannot happen again. Should Coach Maas be directed to wear a live microphone again this season or in subsequent seasons, and he again refuses, he will be immediately subjected to the maximum fine allowable and he will be suspended for his team's next game, even if that next game is a playoff or championship game."
The Eskimos were eliminated CFL playoffs on Sunday with their Eastern Final loss to the Ottawa Redblacks.