Manziel excited for 'second chance' with Tiger-Cats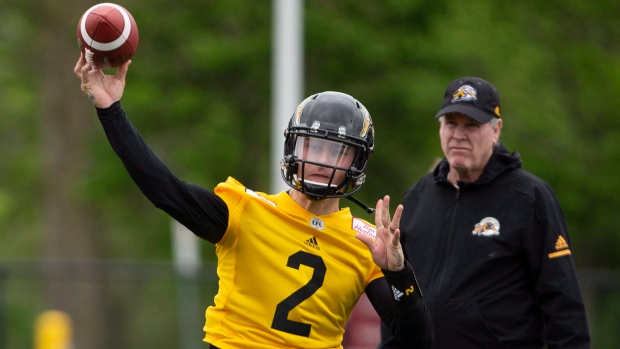 Johnny Manziel's #ComebackSZN is in full swing. And he couldn't be more excited about it.
After signing a two-year deal with the Hamilton Tiger-Cats over the weekend, the former NFL quarterback and 2012 Heisman Trophy winner is ready to turn a new page in his football career.
Manziel, whose professional career was derailed by personal struggles and bad press, told TSN Radio Hamilton 1150 Tuesday that he's looking forward to a fresh start.
"Right now, I'm thankful for an opportunity and a second chance. I'm thankful for a team to have faith in me and have trust in me," he said.
"I'm excited… I'm back to playing football again. I'm back to being in the locker room. I'm back to having teammates again, which I've missed for a very long time."
Manziel was drafted by the Cleveland Browns in the first round of the 2014 NFL Draft after a successful college career at Texas A&M, but struggles on and off the field hindered the quarterback's success.
In his two seasons with the Browns, Manziel had a career completion percentage of just 57 per cent and seven touchdowns to his name.
"My first year in Cleveland was a struggle for me. Things didn't click, things didn't mesh and it showed when I went to practice and into games," he explained.
Off the field, he was notorious for partying and faced a domestic violence charge during his stint in the NFL – all of which eventually led the Browns to release him in 2016.
Fast forward two years and there he is, standing next to Tiger-Cats head coach June Jones at a press conference, ready to tackle the Canadian Football League and Hamilton for all they have to offer.
"It's a chance for me to get back to playing football at a place that I feel throughout the process really wanted me to be here," he said.
"I want to go somewhere that wants me and has been pursuing me for a while, with a coach that I feel has a lot of potential to help make me a better football player."
This time around, he assures that it's all about the football.
"I want to be a part of a team and get better… This is what it's all about: coming and playing, going through training camp, going through practices, playing preseason games and getting better."
Getting better is something that the 25-year-old has been working towards, recently showcasing his talent in The Spring League before signing with Hamilton.
But, with a new league comes new, unfamiliar territory for Manziel, who will be in for a steep learning curve with the Tiger-Cats.
Between the size of the field, difference in downs and the mechanics of the game, Hamilton's newest addition is going to need some time to adjust.
"The first couple of days I know it's going to be different, I know it's going to feel uncomfortable, but everybody had to do it at one point in time. Everyone was a rookie at one point in time," Manziel said. "Taking those things in stride and taking the growing pains of learning something new is going to be part of everything I'm embracing for."
However, despite the challenges that lay ahead, Manziel remains confident in his game.
"I feel very confident in my ability. I feel very confident that I can go out – even though the field is wider – and make the throws that I need to," Manziel explained.
"I'm going to try and make this football team better in whatever capacity that may be."