NFL Workout Watch: Former CFL players signed to NFL deals
A total of 14 players who played in the CFL last season have signed deals with NFL clubs this off-season. TSN tracks their deals and paths to playing in the NFL next season.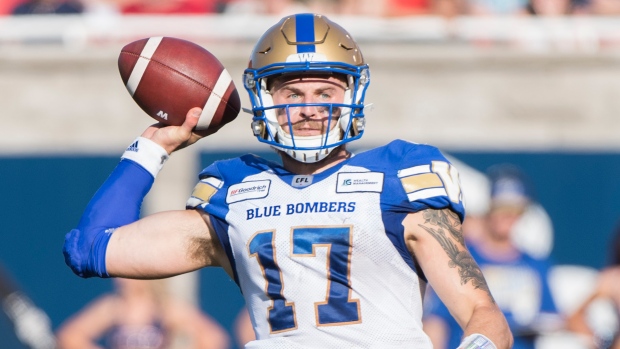 With the CFL season over, a number of players will use the off-season to look for opportunities south of the border and sign with NFL clubs. TSN.ca tracks all the notable CFL players working out for and signing with NFL teams. Here are the players that have deals in place with NFL teams.
Bralon Addison (Minnesota Vikings)
Position: WR Age: 26 2019 Team: Hamilton Tiger-Cats
2019 Stats
| GP | Rec | Yds | TD |
| --- | --- | --- | --- |
| 16 | 95 | 1,236 | 7 |
Notes: Addison took his time weighing offers from the Minnesota Vikings, San Francisco 49ers, and Cleveland Browns before finally making a decision. Addison does have a relationship with All-Pro receiver Stefon Diggs. The two played high school football in the same area and Addison did reach out to Diggs and sought his advice before finally making a decision.
With Addison, he's not necessarily going to be a player that gets involved in the return game or play on specials, he's not necessarily a pure straight line speed guy, but he does have a tremendous amount of quickness and if he's going to make this team he's going to have to do it as a slotback. He does have some versatility, he has plenty of intelligence, and can be moved around in an offence. – Farhan Lalji
---
DaShaun Amos (Green Bay Packers)
Position: DB Age: 25 2019 Team: Calgary Stampeders
Notes: The Packers were one of four NFL teams Amos worked out for, the others being the Minnesota Vikings, Miami Dolphins, and Arizona Cardinals. He was considered one of the more underrated players on Calgary's defence last year.
There are no guarantees for him in this contract, no money up front. So he will have to make an impact through the OTA season and into training camp. He'll also have to make an impact on special teams. – Dave Naylor
---
Reggie Begelton (Green Bay Packers)
Position: WR Age: 26 2019 Team: Calgary Stampeders
2019 Stats
| GP | Rec | Yds | TD |
| --- | --- | --- | --- |
| 17 | 102 | 1,444 | 10 |
Notes: Begelton worked out for eight different NFL teams. About half the teams were concerned about Begelton's speed – he's not a natural straight line burner. The other teams were looking for more of a possession target and that is what Begelton should give to the Packers.
The Packers are trying to upgrade their receiving corps this off-season. You've got Davante Adams and after that the next closest receiver didn't have more than 35 catches. Begelton will give them a solid possession target. – Farhan Lalji
---
Anthony Cioffi (New York Jets)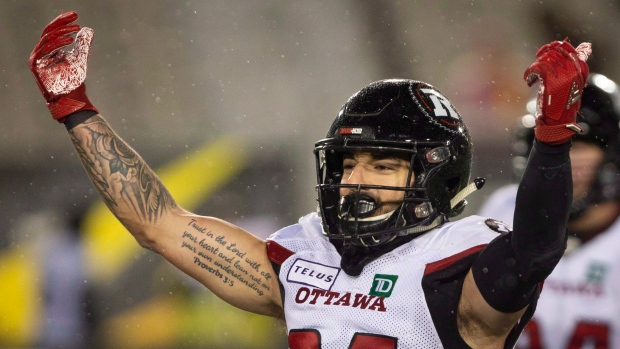 Position: S Age: 25 2019 Team: Ottawa Redblacks
---
Chris Edwards (San Francisco 49ers)
Position: DB Age: 27 2019 Team: BC Lions
Notes: This is a guy who has an opportunity but no assurances. In three CFL seasons with the Eskimos and Lions, Edwards has demonstrated his athleticism and ability to cover in space. He played outside linebacker with the Lions last season, but at 217 pounds he projects as a box safety in the NFL, someone who can play close to the line of scrimmage. And also use his athleticism on special teams. – Dave Naylor
---
Jonathan Kongbo (San Francisco 49ers)
Position: DE Age: 23 2019 Team: Winnipeg Blue Bombers
Notes: When you look at Kongbo and his skillset, he played a number of positions at the University of Tennessee, and he's ideally suited for an NFL 4-3 defensive end. If he did not have a knee injury in his senior year at Tennessee he probably would have had an NFL opportunity directly out of college.
When you look at his measurables, he is long – 6'5, 265 pounds – extremely athletic. He really blew the doors off the 49ers in the two workouts they brought him in for. They liked him there and he's going to get a long look. The Blue Bombers expect him to, if not make the team right away, certainly be on a practice roster and get a lengthy opportunity in the NFL. – Farhan Lalji
---
Derrick Moncrief (Las Vegas Raiders)
Position: LB/CB Age: 26 2019 Team: Saskatchewan Roughriders
Notes: Eight different teams were interested in Moncrief's services, he worked out for all eight of those teams, and the things the Raiders really liked about him was his versatility and his athleticism.
He played the SAM linebacker spot in the CFL, which quite often translate into the strong safety position in the NFL. That's likely where Moncrief will get his first look, but the Raiders do believe he can give them some versatility at an inside linebacker spot in passing situations and in sub-packages. They also think he could be an outstanding special teams player, and it's a Raiders team that really wants to turn over it's linebacking corps this off-season. – Farhan Lalji
---
Tre Roberson (Chicago Bears)
Position: CB Age: 27 2019 Team: Calgary Stampeders
2019 Stats
Notes: At the end of the CFL season, more than half of the teams in the NFL wanted to schedule workouts with Roberson. He wound up taking 14 of those workouts and nine of those teams made an offer. It's believed this will be the highest contract given to a CFL player since Cameron Wake signed with the Miami Dolphins in 2009.
The Bears are the perfect fit. He was raised in the midwest nearby in Indianapolis. He played his college football at Illinois State and he was also very aggressively pursued by the Bears. All levels of the organization were involved. Ryan Pace, the general manager, Matt Nagy, the head coach, were all involved in the pursuit of Roberson. They made him feel very much at home and that coupled with the needs in the Bears' secondary made it the perfect fit.
Now, as for the Stamps, they've got some worked to do as this is the second member of their secondary to sign with an NFL team this off-season as DaShaun Amos also signed with the Packers. – Farhan Lalji
---
Winston Rose (Cincinnati Bengals)
Position: CB Age: 26 2019 Team: Winnipeg Blue Bombers
2019 Stats
| GP | Punts | Avg | Long |
| --- | --- | --- | --- |
| 18 | 132 | 48 | 77 |
Notes: From what I'm told the Bengals defensive coordinator was absolutely blown away by Rose's workout, particularly with his ball skills. They think he has the natural ability to play on the outside as a cornerback, he won't necessarily get moved around to other positions in the secondary. They like his length but they do believe he needs to add another 5-10 pounds of strength. – Farhan Lalji
---
Marcus Sayles (Minnesota Vikings)
Position: DB Age: 25 2019 Team: Winnipeg Blue Bombers
Notes: Sayles is another one of these CFL players who has made a big impact on special teams and will be expected to do so in Minnesota. He's known as a player with great ball skills, whether it means making a block on special teams or with interceptions, which he had three of last year. He's not big, but at 5'9 and 176 lbs, he could contribute as a nickel back in passing situations for the Vikings. – Dave Naylor
---
William Stanback (Las Vegas Raiders)
Position: RB Age: 25 2019 Team: Montreal Alouettes
2019 Stats
| GP | Car | Yds | TD |
| --- | --- | --- | --- |
| 14 | 170 | 1,048 | 5 |
Notes: One of the most sought after CFL free agents, William Stanback had offers from five different NFL teams before opting to sign with the Las Vegas Raiders. He'll be expected to be the primary backup to starter Josh Jacobs and a feature on short yardage. Jacobs had the fourth-most carries per game in most recent NFL season but was injured by the end of the year. Stanback can lighten his load while giving the Raiders a versatile running back who can rush with power and also catch the ball out of the backfield, which is important in a Jon Gruden offence. – Dave Naylor
---
Chris Streveler (Arizona Cardinals)
Position: QB Age: 25 2019: Winnipeg Blue Bombers
2019 Stats
| GP | PASS TD | INT | RUSH TD |
| --- | --- | --- | --- |
| 17 | 8 | 14 | 12 |
Notes: There was a fair amount of NFL interest in Chris Streveler. He worked out for the Tampa Bay Buccaneers, Miami Dolphins and Arizona Cardinals, with whom he has agreed to a futures deal that includes a guarantee of about $100,000 in salary which is significant for a CFL free agent.
Streveler has always been a physical freak. When he tested as his pro day coming out of college, he measured up against the very best and most athletic quarterbacks in the NFL. But he was coming off an injury and now with two years of playing time showing what he can do in the CFL, he will get an opportunity to compete for the backup job behind Kyler Murray. Last year that was held in Arizona by Brett Hundley, a 26-year-old who threw just 11 passes.
Now, of course we know Streveler can run but the question will be can he pass in the NFL? That was a question that really plagued him throughout his CFL career. He was more of a run-first guy. And what will be interesting in Arizona is will the Cardinals insert him into their offence the way the Winnipeg Blue Bombers did and there are a lot of parallels drawn between Streveler and backup quarterback Taysom Hill in New Orleans where he would be inserted into the Drew Brees-led offence. Could the Cardinals do the same kind of thing with Streveler? Certainly physically he would have the ability to do that. A very successful CFL tenure for him, two years, a Grey Cup and an opportunity in the NFL. – Dave Naylor
---
Nick Usher (Las Vegas Raiders)
Position: DE Age: 24 2019 Team: Edmonton Eskimos
Notes: Usher had a half dozen NFL workouts and offers from three teams. He'll be expected to come in and be a hybrid linebacker, pass rusher off the edge, and special teamer. Usher can do everything from cover a running back or a tight end coming out of the backfied, to rushing down and covering kicks. We see this a lot, versatility and athleticism are things that NFL teams come looking for in players from the CFL. Another thing they look for is youth and at the age of 24, the Raiders can see a lot of upside in the 6'3, 235 lbs Usher. - Dave Naylor
---
Kendal Vickers (Las Vegas Raiders)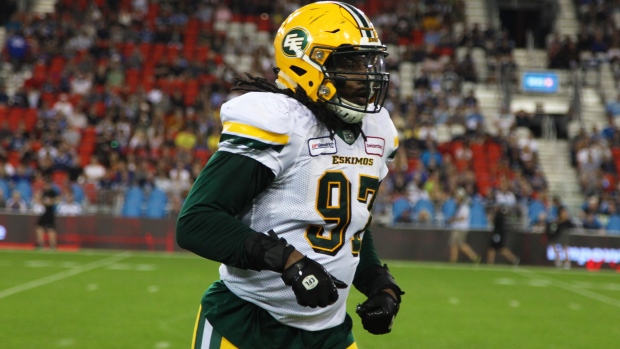 Position: DT Age: 24 2019 Team: Edmonton Eskimos
---