Chan captures ninth Canadian men's skating title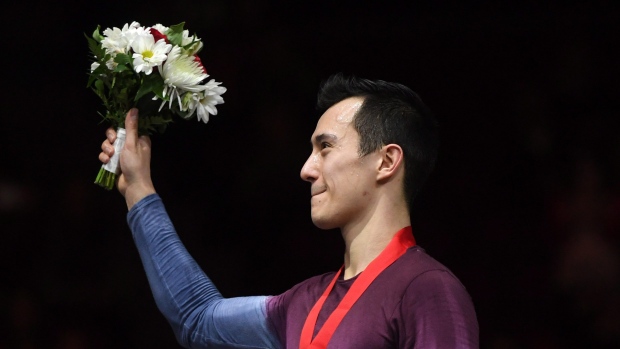 OTTAWA — Patrick Chan finally was able to harness that mental focus that has proved so fleeting.
Skating with an ease reminiscent of earlier years, the three-time world champion laid down one of his best performances of his comeback on Saturday, to capture his ninth Canadian figure skating title.
"That's what I've kind of been looking for, that's been my goal this competition. . . skating a clean program is the ideal, and that's hopefully the end goal at worlds," Chan said. "But the goal this weekend was to try the new things I talked about off the ice and getting my mind in the right place to get on and pace the program properly, and I think it was paced really well today."
The 26-year-old from Toronto, who took a year's hiatus from competing after his heartbreaking silver medal at the Sochi Olympics, landed two huge quadruple jumps, and two triple Axels to score 296.86 points — a full 40 points better than the field. He tied the Canadian record of nine titles won by Montgomery Wilson between 1929 and 1939.
"It's awesome," Chan said. "I get to enjoy it now, and let it sink in. It's so great. Ten is the goal, but that's very far ahead, but I'm setting myself up for that just like I am for worlds."
Kevin Reynolds of Coquitlam, B.C., landed three quads en route to winning silver with 255.77, while Toronto's Nam Nguyen won bronze (240.60).
Tessa Virtue and Scott Moir captured their seventh national senior ice dance title, another victory in the veteran skaters' seamless comeback.
The Olympic gold and silver medallists scored 203.15 points. Kaitlyn Weaver and Andrew Poje of Waterloo, Ont., won silver with 192.73 points, while Toronto's Piper Gilles and Paul Poirier of Unionville, Ont., were third with 189.68, to clinch spots on the team for the world championships in Helsinki in March.
Two-time world champions Meagan Duhamel and Eric Radford captured a record-sixth national pairs title in commanding fashion. Duhamel, from Lively, Ont., and Radford, from Balmertown, Ont., scored 227.23, despite a bad fall by Duhamel on their throw quad Salchow.
Toronto's Lubov Ilyushechkina and Dylan Moscovitch were second with 208.24, while Kirsten Moore-Towers of St. Catharines, Ont., and Michael Marinaro of Sarnia, Ont., were third (198.74).
Kaetlyn Osmond, a 21-year-old from Marystown, N.L., won the women's singles gold medal despite two falls. Gabrielle Daleman of Newmarket, Ont., was second with 211.09, while last year's champion Alaine Chartrand of Prescott, Ont., who sprained her right ankle in practice earlier in the week, scored 182.07 for third.
Chan, meanwhile, had talked all week about rediscovering the carefree skater he was when younger, and about the struggles with his mental game. Saturday night, he said, was the most comfortable he's felt since his comeback.
"Just the most aware of what I'm doing. Having the right conversation with myself, not just hoping all the stars align and hope for the best," said Chan, who skated to "A Journey," written by Radford, who studied music at York University.
"I felt like I was in a lot more control of my destiny in the performance. I think that's the right track. If I can end my career being able to kind of master that under-pressure performance, and able to have that calm conversation with myself, and the (strong) performance, that's the best of both worlds."
Duhamel and Radford, meanwhile, have won all but one Canadian title since they teamed up after the 2010 Vancouver Olympics.
"It feels crazy," Duhamel said of their six consecutive titles. "When we think back to Moncton in 2012, when we won that first title, our lives changed that night, and we could never have imagined what was ahead of us."
"Beforehand I wasn't thinking about it too much, you have such a job to do beforehand so I'm not really thinking of anything, and it's really kind of hitting me now what we've actually accomplished," Radford added. "It's really amazing and really stellar and I think it's more than we would ever have imagined — like so much of our career."
After their disappointing third at the Grand Prix Final, they made some strategic changes to their program, including adding side-by-side Salchows, which they hadn't attempted in a program in three years.
"(The Salchow) is what I fell on at the Olympics so this was my mini redemption of our poor long program in Sochi, and so I feel really proud of that," Duhamel said.
Osmond, meanwhile, was disappointed with her two falls, but thrilled to be back on top of the podium. She drew motivation from last year's nationals where a rocky long program put her third and left her off the team for the world championships in Boston.
"It's definitely led to something," she said. "It's definitely gotten me to train a lot harder in my off-season and be really motivated for my competitions this season. I think last nationals was the last little kick that I needed, because coming back to practice right after that I felt completely rejuvenated, completely ready to buckle down and do everything that I had to do."
Chartrand had trouble holding back tears after finishing third. The 20-year-old's ankle buckled under her on a Lutz jump in Monday's practice.
"I started my week with a sprained ankle. I didn't know if I'd be able to compete at all," said Chartrand, who competed with her right ankle wrapped. "As much as I'm disappointed with my free program today, I'm proud of my fight and just being here."
The Canadian championships this week determined the team for the world championships in March in Helsinki. Canada has just two spots available in women's and men's singles for the world championships, but three entries in both ice dance and pairs.