Chiefs' loss bitter pill for Canadian Duvernay-Tardif to swallow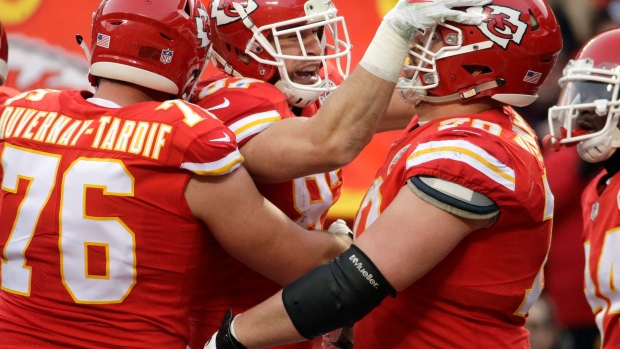 Once again, Canadian Laurent Duvernay-Tardif begins his NFL off-season earlier than anticipated.
The Kansas City Chiefs right guard was back in Montreal on Thursday, less than a week after the club's stunning playoff loss to Tennessee. The Titans rallied from a 21-3 half-time deficit for a 22-21 AFC wild card victory Sunday at Arrowhead Stadium, their first playoff win in 14 years.
"That stings, for sure, it's hard to turn the page after that one," Duvernay-Tardif said via telephone. "We'd been playing really good football the last month.
"Not being able to close the deal and letting some opportunities go at the end was really unfortunate."
It was Kansas City's sixth straight home playoff loss and 11th defeat in 12 post-season games overall. After winning the AFC West with a 12-4 record in 2016 and earning a first-round bye, Chiefs lost 18-16 to Pittsburgh with all of the Steelers' points coming via field goals.
A win over Tennessee would've earned the Chiefs a return trip to Foxborough, Mass., to face the Patriots. Kansas City beat New England 42-27 on Sept. 7 at Gillette Stadium to open the season.
"I wasn't thinking ahead but to myself I wished we could've played the Patriots one more time," Duvernay-Tardif said. "It won't happen this year but we'll be ready for next season for sure."
With his football season over, Duvernay-Tardif, 26, will again turn his attention towards earning his medical degree. But instead working in hospitals this winter, the six-foot-five, 321-pound native of Mont-Sainte-Hilaire, Que., will spend his off-season studying for his board exam in either late April or early May.
"That gives me about three months to study but it's a big challenge," Duvernay-Tardif said. "The normal curriculum for a doctor is five years before that exam and I've stretched it to eight because of football.
"My first clinical rotation was eight years ago so I've got to go back and review and study and make sure I'm on top of things for the exam."
Duvernay-Tardif admits it will be a relief to finally earn his degree.
"Absolutely," he said. "It (earning degree while playing football) is my ultimate personal goal.
"When I was drafted four years ago that was my main focus, to be able to do both at the same time. I think I'd be the first to do it in the NFL so I'm pretty excited."
The '17 season was a roller-coaster for both the Chiefs and Duvernay-Tardif. The team opened with five straight wins, then lost six of its next seven games before capping the regular season with four consecutive victories.
Duvernay-Tardif began the year at his customary position but suffered a knee injury Oct. 2 in a 29-20 win over Washington, missing four games. Fortunately it was just a sprain and the '14 sixth-round draft pick out of McGill returned to help Kansas City (10-6) capture a second straight division title.
But the Chiefs couldn't overcome the loss of Pro Bowl tight end Travis Kelce (concussion) in the second quarter against Tennessee. Kelce had a team-high 83 catches for 1,038 yards and eight TDs during the regular season and four receptions for 66 yards and a touchdown before leaving.
"Not having our primary target in the passing game kind of left us unable to do anything," Duvernay-Tardif said. "It paralysed us, I guess."
There also was officiating controversy in the game.
Tennessee benefited from a quick whistle in the second quarter when quarterback Marcus Mariota fumbled after being sacked. Kansas City's Justin Houston recovered but officials ruled Mariota's forward progress had been stopped before the fumble, setting up Ryan Succop's 49-yard field goal.
Mariota, who scored a TD in the third after catching his own deflected pass, caught another lucky break in the fourth. He fumbled during a two-point convert attempt after Tennessee scored the go-ahead touchdown, and Frank Zombo recovered and ran the ball back to the Titans end zone for what would have been a 23-22 Chiefs lead. But game officials again ruled Mariota's forward progress had been stopped.
However, Duvernay-Tardif said had Kansas City wouldn't have been in a position to be so dramatically impacted by those plays if it had have played better.
"You've got to expect a few bumps in the road," he said. "When you play good football you don't have to worry about those."
Kansas City will have a new offensive co-ordinator next year as Matt Nagy left to become the Chicago Bears head coach. The Chiefs named running backs coach Eric Bienemy as Nagy's replacement.
"Two years ago Nagy was promoted because we lost Doug Pederson (for Philadelphia Eagles head coaching job) so it's been a really good move for the Chiefs," Duvernay-Tardif said. "E.B. is someone who knows the system and has been with (head coach Andy Reid) for a while so I think it's a natural progression."
The Chiefs' biggest off-season question surrounds Smith's future with '17 first-round pick Patrick Mahomes waiting in the wings.
"Alex is the only quarterback I know and have played with," Duvernay-Tardif said. "He's a tremendous leader who's always pushing everyone in the same direction and pretty much makes the right calls because he has so much experience.
"Mahomes has a terrific arm and athletic ability. I don't know what's going to happen but I see myself playing for both quarterbacks no matter who it is."