Chiefs RB Charles sounds off on last year's O-line
Chiefs running back Jamaal Charles sounded off on the ineptness of his offensive line last season following Wednesday's practice at Missouri Western State University. Rarely one to speak out, the Pro Bowler acknowledged the hodge-podge of players the Chiefs had block for him was a big reason why he was less productive last season.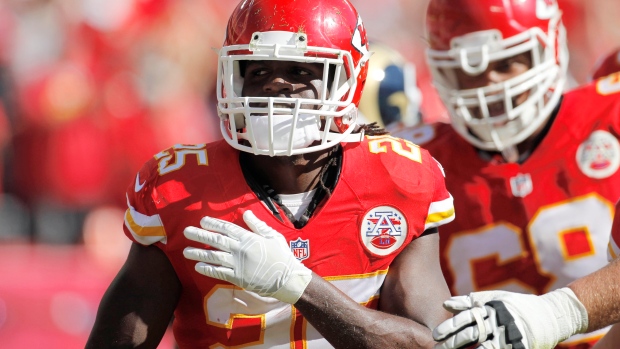 ST. JOSEPH, Mo. - The Chiefs' Jamaal Charles sounded off on the ineptness of his offensive line last season following Wednesday's practice, a rare departure from the normally buttoned-up running back.
Charles acknowledged the hodge-podge of bodies the Chiefs had block for him was a big reason why his productivity dipped last season. It was also one of the reasons the Pro Bowl running back spent most of the season in the trainer's room.
"It was rough, know what I'm saying? But at the end of the day, this is the National Football League. You get paid to do your job," Charles said. "It was really rough last season, but at the same time, we won (nine) games with an average line."
Charles is already imagining what they might do with even modest upgrades.
Kansas City lost starting guard Jeff Allen to a season-ending injury in Week 1, then had to make do with fill-ins Mike McGlynn and Jeff Linkenbach the rest of the way. But not only is Allen back, the Chiefs traded a fifth-round pick to the New Orleans Saints to land former Pro Bowl offensive guard Ben Grubbs, giving the line a much-needed veteran presence.
Throw in another year of experience for left tackle Eric Fisher, the former No. 1 overall draft pick, and Charles suddenly has a bit more bounce to his step.
"When you have a line, that gets you excited," he said. "You want to stay on the field. You want to give your all, because they're going to give you all they have to win the game. I'm glad we went out there and got some experience on the line. It means we want to win."
The Chiefs have yet to settle on a starting five, though, in part because there is so much competition. Just this week, they moved some pieces to come up with a new starting unit, one that will likely get first-team reps in their preseason opener Saturday in Arizona.
Fisher is entrenched at left tackle, and Grubbs at left guard, but rookie Mitch Morse has supplanted Eric Kush at centre. Zach Fulton has regained his job at right guard, and Allen has kicked out to tackle, replacing Donald Stephenson on the first unit.
"I'm getting comfortable with the group," Charles said. "I feel like Grubbs and Fish, they're building chemistry. Then you've got Jeff, he wants to play. He missed football last year. He wants to play. He's just happy to be on the field, do whatever it takes."
In a bit of levity, Charles actually forgot the name of his rookie centre. But he knows that Morse was a stalwart at Missouri, and that "he has experience playing at a high level."
Charles may have taken a few shots at last year's offensive line, but quarterback Alex Smith also alluded to its shortcomings during a brief moment with reporters.
"It was tough last year in the sense of the moving parts," Smith said. "We had a bunch of guys who came in late. We were trying to fit it together, even as camp ended. We were picking up guys that were stepping in and playing. This year, we are a little deeper. The pieces are here right now, whereas last year that wasn't the case at this point.
"It's just a matter of finding out the best five," Smith said, "and inevitably every year, it's more than five. You need depth. It's got to be seven, eight guys."
NOTES: WR Jeremy Maclin hopes to play against the Cardinals. He returned to practice Wednesday after missing two days with a neck strain. Asked whether it occurred in his fight with CB Marcus Cooper, Maclin simply laughed. "Nah, I don't know," he said. ... LBs Josh Mauga heel) and D.J. Alexander (high ankle sprain) left practice early. LBs Dee Ford (concussion) and James Michael Johnson (calf) also missed the workout. ... Chiefs coach Andy Reid plans to play his starters in the first quarter Saturday. The second team will play the second quarter and into the third, with the third stringers finishing the game.
___
AP NFL website: www.pro32.ap.org and www.twitter.com/AP_NFL