Claybrooks among interviewees for Lions head coaching job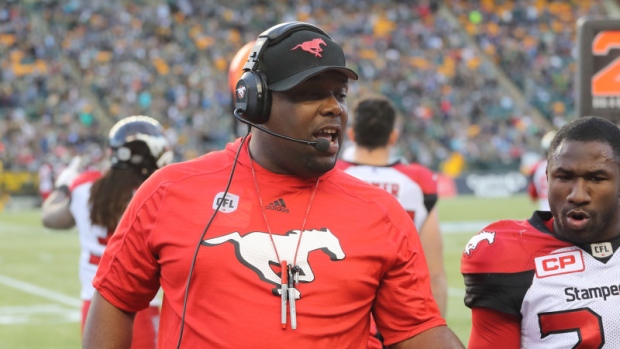 The BC Lions' search for a new head coach picks up this week as the team will be interviewing Ottawa Redblacks coaches Jaime Elizondo and Noel Thorpe, Saskatchewan Roughriders special teams coordinator Craig Dickenson and Calgary Stampeders defensive coordinator DeVone Claybrooks over the coming days, according to TSN's Farhan Lalji.
Elizondo has worked for three seasons as offensive coordinator in Ottawa and previously worked in various coaching positions with the Toronto Argonauts and Montreal Alouettes.
Thorpe joined the Redblacks last season as defensive coordinator - his 15th season as a CFL coach after serving as the Alouettes' defensive coordinator and assistant head coach and three seasons with the Eskimos as their special teams coordinator/defensive backs coach.
He broke into the CFL with the Alouettes in 2002 as a special teams coordinator after spending five years with UBC Thunderbirds – helping them to a Vanier Cup in 1997.
Dickenson has worked for 16 seasons as a CFL coach with the Roughriders, Eskimos, Blue Bombers, Stampeders and Alouettes. He is a two-time Grey Cup champion, having won Grey Cups with the Eskimos in 2015 and the Stampeders in 2008.
He was also a special-teams assistant for the Oakland Raiders and the San Diego Chargers.
According to Farhan Lalji, Claybrooks still has some NFL conversations between now and his interview with the Lions on Thursday or Friday.
Claybrooks spent the last three seasons as the Calgary Stampeders defensive coordinator. In all three seasons he led the team's defence, the Stampeders gave up the fewest points in the league. The team also made the Grey Cup Final in all three seasons, winning the 106th Grey Cup this year.
Claybrooks started his coaching career with Calgary as the defensive line coach.
The 41-year-old played for the Stampeders from 2009-11 and Montreal Alouettes from 2007-08 after a long career in the NFL.
The Lions have already interviewed Mark Washington, who has worked five seasons as the club's defensive coordinator and 11th with the coaching staff.