Coca-Cola® Announced as Premier Sponsor of Bell Media's Full-Spectrum 2018 FIFA WORLD CUP Coverage
Coca-Cola becomes the title sponsor of all halftime shows, with incorporation in-show and on-set, as well as product integration from select Coca-Cola brands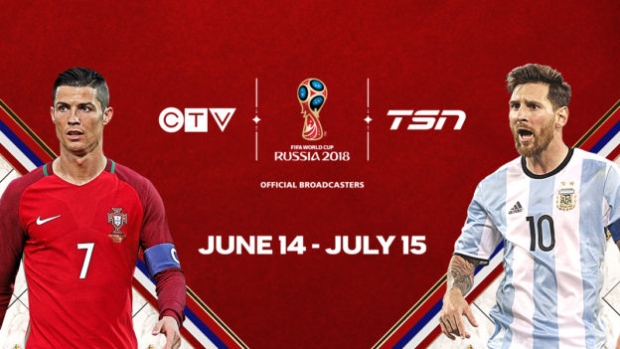 TORONTO (May 25, 2018) – Bell Media today announced an extensive partnership with Coca-Cola®, as the popular brand becomes the premier sponsor for CTV's, TSN's, and RDS' upcoming coverage of 2018 FIFA WORLD CUP RUSSIA™ beginning June 14. The new partnership includes broadcast and set integrations, as well as digital and social media executions, featuring Coca-Cola, Coca-Cola Zero Sugar, Simply Orange Juice, and POWERADE ZERO. POWERADE ZERO will also be featured during the halftime show on an in-match score bug.
"A highly anticipated event this summer, the 2018 FIFA WORLD CUP RUSSIA™ provides the perfect platform to highlight and celebrate the Coca-Cola brand," said Stewart Johnston, President, Media Sales, Marketing, and TSN. "With a custom campaign extending across our three most-watched networks, we look forward to bringing Canadian viewers and Coca-Cola together throughout 2018 FIFA WORLD CUP RUSSIA™."
"Every four years, the FIFA World Cup™ puts Canadian soccer fans from coast to coast on the same emotional rollercoaster," said David Allard, Vice President, Integrated Marketing Communications, Coca-Cola Ltd. "These emotionally engaging and memorable moments are perfect for Canadians to enjoy the simple pleasure of drinking a Coca-Cola, and savour their own FIFA World Cup™ experiences."
The Coca-Cola brand integrations for 2018 FIFA WORLD CUP RUSSIA™ on CTV, TSN, and RDS include:
Title sponsor of the COCA-COLA HALFTIME SHOW, with studio integrations and Coca-Cola products on set during all CTV and TSN halftime programming
Simply Orange Juice featured during morning matches with product and on-set integrations
POWERADE ZERO, Coca-Cola, and Coca-Cola Zero Sugar featured throughout the tournament on set
Extensive digital and social media campaign showcasing new POWERADE ZERO and Coca-Cola, featuring a POWERADE ZERO-branded scoreboard on TSN.ca, the home of FIFA content in Canada
POWERADE ZERO-branded score bugs throughout matches
Billboards throughout the tournament
Beginning June 14 and running until July 15, Canadians can watch complete 2018 FIFA WORLD CUP RUSSIA™ coverage in both English and French exclusively on Bell Media's industry-leading platforms. This includes English-language coverage on CTV as well as across TSN's five feeds, in addition to TSN Radio, TSN.ca, and the TSN GO app. French-language coverage airs exclusively on RDS, RDS2, RDS.ca, and the RDS GO app.
2018 FIFA WORLD CUP RUSSIA™ is highlighted by global soccer icons including Portugal's Cristiano Ronaldo and Argentina's Lionel Messi, both looking for their first FIFA World Cup™ titles, as well as reigning FIFA World Cup™ champion Germany, competing for its fifth FIFA World Cup™ title.