College Football Playoff Rankings (as of December 2)
Nick Saban's Alabama Crimson Tide remain atop the latest edition of the College Football Playoff Rankings. TCU jumps to No. 3 in the rankings, while Florida State falls to No. 4. With their loss to Ole Miss, Mississippi State falls to 10th in the rankings.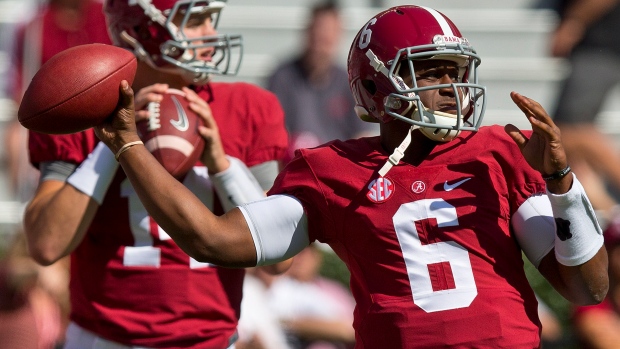 For the first time ever, a playoff system will determine the NCAA Football champion.
Four teams will qualify for a semifinal playoff and the two victors will meet in the College Football Championship Game on January 10 in Arlington, Texas.
Any FBS school is eligible for selection by a 12-person committee looking at a team's strength of schedule, head-to-head results, common opponents, championships won and other factors.
With conference championships fast approaching, here are the latest rankings:
#1

Alabama Crimson Tide
Coach: Nick Saban
Previous

1

Last Week

(W) vs. Auburn

Record

11-1

Conference

SEC
Remaining Schedule
Saturday, December 6: vs. Missouri (SEC Championship)
#2

Oregon Ducks
Coach: Mark Helfrich
PREVIOUS

2

LAST WEEK

(W) at Oregon State

RECORD

11-1

CONFERENCE

Pac-12
Remaining Schedule
Saturday, December 6: vs. Arizona
#3

Texas Christian Horned Frogs
Coach: Gary Patterson
PREVIOUS

5

LAST WEEK

(W) @ Texas

RECORD

10-1

CONFERENCE

Big 12
Remaining Schedule
Saturday, December 6: vs. Iowa State
#4

Florida State Seminoles
Coach: Jimbo Fisher
PREVIOUS

3

LAST WEEK

(W) vs Florida

RECORD

12-0

CONFERENCE

ACC
Remaining Schedule
Saturday, December 6: @ Georgia Tech (ACC Championship)
#5

Ohio State Buckeyes
Coach: Urban Meyer
PREVIOUS

6

LAST WEEK

(W) vs Michigan

RECORD

11-1

CONFERENCE

Big Ten
Remaining Schedule
Saturday, December 6: vs. Wisconsin (Big Ten Championship)
#6

Baylor Bears
Coach: Art Briles
PREVIOUS

7

LAST WEEK

(W) @ Texas Tech

RECORD

10-1

CONFERENCE

Big 12
Remaining Schedule
Saturday, December 6: vs. Kansas State
#7

Arizona Wildcats
Coach: Rich Rodriguez
PREVIOUS

11

LAST WEEK

(W) vs. Arizona State

RECORD

10-2

CONFERENCE

PAC 12
Remaining Schedule
Saturday, Decemeber 6: vs. Oregon
#8

Michigan State Spartans
Coach: Mark Dantonio
PREVIOUS

10

LAST WEEK

(W) @ Penn State

RECORD

10-2

CONFERENCE

BIG 10
Remaining Schedule
#9

Kansas State Wildcats
Coach: Bill Snyder
PREVIOUS

12

LAST WEEK

(W) vs Kansas

RECORD

9-2

CONFERENCE

Big 12
Remaining Schedule
Saturday, December 6: @ Baylor
#10

Mississippi State Bulldogs
Coach: Dan Mullen
PREVIOUS

4

LAST WEEK

(L) @ Mississippi

RECORD

10-2

CONFERENCE

SEC
Remaining Schedule
Rest of the Rankings
RK
PR
TEAM
RECORD
CONFERENCE
LW
TW

11

16

Georgia Tech

10-2

ACC

(W) @ Georgia

vs. Florida St.

12

19

Ole Miss

9-3

SEC

(W)

vs. Mississippi St.

13

14

Wisconsin

10-2

Big Ten

(W) vs. Minnesota

vs. Ohio State

14

9

Georgia

9-2

SEC

(L) vs. Georgia Tech

15

8

UCLA

9-3

Pac-12

(L) vs. Stanford

16

17

Missouri

10-2

SEC

(W) vs.

Arkansas

@ Alabama

17

13

Arizona State

9-3

Pac-12

(L) @ Arizona

18

21

Clemson

9-3
ACC

(W) vs.

South Carolina

19

15

Auburn

8-4

SEC

(L) @ Alabame

20

20

Oklahoma

8-3

Big 12

(W) vs. Kansas

vs. Oklahoma St.

21

22

Louisville

9-3

ACC

(W) vs. K

entucky

22

23

Boise State

10-2

MWC

(W)

vs. Utah State

vs. Fresno St.

23

25

Utah

8-4

Pac-12

(W)

@ Colorado

24

NR

LSU
8-4
SEC
(W) @ Texas A&M

25

NR

USC

8-4

Pac-12

(W) vs. Notre Dame