College Football Primer: Top-ranked Mississippi State underdogs vs. Alabama
Each week, TSN.ca takes a look at the top storylines in NCAA football and gives you all you need to know heading into Saturday's action to Win The Day. This week we highlight Mississippi State-Alabama, Todd Gurley's return against Auburn, Melvin Gordon vs. Ameer Abdullah, and Florida State's last test before the post-season.
Ben Fisher and Mike Hetherington, TSN Digital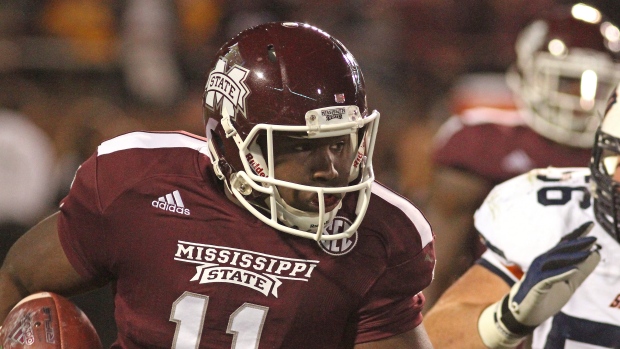 Each week, TSN.ca takes a look at the top storylines in NCAA football and gives you all you need to know heading into Saturday's action to Win The Day.
Top ranked Mississippi State travels to Alabama as underdog
Despite topping both the AP and Coaches Poll, and leading the College Football Playoff rankings through 11 weeks of the season, Mississippi State is a 10-point road underdog against
No. 4 Alabama (fifth in the College Football Playoff rankings). The Bulldogs haven't gone from unranked to start the season to No. 1 without some impressive upsets however, having taken out LSU (ranked eighth at the time), Texas A&M (sixth), and Auburn (second) in a three-week stretch starting in late September. This game holds added significance because Mississippi State (9-0, 5-0 SEC) and Alabama (8-1, 5-1 SEC) are the final two teams to control their destiny in their conference. A win in this game would all but guarantee that team a spot in the College Football Playoff come January.
This is also a matchup of two legitimate Heisman candidates in Mississippi State QB Dak Prescott and Alabama WR Amari Cooper. Prescott has already accumulated a combined 3,000 yards and 29 touchdowns but probably needs another signature performance to catch Oregon's Marcus Mariota, while Cooper is second in the nation with 1,215 yards and has added 10 touchdowns. Cooper is also a Top 10 draft prospect in early rankings.
Gurley returns in important matchup of two-loss teams
No. 9 Auburn and No. 16 Georgia share identical 7-2 records with both losses coming in-conference so neither has much of a chance at the College Football Playoff, but the winner should still be in line for a strong
bowl game while the loser may be playing their bowl game before New Year's Eve.
This game also marks the return of Georgia running back Todd Gurley. Gurley was suspended four games in early October for receiving cash for autographed memoribilia, bringing to an end his promising Heisman campaign. The electric running back and (early) Top 10 draft prospect is fun to watch and will give the Bulldogs a boost from the backfield down the stretch and into bowl season.
You can watch this game on TSN3 at 7pm et/4pm pt.
No. 11 Nebraska, No. 22 Wisconsin battle for spot in Big 10 title game
With just one loss, the Cornhuskers have a (very) outside chance at the College Football Playoff but for that to happen they'll need to win the Big 10. First things first, taking the West
Division and the winner of Saturday's game should be in the driver's seat to do so. Both teams will have to win late-season games against Minnesota but the prevailing thinking is this weekend's game at Camp Randall Stadium, with the Freedom Trophy on the line for whatever reason, will determine Ohio State's opponent for the conference championship.
This game also features a matchup of two of the top running backs in the nation in Heisman candidates Melvin Gordon for Wisconsin and Ameer Abdullah for Nebraska, both of whom project to be taken in the first two rounds of the NFL Draft.
You can watch this game on TSN2 at 3:30pm et/12:30pm pt.
Trevone Boykin has chance to pad stats in Heisman race
Saturday's No. 5 TCU-Kansas will be a blowout but it will matter to at least one person, TCU quarterback Trevone Boykin. Boykin has had a huge season leading the Horned Frogs' explosive offence but still trails Mariota and Prescott on many Heisman ballots.
With Mariota and the Oregon Ducks on a bye week, and facing a creampuff matchup (TCU is a 27.5-point favourite), Boykin can, and probably will pad his stats for all four quarters in hopes of making up some ground for college sports' most prestigious award.
No. 2 Florida State's last test before the post-season?
After getting past Notre Dame in mid-October, the Seminoles have had perhaps the easiest schedule of any College Football Playoff-eligible team. There's hope the Gators will give them a test on Rivalry Weekend to close out the regular season but Miami (FL), led by fringe Heisman candidate Duke Johnson at running back, should be able to put up a fight as a conference opponent playing at home. Florida State is only a 2.5-point favourite.
You can watch this game on TSN2 at 8pm et/5pm pt.
Viewer's Guide
Watch four college football games on the TSN networks at 12pm et/9am pt. on Saturday.
Penn State, Temple battle for bowl eligibility on TSN1
Once promising Penn State (5-4) followed four straight wins to open their season with four straight losses - including a one-point loss to Big 10 debutant Maryland. Yet, the group from Happy Valley bounced back last Saturday at Indiana and needs just one win to become bowl eligible - a feat that would have been impossible before September. The NCAA lifted post-season sanctions on Penn State earlier this season, allowing them a chance to reach the bowl season two years earlier then originally stated. Temple (5-4) will also look to win their sixth game of the season and clinch post-season eligibility this Saturday. Like the Nittany Lions, Temple got off to a strong start at 4-1, but have dropped three of their last four.
Player to watch: Christian Hackenberg, Penn State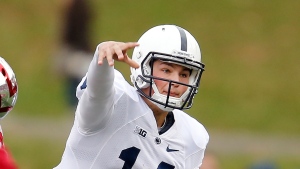 The sophomore entered the season with Heisman expectations, but has fallen well short of those initial predictions. But his 7:12 touchdown-to-interception ratio is troubling and Hackenberg will not have an easy time getting back on track against the Owls, who rank 10th in the nation in points allowed. Hackenberg is still regarded as one of the most physically gifted quarterbacks in the NCAA, and someone who will garner high attention from the NFL when he becomes draft eligible. However, a strong ending to a disappointing season could help remove some question marks for the pivot as he enters his Junior year.
Virginia Tech looks to upset No. 21 Duke on TSN2
The Blue Devils have a strong chance to improve their ranking in the final three weeks of the college football season, starting this Saturday against Virginia Tech. Duke closes their season against ACC rivals VT, North Carolina and Wake Forest, all of whom combine for a 10-17 record this season. ACC loses have derailed the Hokies season, going just 1-4 within the conference, and another loss will all but derail the post-season hopes of the Hokies. At 4-5, the Virginia Tech has to win two of their final three games in order become bowl eligible.
No. 22 Georgia Tech's rushing attack faces tough challenge in No. 19 Clemson on TSN3
The Georgia Tech Yellow Jackets rank third in college football with an astounding average of 335.6 rushing yards per game, however their rushing attack will be put to the test against Clemson's second-ranked run defence, which also ranks fourth overall. Both teams likely need a win to keep their hopes alive of ending the season ranked, while their ACC Championship hopes are also likely on the line. Georgia Tech is trying to catch Duke atop the Coastal Division of the conference, while Clemson is chasing No. 2 Florida State in the Atlantic Division. Georgia Tech's remaining games against the Tigers and No. 15 Georgia will decide their season - a top-15 ranked team or unranked squad.
No. 25 Minnesota faces biggest test yet in No. 8 Ohio State on TSN4
Minnesota has earned a ranking, now they'll have to prove they deserve it. Starting Saturday, the Golden Gophers kickoff a three-game stretch to end their season against conference rivals Ohio State, Nebraska and Wisconsin, all whom rank in the top-20. Minnesota will likely have to rely on their defence to keep the Buckeye's explosive offence in check in order to have a chance on Saturday. Ohio State ranks fourth in points scored this season with an average of 46 points per game, that mark is well above Minnesota's 30.7. For Ohio State, a loss would cripple their hopes of a playoff berth - the Buckeyes rank eighth in the playoff rankings, four spots out of the dance. If Ohio State can survive Minnesota, the team should be able to take a one-loss record into bowl season with games against Indiana and Michigan to close their season.
Player to Watch: J.T. Barrett, Ohio State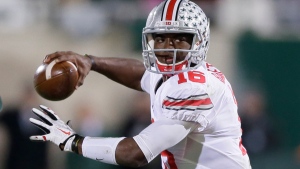 The redshirt-freshman has been revelation for the Buckeyes, who entered the season with uncertainty at quarterback once Braxton Miller was lost for the year. Barrett is an explosive player both through the air and on the ground. He has thrown for 26 touchdowns compared to just seven interceptions this season, while adding 582 yards and eight touchdowns on the ground. Barrett's impressive play has taken him from unknown to Heisman consideration.