Nestor hopes to bounce back for final year on Tour
Canadian tennis player Daniel Nestor learned a lesson before his first appearance at the Canadian Open that served him well throughout his legendary career.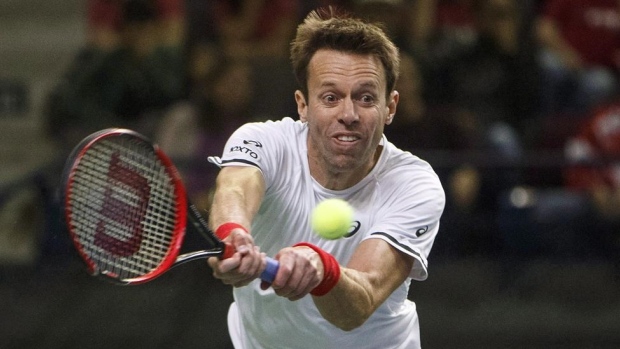 Canadian tennis player Daniel Nestor learned a lesson before his first appearance at the Canadian Open that served him well throughout his legendary career.
Just 16 at the time and ranked 923rd in singles, he was given a wild-card berth in the 1989 tournament at Montreal. Nestor made the mistake of looking past his first-round opponent to who was waiting in the second round — a hard-to-believe potential matchup against former world No. 1 John McEnroe.
"I couldn't even comprehend it," Nestor said with a laugh. "I was so caught up in that and worried about that I ended up not even focusing really on my first-round opponent. He was obviously much better than I was anyway and he beat me pretty handily."
It would only be a few years after Nestor turned pro that opponents would be checking for his name in the draw.
Nestor played singles in the early going before turning his full attention to doubles. He excelled in the four-man game, winning Olympic gold in 2000, all four Grand Slams and virtually every significant tournament on the ATP Tour.
Now 45, he struggled last year while playing with a variety of partners and was shut out of the winner's circle for the first time in 24 seasons. Nestor declared last summer that the 2018 campaign would be his last as a touring pro.
He plans to call it quits after the Rogers Cup in Toronto or the U.S. Open in New York.
"That's still the plan," Nestor said from Doha in a recent interview. "It would have to take some remarkable results to make me change my mind."
The decision was made after Nestor made several uncharacteristic early exits in 2017. He started the year ranked 15th and tumbled to No. 56.
"Up until last year I felt like I could still win big tournaments," said Nestor, who's third on the Open era list with 91 men's doubles titles. "I think that's changed a little bit. Last year was a pretty eye-opening season for me."
Nestor will team up with Austria's Philipp Oswald at this week's Qatar Open. They'll open the season Tuesday against the second-seeded duo of Austria's Oliver Marach and Mate Pavic of Croatia.
After that, Nestor will team with American Donald Young the following week before playing with Jonathan Erlich of Israel at the Australian Open.
For a player who spent most of his career with steady partners like Mark Knowles, Nenad Zimonjic and Max Mirnyi, the regular lineup changes have been challenging.
"It's not easy but I don't really have a choice now," Nestor said. "As you drop in the rankings and get older, you become less appealing to some of the top doubles players. I've gotten used to that."
Nestor is not planning to merely cruise to the finish line during his final season. He plans to stay aggressive, use shot and serve variations to his full advantage and enjoy the ride.
"I know nowadays if I'm playing safe or playing percentages, that's not enough," Nestor said. "So I have to take more risks and more chances and I'm comfortable with that. I've played that way my whole career."
Knowles enjoyed two strong runs with Nestor. They won their first title together in 1994 and a strong five-year stint together followed.
Nestor underwent shoulder surgery in early 2000 and came back to win Olympic gold with Sebastien Lareau in Sydney at the Summer Games. Nestor and Knowles teamed up again for a dominant run from 2002-07.
"I think I was a lot more aggressive, outgoing and demonstrative as far as getting the energy up on the team," Knowles said recently from Dallas. "Daniel was the quiet assassin."
Knowles, who retired in 2012, is amazed Nestor is still going in his mid-40s.
"I think he's done a good job of reinventing his career," he said. "I know he strings his rackets really loose. He's made certain adjustments to allow for age and certain factors to not play such a vital part in his career."
Nestor's most recent title came in October 2016 at Antwerp with Edouard Roger-Vasselin.
Despite a 21-30 mark last season, the Canadian boasts a career record of 1,056-467 in doubles and will go down as one of the sport's all-time greats.
Only American twins Bob and Mike Bryan have won more titles. And Nestor has had 10 different stints as the world's top-ranked doubles player.
"I don't think a player has ever been able to compete for the biggest titles for so long," Bob Bryan said in an email.
One event that is circled on Nestor's calendar is his final appearance at the Rogers Cup in his hometown of Toronto this August.
"This will be my 30th Rogers Cup," Nestor said. "It'll be tough walking away from that tournament. Obviously there's so many memories and it's a home tournament ... that'll be tough for sure."
———
Follow @GregoryStrongCP on Twitter.