Cornish highlights the Canadian Football Hall of Fame's Class of 2019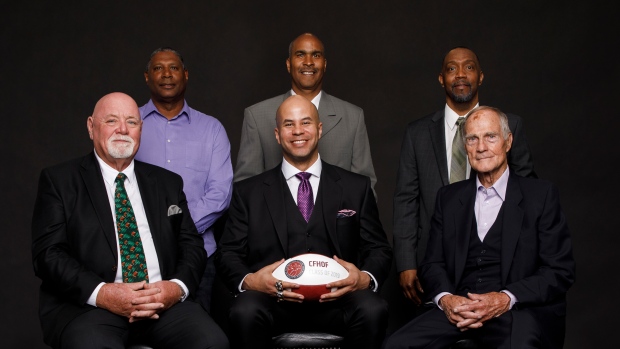 The Canadian Football Hall of Fame announced their latest class Wednesday, which also includes players Terry Greer, Mervyn Fernandez, Ernie Pitts and David Williams, and builders Jim Hopson and Frank Smith.
Cornish retired after the 2015 season, ending an illustrious nine-year career in the CFL spent entirely with the Calgary Stampeders.
Cornish's career was highlighted by two Grey Cup wins (2008, 2014) and the Most Outstanding Player award in 2013. The 2006 second-round draft pick was also named the league's Most Outstanding Canadian and a CFL All-Star three times (2012-14).
Cornish finished his career with 6,844 yards and 44 touchdowns on the ground and another 1,666 yards and nine touchdowns through the air.
Greer played six seasons with the Toronto Argonauts from 1980-85 and was part of the team's celebrated quarterback-wide receiver duo alongside quarterback Condredge Holloway.
Greer was the first receiver in pro football to eclipse 2,000 yards receiving when he finished with 2,003 in 1983, also helping the Argos snap their 29-year Grey Cup drought at the time that season. Greer finished his CFL career with 6,817 receiving yards and 47 touchdowns.
'Swervin' Mervyn Fernandez played five seasons for the BC Lions from 1982-86 and returned for one more in 1994. Fernandez was named a CFL West All-Star four times, a CFL All-Star twice, and the Most Outstanding Player in 1985 when he finished with 95 receptions for 1,727 yards and 15 touchdowns. His success led to a successful six-year stint in the NFL with the Raiders. Fernandez finished his CFL career with 6,690 receiving yards and 57 touchdowns.
Pitts will be inducted posthumously after a 14-year career in the CFL from 1957-70 predominately with the Winnipeg Blue Bombers.
Pitts started his career with the Blue Bombers as a wide receiver, catching balls from Hall of Famer Ken Ploen, before switching to defensive back for the latter half. Pitts was a three-time West Division All-Star as a wide receiver and a three-time West Division All-Star as a defensive back, and was part of four Grey Cup winning teams in Winnipeg (1958, 1959, 1961 and 1962).
Williams burst onto the CFL scene in the late 1980s with the BC Lions. After three seasons in the NFL, Williams came to the CFL and was named the league's Most Outstanding Player in his rookie season in 1988. He finished that year with 83 receptions for 1,468 yards and 18 touchdowns. Williams went on to play nine seasons in the CFL with the Lions, Ottawa Rough Riders, Argonauts, Edmonton Eskimos, and Blue Bombers, cumulating 7,197 receiving yards and 78 touchdowns.
Hopson served as the Roughriders president and CEO from 2005-2015 and helped the club excel off the field during his tenure, earning record profits. The Regina native and former Roughriders offensive lineman also presided over two Roughriders' Grey Cup wins (2007, 2013) during his 11-year tenure.
Smith coached at the University of British Columbia for 21 seasons from 1974-1994, instantly turning around the program into a league champion in just two seasons.
Smith led UBC to five Western Intercollegiate football championships and two Vanier Cups (1982, 1986) as Canadian national champions. He also received the Frank Tindall Trophy as the Canadian university sports governing body's football coach of the year (1978, 1987).